This easy Tater Tot casserole is a deliciously simple meal that you can cook up with very little effort.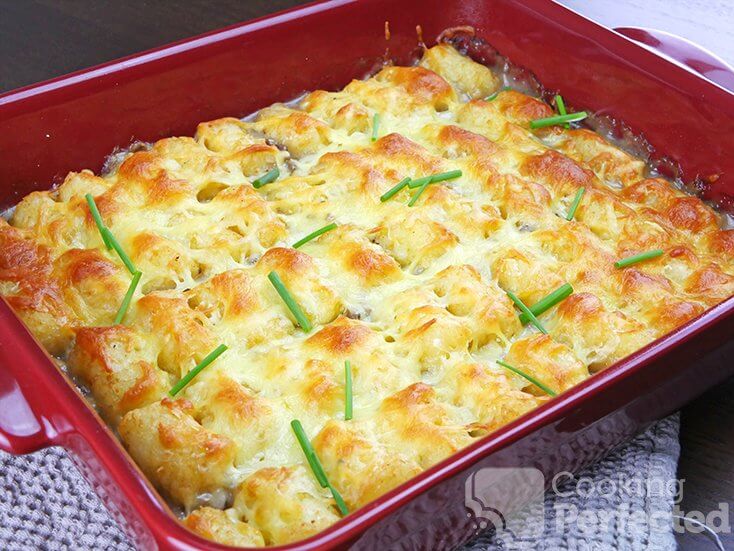 When you pull this casserole out of the oven, the cheese and potatoes will be a lovely golden brown. The creamy ground beef filling will be loaded with flavor thanks to the cream of mushroom soup. It is the perfect casserole for when you are running low on time, and you only have a few ingredients.
Tater Tots may have a different name depending on where you live. In Australia and the UK, they can go under the name of potato gems, potato royals, or even potato pom-poms. Germany and the Netherlands often call them potato croquettes. As long as they are cylindrical in shape and made of potato, they are most likely similar to Tater Tots.
You can serve this dish as a full meal or have it as a side dish. Personally, I usually have this as a meal as there is more than enough for me. On the flip side, it does go great as a side dish to a main meal, such as meatloaf.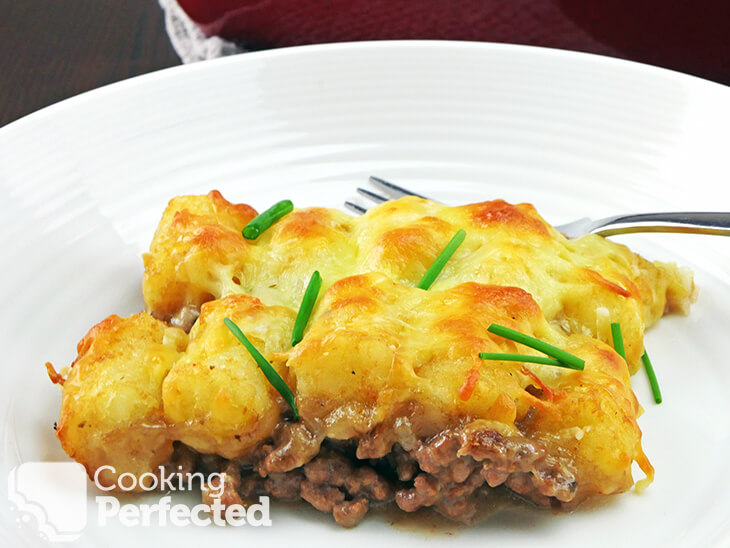 If you serve this as a meal, then you will get roughly six serves without needing to adjust the recipe. You can easily double or triple the recipe if you need to feed more people. You could also make some extra side dishes such as garlic bread.
The leftovers are fantastic, so make sure you keep them. They should be fine in the fridge for one to three days before needing to be discarded. You can also freeze the dish if you are looking to keep the leftovers for a long time.
Personalizing the Recipe
There are lots of ways you can add a bit more flair to this recipe. Below are a couple of examples of what you can do.
More vegetables can be added to the casserole. For example, peas, corn, sliced mushrooms, or diced bell pepper are great for adding that extra bit of flavor. Some vegetables may require extra cooking time in the frypan.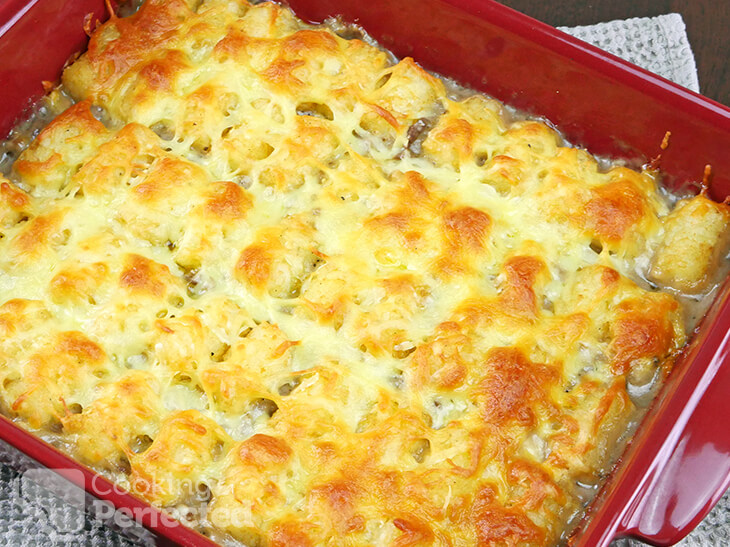 Another delicious addition to this casserole is some crispy diced bacon. You can put the bacon in raw, but I recommend that you fry it so that it is crispy. You can use other deli meats such as ham or chorizo instead of the bacon.
Worcestershire sauce is another way to add a bit more flavor to this dish. Add it at the same time as the milk and cream of mushroom soup. Mustard is another condiment that can be used to add more flavor into the ground beef filling.
The video below goes through all the steps on how to make this Tater Tot casserole. However, if you prefer a written recipe, then you can find it right underneath the video.
Easy Tater Tot Casserole Recipe
Ingredients
500 g (1.1 lb) ground beef
1 onion, diced
2 tsp. garlic, crushed
420 g (14.8 oz) condensed cream of mushroom soup
¼ cup milk
500 g (1.1 lb) tater tots
2 cups cheddar cheese, shredded
Instructions
First, preheat an oven to 180°C (360°F).
In a frying pan over medium heat, brown the ground beef, garlic, and onion.
Once the beef is browned, mix in the cream of mushroom soup and milk. Season with salt and pepper.
In a casserole dish pour in the beef mixture. On top of the mixture, evenly place the tater tots. Top with the cheese.
Bake for 30-45 minutes or until the Tater Tots are golden brown and the cheese is melted.
Serve & Enjoy.
Recipe Tips
For the best results, make sure the oven is hot before adding the casserole.
If you are running low on time, you can skip the onion and garlic.
Tater Tots are also known as potato gems, potato pom-poms, or potato royals. Any of these will work fine in this recipe.
The ground beef can be swapped for a different type of meat. For example, shredded chicken, pulled pork, or even ground turkey will work nicely in this casserole.
Nutrition Information
Serving Size: 280g (9.9 oz)
Servings Per Recipe: 6
Calories Per Serving: 522
Amount Per Serving
Saturated Fat: 12.3g
Trans Fat: 0g
Total Carbohydrate: 29.5g
Dietary Fiber: 2.5g
Sugars: 2.4g
Cholesterol: 115mg
Sodium: 1022mg
Protein: 37.8g
The information above is an estimate generated by an online nutrition calculator.
More Casserole Recipes
There are lots more casseroles that you should try. Below are a couple of my favorite recipes.
Another casserole that I highly recommend trying is the pepperoni pizza casserole. It is loaded with all the flavors that you expect from a good pizza. It is certainly worth giving a try.
You can make a Tater Tot casserole in a slow cooker, but it will not crisp up as nicely as this recipe. It is perfect if you want to prepare your meal in the morning and have it ready for when you sit down for dinner.
I hope that you enjoy this easy Tater Tot casserole and that you did not run into any problems cooking it. If you have a delicious variation, tips, or anything else that you would like to share, then feel free to leave a comment below.