The air fryer is a great way of cooking some delicious Spam ham to perfection. It takes just ten minutes and turns out to be incredible.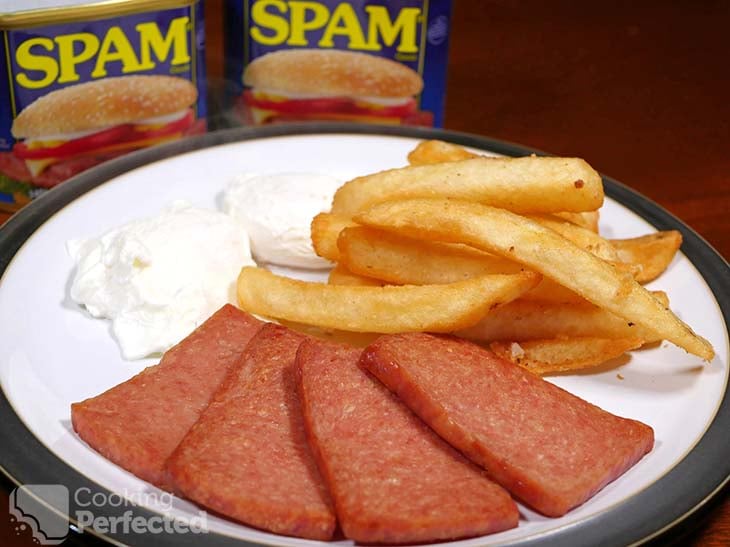 When you take a bite of the air-fried Spam, it will be slightly crispy on the outside but deliciously soft on the inside. It is loaded with flavor and goes great with a huge variety of different side dishes.
Spam is a hugely popular canned cooked spiced pork. It was first introduced to the market in 1937 and gained popularity throughout the second world war. Today, Spam is available to buy across the world in over forty-one different countries.
The ingredients that makeup Spam is very simple. It includes pork, salt, water, potato starch, sugar, and sodium nitrate. In addition, there are new varieties of Spam that add additional flavorings and styles. For example, hot and spicy Spam or Spam with bacon are two alternative flavors.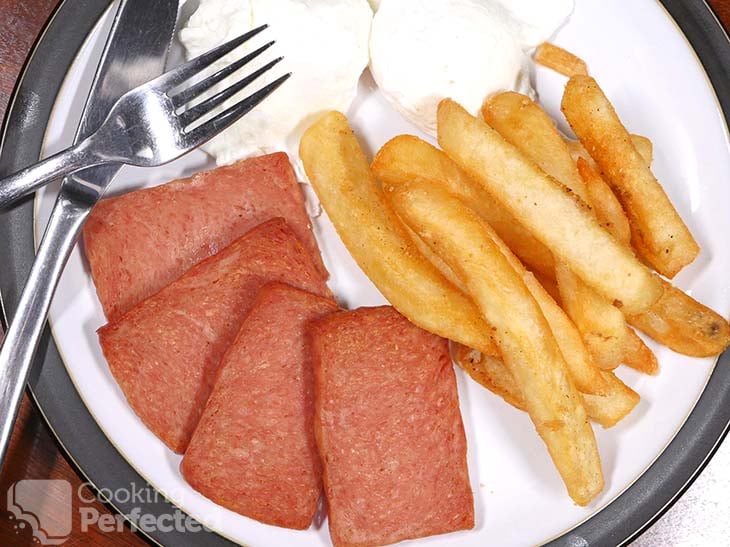 We use an entire tin of Spam in this recipe which should be enough to feed two to four people. I highly recommend serving the Spam alongside some side dishes such as some delicious sweet potato fries.
If you have leftover Spam, make sure you store it in the refrigerator, it should last a few days. After that, the leftovers will work great reheated or incorporated into another meal such as a salad or sandwich.
Serving Ideas for Spam Ham
One of my favorite ways to serve Spam is with some homemade fries and some fried eggs. You will need to cook the fries in another air fryer or use something else. The eggs are best cooked over the stove.
Spam is an excellent filling for sandwiches. I love to do a classic grilled cheese that has a couple of slices of Spam ham, cheddar cheese, and a touch of butter. I highly recommend giving it a try as it is absolutely delicious.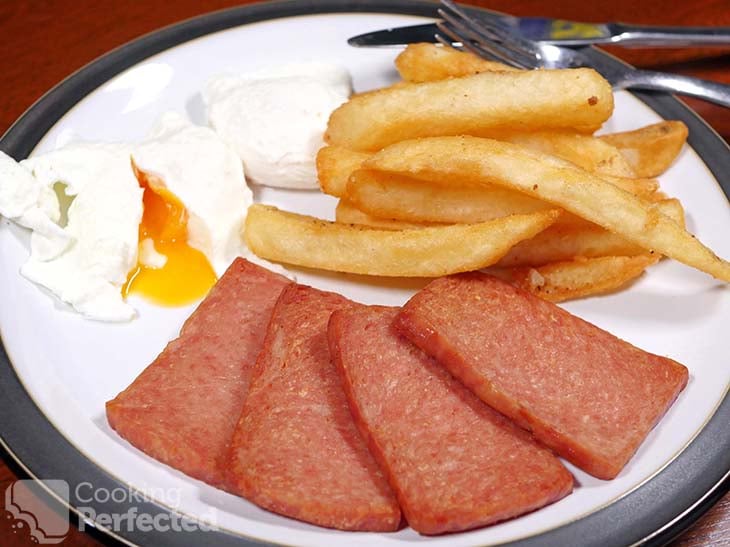 A classic full breakfast consisting of Spam ham, fried mushrooms, eggs, hash browns, and some baby spinach is a must-try. Alternatively, scrambled eggs with some Spam mixed through is delicious.
You can easily add Spam to a huge range of different salads for a bit more flavor. For example, our potato salad will work great with some fried Spam ham instead of bacon. Alternatively, it will go great in a simple green salad.
The recipe below will take you through the few easy steps to cooking Spam in the air fryer. Be sure to let us know if you have any feedback.
Air Fryer Spam Recipe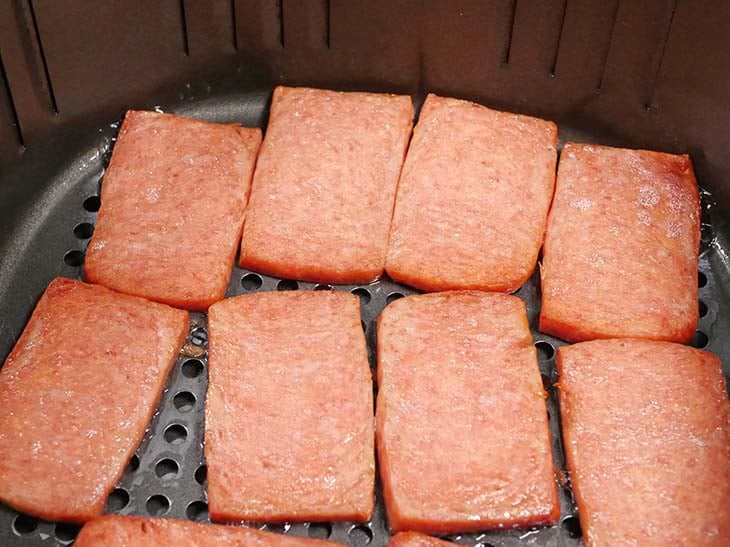 Ingredients
Instructions
Cut the Spam into 1cm (0.4 inches) slices.
Preheat the air fryer to 200°C (400°F). It will take roughly five minutes to heat.
Place the sliced Spam into the air fryer basket. Keep the slices as a single layer.
Cook for 10 minutes. Flip halfway through cooking.
Serve & Enjoy.
Recipe Tips
Preheating the air fryer will help achieve the best results. However, you can skip this step and add a couple of minutes to the cooking time.
You can spray the Spam ham with a bit of oil to help get it extra crispy. However, I find there is usually enough fat in Spam that extra oil is not necessary.
Spam is pre-cooked, so we are only using the air fryer to get it crispy and delicious.
There are many different Spam flavors available at the supermarket, and they will all work well in the air fryer. So, pick your favorite type of Spam.
I cut the Spam into slices, but it will work just as well cut into fries. The cooking time will remain roughly the same.
Spam is gluten-free, so it is perfect if you are cooking for anyone who is gluten sensitive.
Nutrition Information
Serving Size: 170g (6 oz)
Servings Per Recipe: 2
Calories Per Serving: 208
Saturated Fat: 1.5g
Trans Fat: 0g
Dietary Fiber: 0g
Sugars: 0g
Cholesterol: 37mg
Sodium: 1531mg
Protein: 31g
The information above is an estimate generated by an online nutrition calculator.
More Air Fryer Recipes
Loads more recipes are perfect for the air fryer. Below are a few recipes that I reckon you will enjoy making and eating.
Our air-fried homemade hamburgers are an absolute must-try. They are absolutely delicious topped with some mozzarella cheese and some crispy bacon or Spam. It is certainly worth a try if you love a good burger.
The air fryer is very good for cooking bacon until it is deliciously crisp. All it takes is twelve minutes before you have some perfectly cooked bacon. Of course, you can easily cook the bacon for longer if you like extra crispy or less if you like soft.
I hope that the Spam cooks great in your air fryer as it did for me. If you have any feedback, please do not hesitate to leave a comment at the bottom of this page.