This mug coffee cake recipe makes a delicious cake that is moist, fluffy, and has a slight hint of cinnamon. You can eat it by itself or with a nice hot cup of coffee.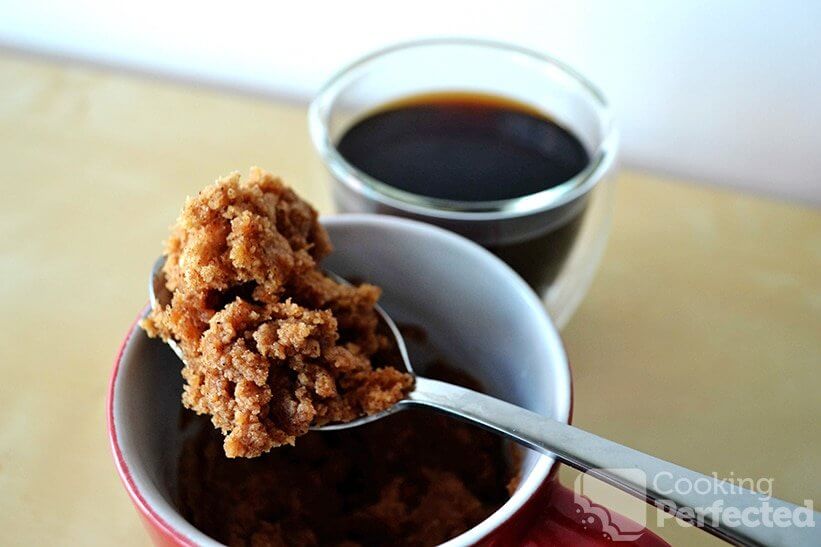 As I mentioned above, by the time this cake is ready, it will be fluffy, moist, and loaded with flavor. The crumble topping completes the cake and is loaded with flavor from the brown sugar and cinnamon.
A coffee cake is typically a cake that you have with a coffee or tea. You will find that these cakes are often flavored with spices and sometimes have a crumb on top. This particular recipe has both the crumb and uses some cinnamon for extra flavor.
Perfect Snack for One
Like most mug cakes, this delicious cake is perfect for just one person. It's the perfect snack to have when you just want to relax and enjoy a delicious sweet cake.
If you need to feed more people, then double or triple the recipe. However, you will need to use a larger mug or multiple mugs. You will find the topping will be enough for two mug coffee cakes, so keep this in mind when you change the recipe to feed more.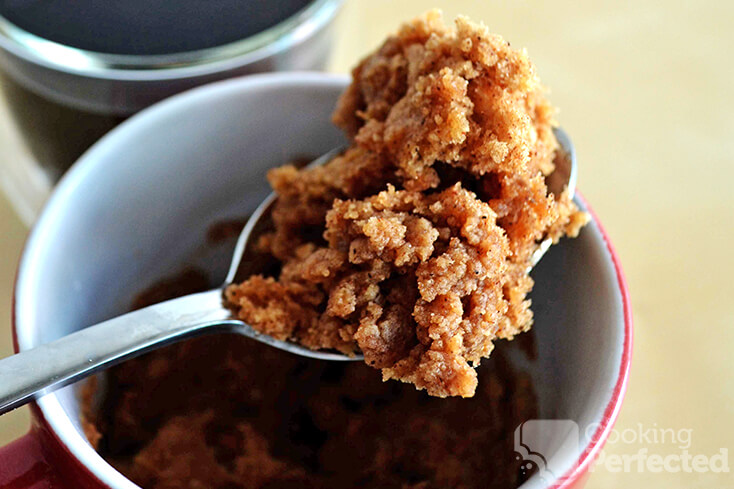 A regular-sized mug is large enough for one person. You can make smaller versions of this cake by splitting the cake batter across two smaller mugs, perfect if you want a small delicious snack.
What to Serve with this Coffee Cake
If you're feeling a little peckish, then some cream or ice cream is the perfect addition to this lovely mug cake. You can also try other accompaniments such as custard, chopped nuts, toppings, and so much more.
A delicious hot coffee goes great alongside this delightful cake. If coffee isn't your thing, then you can make delicious homemade tea such as chai tea.
If you would like to see how to prepare a mug coffee cake, then be sure to check out the video below. It will take you through all the steps for making this awesome recipe. Alternatively, there is a full written recipe right underneath the video.
Mug Coffee Cake Recipe
Ingredients
Mug Cake
2 Tbsp self-raising flour
1 Tbsp butter, softened
2 Tbsp milk
1 Tbsp brown sugar
¼ tsp cinnamon, ground
Topping
2 tsp unsalted butter, softened
1 tsp cinnamon, ground
1 Tbsp brown sugar
2 Tbsp plain flour
Instructions
Prepare your crumble by combining all the topping ingredients in a separate dish to your mug. Combine until the ingredients represent a crumbly mixture.
In a mug, add the self-rising flour, brown sugar, cinnamon and mix.
Add the butter and milk and mix until well combined.
Add the topping to the top of the mug mixture.
Cook in a microwave for about 1 minute.
Serve & Enjoy.
Recipe Tips
If you have any leftover topping mixture, then make sure you place it in the fridge. It should keep for a few days before you need to discard it. You can easily use it again on more delicious mug coffee cakes.
As with any recipe that you cook in a mug, make sure the mug is large enough for the amount of mixture you're putting in it. If it is too small, then it is likely to make a mess of your microwave.
If you find your cake is a little too moist when you pull it out of the microwave, then place it back in and cook for about thirty seconds.
You can skip making the topping for this cake, but you will lose one of the most important parts of this recipe. I recommend spending the extra time to make it.
Nutrition Information
Serving Size: 104g (3.7 oz)
Servings Per Recipe: 1
Calories Per Serving: 392
Amount Per Serving
Saturated Fat: 7.9g
Trans Fat: 0g
Total Carbohydrate: 45.3g
Dietary Fiber: 2.4g
Sugars: 19g
Cholesterol: 23mg
Sodium: 74mg
Protein: 4.4g
The information above is an estimate generated by an online nutrition calculator.
More Recipes You Can Make in a Mug
If you love mug recipes, then you should check out some of the others that I have on this site.
The brownie in a mug is perfect if you're looking for a chocolate dessert that is quick and easy. It's ideal for feeding one person, but you can quickly alter the recipe to feed lots of people.
If you want something savory, then the scrambled eggs in a mug is a quick and easy recipe for a cooked breakfast.
If you have your own variation, improvements, tips, or would just like to leave us feedback on the mug coffee cake recipe, then feel free to drop us a comment below.