If you are looking for a delicious cake to bake, look no further as this gluten-free upside-down pear cake is the one to make.
By the time you are finished baking, you will have a fluffy and moist cake with tender caramelized pears on top. It is the perfect sweet cake for either afternoon tea or dessert.
There are a fair few steps to making this cake, but it is well worth the effort. You can take some shortcuts, but I recommend sticking to the recipe.
One of these cakes should feed roughly eight people. If you need to feed more, then you may need to make multiple batches of this recipe.
Any leftovers are worth keeping as the cake will stay moist for a few days, especially if it is covered and stored in the fridge. I love to have the leftovers for breakfast or as a snack.
Use Fresh Pears
I recommend using fresh pears for the best results. If you decide to use tinned pears, then make sure you dry them as much as possible. Too much liquid will ruin the caramel. Tinned pears also might cook to be very mushy.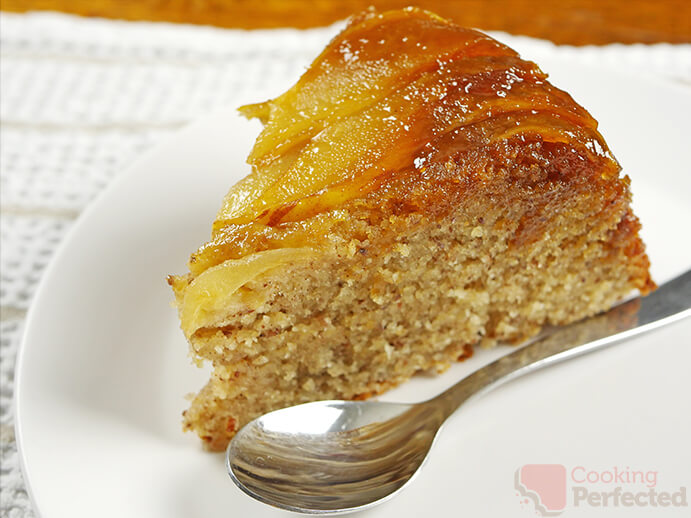 This cake is great for using some pears. If you have even more pears that you need to cook, you can always try cooking some poached pears. They are so incredibly delicious.
What to Serve with the Cake
There are so many extras that you can have with this cake. Below are a couple of my favorites.
The easiest accompaniment to have with this cake is some whipped cream. I love to whip it up myself rather than using the tinned whipped cream. If you feel like experimenting, you could make coconut whipped cream.
Some hot custard matches nicely with the sweetness and flavors of this cake. I find custard tastes best when you make it yourself, but store-bought custard is also pretty good.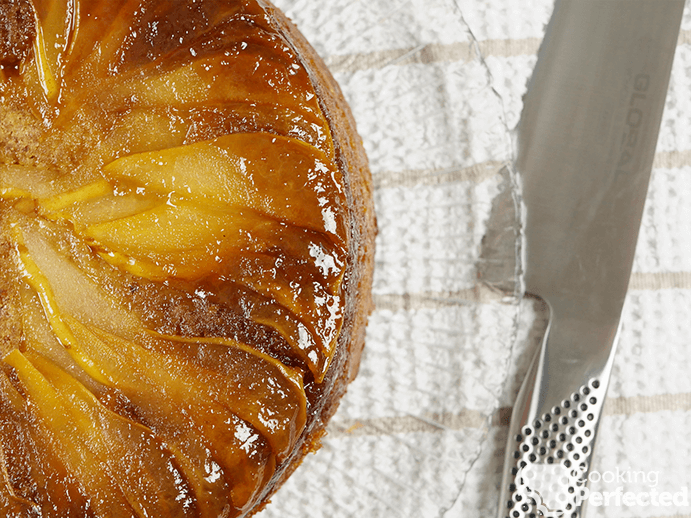 My last suggestion is to serve the cake with a scoop or two of your favorite ice cream. I love vanilla ice cream as it doesn't tend to overpower the flavors of the cake.
You can find the full recipe for this delicious upside-down pear cake right below. There are also cooking tips and nutritional information that you might want to check out.
Gluten-Free Upside-Down Pear Cake Recipe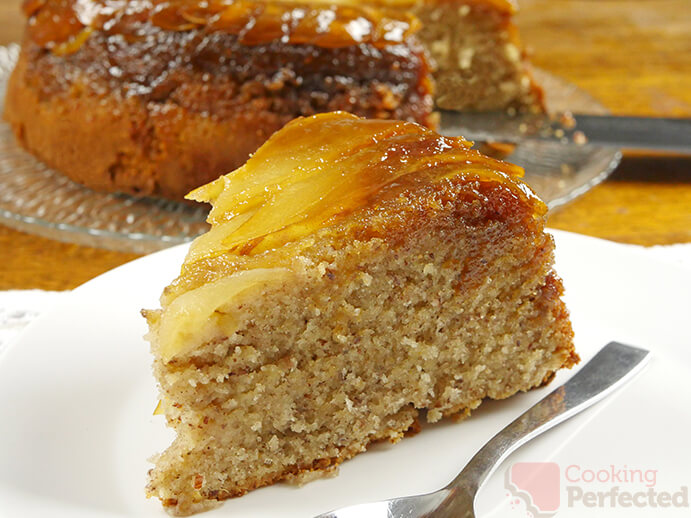 Ingredients
Pear Layer
75 g (2.6 oz) unsalted butter
½ cup brown sugar
4 pears, peeled and cut into 5 mm (0.03 in) slices
Cake Mixture
Instructions
Preheat an oven to 180°C (350°F).
Grease and line the base of a 26cm (10.2 in) cake pan with baking paper.
In a pan, melt the brown sugar and butter. Stir until combined, then put to the side.
Layer the sliced pear in the cake tin in a spiral pattern. Pour the sugar mixture over the top of the sliced pears.
In a mixer, add the butter and caster sugar. Beat until light and fluffy.
Beat in the eggs one by one.
Sift together the gluten-free plain flour, baking powder, spices, and almond meal. Gently mix into the wet ingredients while also slowly pouring in the milk.
Pour cake batter into the prepared cake tin.
Bake in the oven for 1 ½ hours.
Allow to cool for 5 minutes in the cake tin.
Remove from tin and allow to cool.
Serve & Enjoy.
Recipe Tips
If the cake appears to be browning too much on the top, then cover with foil, so it is able to finish baking without burning.
As I mentioned above, it is best to use fresh pears and not tinned for this cake.
Adding cold eggs into the butter mixture may cause it to split. If this is the case, simply continue with preparing as it will not ruin your cake.
Ensure your baking powder is gluten-free as there are some brands that do have gluten in them.
Caster sugar is also known as superfine sugar or baker's sugar.
Nutrition Information
Serving Size: 267g (9.4 oz)
Servings Per Recipe: 8
Calories Per Serving: 662
Amount Per Serving
Saturated Fat: 14.3g
Trans Fat: 0.3g
Dietary Fiber: 5g
Sugars: 61g
Cholesterol: 117mg
Sodium: 56mg
Protein: 10g
The information above is an estimate generated by an online nutrition calculator.
More Gluten-Free Recipes
There are plenty of other gluten-free cakes that you need to try. If you feel like eating something a little less fruity, then the chocolate fudge cake is well worth baking.
Another dessert that you need to try is a gluten-free key lime pie. It is deliciously creamy and has that citrus flavor we all have come to love with a traditional key lime pie.
That is all I have to say about this gluten-free upside-down pear cake recipe. I hope that you do enjoy it and that it bakes to be as great as it did for me. If you have any feedback that you would like to share, then please do not hesitate to leave a comment below.