This tasty paleo sweet and sour chicken is a delicious dish that goes great with some cauliflower rice.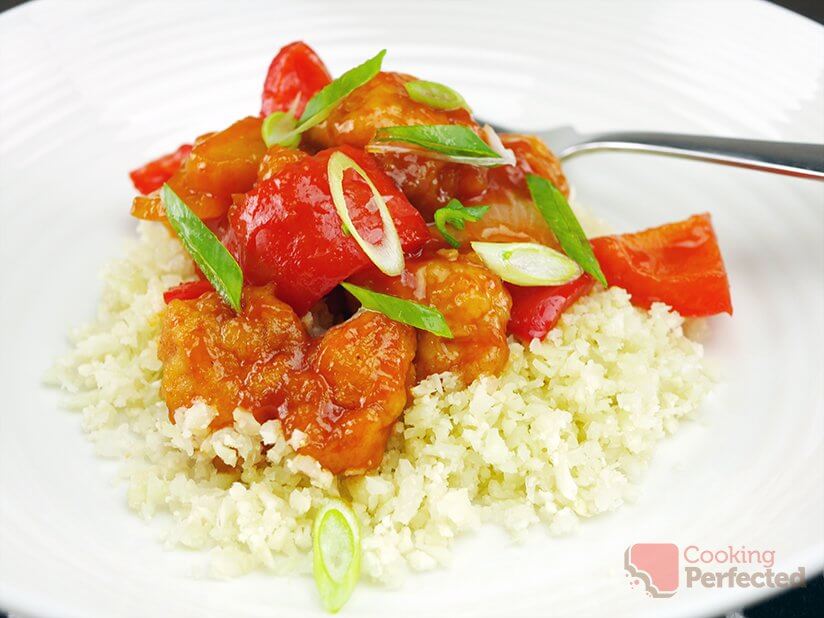 The sauce is an excellent blend of sweet and sour and matches perfectly with the meat and vegetables. The chicken is battered, so it has a delicious crunch that matches perfectly with the bell peppers. It is certainly a dish I end up going back for seconds.
I coat the chicken so that it will be nice and crispy. However, this makes it quite time-consuming and is slightly less healthy. You can easily skip the coating of the chicken if you want a healthier and easier dish. I use tapioca flour to coat the chicken.
If you serve this dish with some cauliflower rice, then you should be able to get four serves without having to adjust the recipe. With that said, it is super easy to adjust the recipe if you need to feed more people.
Make sure to keep any leftovers of this dish as they will reheat the next day nicely. It is important to keep them covered in the fridge or freezer until needed. They should last roughly three days in the refrigerator or three months in the freezer.
Side Dishes to go with Sweet & Sour Chicken
You can make some delicious side dishes to go with this tasty chicken dish. Below are a couple of my favorites that I highly recommend trying.
Making cauliflower rice is extremely easy, so it is a great side dish if you are running low on time. You can also find it fresh or frozen at some supermarkets. It tastes good and is an excellent alternative to regular rice.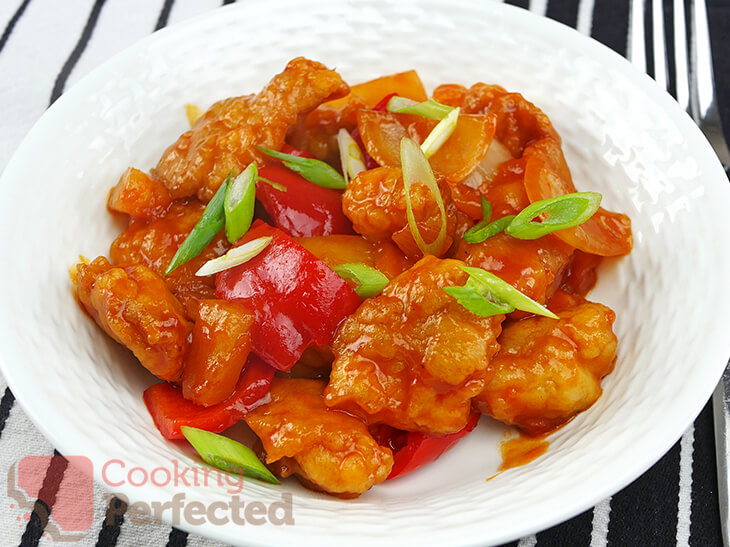 For a slightly different side dish, you can try making some mashed cauliflower. It is similar to mashed potatoes but is lighter and tastier. I highly recommend giving it a try.
If you would love to see how to make paleo-friendly sweet and sour chicken, then be sure to check out the video below. It takes you through all the steps to making this delicious dish. Alternatively, you can find the full recipe right underneath the video.
Paleo Sweet & Sour Chicken
Ingredients
Chicken
2 eggs
1 cup tapioca starch
1 tsp salt
½ tsp pepper
500 g (1.1 lb) chicken thigh, cubed
Sweet and Sour Sauce
1 onion, quartered
1 tsp ginger, minced
1 large red bell pepper, chopped
4 Tbsp honey
4 Tbsp tomato Paste
2 Tbsp coconut Aminos
¼ cup apple cider vinegar
440 g (15.5 oz) can pineapple pieces with unsweetened juice (Do not drain)
For Frying
Instructions
Beat two eggs in a bowl.
In a new bowl, combine the tapioca starch, salt, and pepper.
In batches, add the chicken to the egg bowl and then coat in the tapioca starch. Repeat until you have coated all the chicken.
In a deep frypan over high heat, add the coconut oil. Once hot, quickly brown the chicken. Once browned, put to the side.
In a clean deep frypan, add 1 tsp coconut oil, onion, ginger, bell pepper, and cook until the onion is translucent, roughly 2 minutes.
Add the honey, tomato paste, coconut Aminos, apple cider vinegar, and the pineapple pieces with the juice. Stir until combined.
Allow to simmer for 15 minutes before returning the chicken to the pan.
Cook for 10 minutes or until thickened.
Serve & Enjoy.
Recipe Tips
You shouldn't need to add any more seasonings to this paleo-friendly sweet and sour chicken dish. However, if you feel the need, adjust the seasoning by using some salt and pepper.
There are lots more vegetables that you can add to this dish. For example, you can add some carrots, but keep in mind the cooking time might need to be longer so that the vegetables are cooked correctly.
You can make this dish in the slow cooker. Just keep in mind you will not be able to coat the chicken. Well, you could, but the coating will become soggy after hours of cooking.
Nutrition Information
Serving Size: 276g (9.7 oz)
Servings Per Recipe: 6
Calories Per Serving: 386
Amount Per Serving
Saturated Fat: 15.5g
Trans Fat: 0.1g
Dietary Fiber: 3g
Sugars: 23g
Cholesterol: 136mg
Sodium: 492mg
Protein: 17g
The information above is an estimate generated by an online nutrition calculator.
More Paleo Chicken Recipes
Below are some more paleo-friendly recipes that are well worth making.
If you are a fan of curries, then the paleo-friendly korma is indeed one that you should try. It features a delicious homemade curry paste that will guarantee an excellent tasting curry.
The creamy chicken skillet is another dish that I highly recommend trying. It is deliciously creamy and is loaded with a good range of chicken and vegetables. It also only requires one dish.
I hope this paleo sweet and sour chicken recipe works out for you. It certainly came out great for me. If you have some suggestions, tips, or anything else that you would like to say, please feel free to leave a comment below.