This butter chicken is deliciously creamy, loaded with flavor, and will fulfill those cravings for a delicious curry.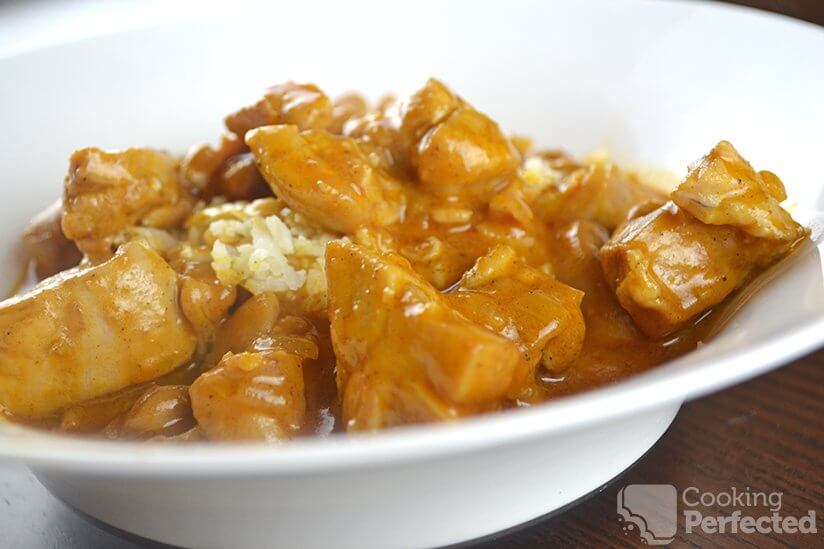 There are a lot of paleo-friendly ingredients in this recipe because we are making a curry paste from scratch. One of the best things about making this curry from scratch is you know exactly what has gone into it.
A single batch of this delicious curry will feed roughly four people, but this will vary heavily depending on what side dishes you have with it.
If you do end up loving this curry, I have some cooking tips underneath the recipe that will help you be able to make this recipe a lot faster in the future.
Homemade Curry Paste vs. Jar Sauce
The difference between a jarred paste and a paste made from scratch is simply amazing. The fragrance, flavors, and even the look of the butter chicken are just so much better.
You will find a lot of the jar sauces have added sugars and salts to help with flavor. They are also likely to have preservatives as they need to be able to last in the jar for months.
The best thing about a homemade curry paste is that you can control the flavors by adjusting the ingredients.
Adjusting the Recipe
There are some little adjustments that you can make to the recipe. Below are a couple of examples.
Feel free to add more vegetables to the curry. Carrot, sweet potato or mushrooms will work nicely in with the chicken and curry sauce.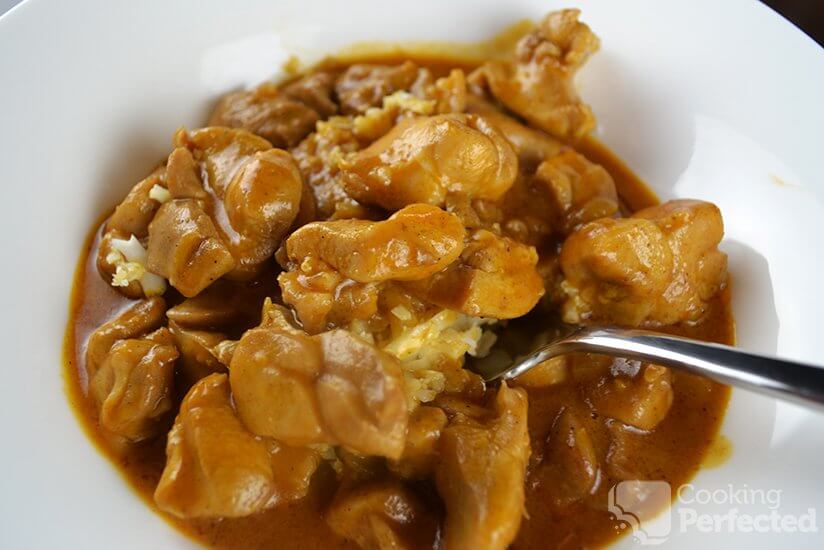 As I mentioned above, you can tinker with the curry spices to get the best tasting butter chicken curry. Feel free to experiment, but try not to go overboard as you might ruin the curry.
Any cut of chicken will work nicely in this curry, so feel free to use chicken breasts, drumsticks, or even bone-in chicken thigh. I prefer boneless meat as it is easier to cook and eat.
What to Serve with Butter Chicken Curry
I have a couple of great ideas on what to serve with this curry. Below are the two ideas, and you cannot go wrong with either choice.
My favorite accompaniments to go alongside this curry is cauliflower rice or some creamy cauliflower mash. They are both pretty easy to make and they match very nicely with this curry.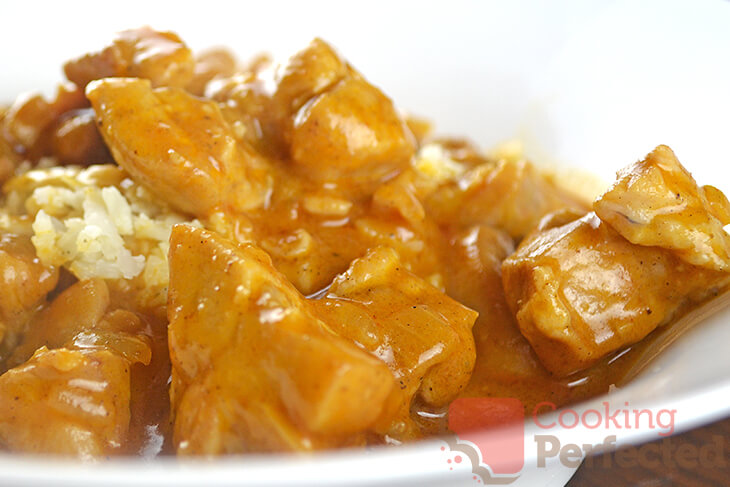 Another option is to have some mashed sweet potato. It is a bit heavier in flavor than the two options I mentioned above but will work very nicely with the curry. I highly recommend giving it a try if you are not a fan of cauliflower.
Let us know if you have any other ideas on how to serve this butter chicken curry.
Storing the Leftovers
You can store the leftovers in the fridge or freezer. If you store them in the refrigerator, they should last for about three days before needing to be eaten or frozen. If you store the leftovers in the freezer, then they should last for up to six months before they will start to lose quality.
If you want to see how to make this butter chicken recipe, then check out the video below. Alternatively, there is a full written recipe immediately beneath the video.
Butter Chicken Curry Recipe
Ingredients
2 Tbsp coconut oil
1 large onion, diced
2 tsp garlic, crushed
2 tsp lemon juice
2 & 1/2 Tbsp tomato paste
400 ml (13.5 fl oz) coconut milk
700 g (1.5 lb) chicken thigh fillets, cubed
Curry Spices
2 tsp garam masala
1 tsp cardamom, ground
1 tsp coriander, ground
1 tsp ginger, ground
1 tsp cumin, ground
½ tsp paprika
1 tsp turmeric, ground
1 tsp salt
Instructions
Heat the coconut oil in a pan over high heat.
Firstly, add the onion and cook until translucent, roughly 3-4 minutes.
Add the garlic and spices and cook until fragrant. Approximately about 2 minutes.
Next, add the chicken and cook until lightly browned.
Now add the salt, tomato paste, lemon juice, and coconut milk.
Lower the heat to medium and bring to a simmer.
Cook for about 20 minutes.
Serve & Enjoy.
Recipe Tips
If you enjoy this recipe, you can make a jar of the butter chicken spices and store it for future use. Every time you make this recipe, all you will need is two and a half tablespoons of the spices. Doing this method, you will not need to weigh out the seven odd spices over and over.
This dish goes amazing with the cauliflower rice, so if you are looking for a dish to help bulk this out, then you should check out our cauliflower rice recipe. It is paleo-friendly as well.
The coconut milk can be swapped for coconut cream. You will get a much creamier curry by doing this simple swap. Be careful as coconut cream is a little more susceptible to splitting.
Nutrition Information
Serving Size: 340g (12 oz)
Servings Per Recipe: 4
Calories Per Serving: 658
Amount Per Serving
Saturated Fat: 31g
Trans Fat: 0g
Total Carbohydrate: 12.9g
Dietary Fiber: 4g
Sugars: 6.3g
Cholesterol: 156mg
Sodium: 763mg
Protein: 54.2g
The information above is an estimate generated by an online nutrition calculator.
More Paleo-Friendly Chicken Recipes
There are quite a few different chicken dishes that you can do. Below are a couple of my favorites that I highly recommend that you try.
The chicken piccata is super delicious and has a lovely crumb accompanied with a homemade lemon sauce. It is paleo-friendly and loaded with lots of flavors. It is well worth the time and effort it takes to make it.
I also love our unique take on the classic chicken parmesan. Due to the restrictions of the paleo diet, we have skipped, on the parmesan but we make up for it in loads of flavor.
If you have made this butter chicken and would love to share what you thought of it, then please do not hesitate to leave a comment below.