This paleo chicken parmesan is a fantastic take on the classic Italian dish.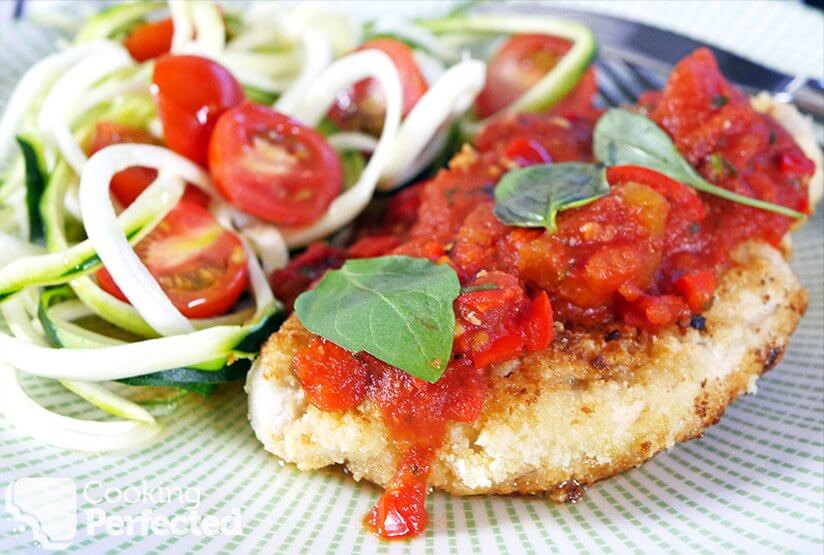 The chicken has a lovely almond crumb coating and is topped with a homemade marinara sauce. It can be eaten just by itself or with a delicious paleo-friendly side dish.
You will be able to feed about two people from a single batch of this recipe. To feed more, double the ingredients for the pieces of chicken. There should be enough sauce for four people unless you want to keep it all to yourself.
The leftover chicken pieces are great for lunch the next day, so make sure you keep any leftovers. The leftovers should last for three days in the fridge or three months in the freezer. However, I do not recommend freezing this recipe.
If you are looking for a dessert to have after this meal, I recommend giving the baked apples a try. They have a lovely date and oat filling that match the apple perfectly.
Tweaking the Recipe
This recipe is missing cheese because it is considered not paleo-friendly. So depending on how strict you are, you can add cheese. I would add something like mozzarella or Parmesan, but it all comes down to personal preference.
You can add some spices into the crumb for the chicken. For example, cayenne pepper, paprika, Cajun seasoning, or cumin will add a bit more flavor. Two teaspoons of your chosen spice should be more than enough.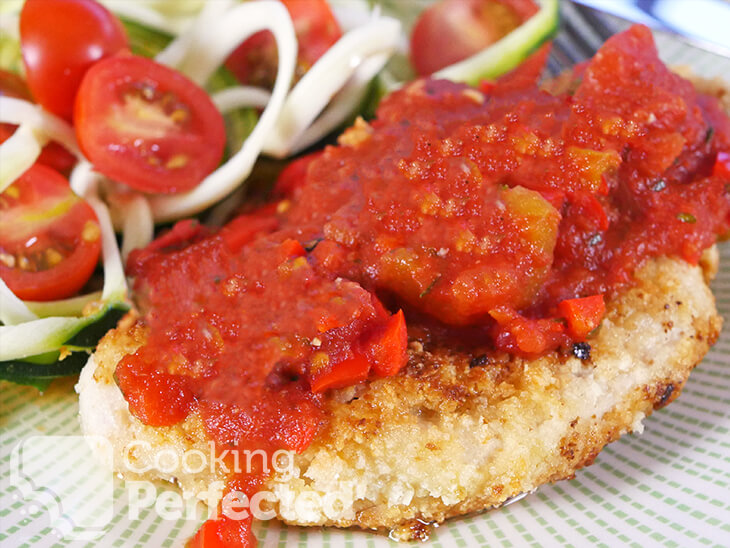 The marinara sauce will work nicely with some additional vegetables. Some sliced mushrooms, olives, diced zucchini, or baby spinach will work nicely. Feel free to experiment a little.
If you enjoy a sauce with a bit of spice, then I recommend adding one teaspoon of fresh red chili into the marinara sauce. It will certainly add a bit of heat to the dish.
What to Serve with Chicken Parmesan
You can have this dish just by itself or with a delicious side dish.
I had the chicken with a side dish of fresh salad containing cherry tomatoes, spiral zucchini, and a drizzle of olive oil. I use a spiralizer to get the cool effect of the zucchini in the photo above.
If you are not in the mood for salad, something like crunchy sweet potato fries always goes great with this lovely chicken parmesan. However, it just comes down to what you feel like.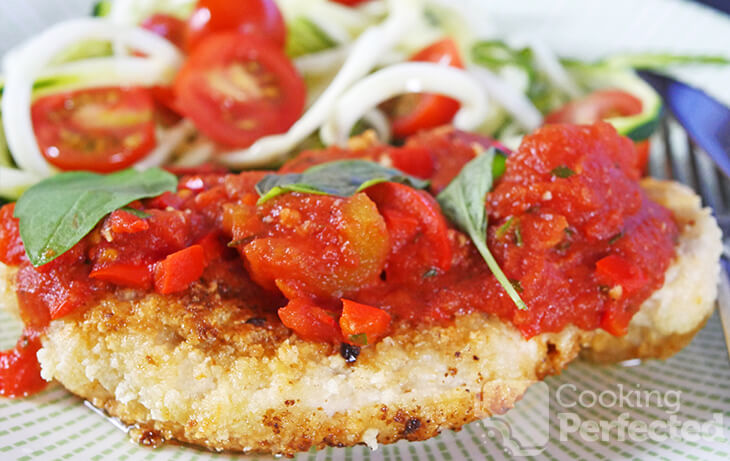 A side dish that will work nicely with this dish is the mashed cauliflower. It is very similar to mashed potatoes but is a bit healthier, and more importantly, paleo-friendly.
If you want to see how to get this recipe from the stove to the plate, then be sure to check out my video below. If you just want the text version to work through at your own pace, you can find it under the video.
Paleo Chicken Parmesan Recipe
Ingredients
Chicken Pieces
1 chicken breast, butterflied
1 cup almond flour
1 egg
Marinara Sauce
2 tsp garlic, crushed
1 red bell pepper, finely diced
400 g (14.1 oz) diced tomatoes
1 tsp fresh parsley, chopped
1 tsp fresh basil, chopped
Instructions
Crack the eggs into a bowl.
In another bowl, add the almond flour and a pinch of salt and pepper.
Dip the chicken into the bowl of egg and then into the bowl of almond flour.
Repeat until you are completely done, place the coated chicken to the side.
In a small pot over low heat, fry the garlic, and red bell pepper. Cook for about 3-4 minutes.
Add the diced tomatoes, parsley, basil, and a pinch of  salt and pepper. Bring to a simmer.
In a frypan over medium heat, add two tablespoons of coconut oil.
Once the oil is hot, add the coated chicken.
Cook for 5-10 minutes on each side.
Once golden brown and the chicken is cooked all the way through, remove from the pan.
Place the chicken on a plate and add a good amount of the sauce over the top.
Serve & Enjoy.
Recipe Tips
If you decide you want to top the sauce with a bit of cheese, then be sure to place it under the grill for 5-10 minutes. Alternatively, baking in a preheated oven 180°C (350°F) for about 10 minutes should be fine.
When cooking the chicken, make sure you do not fiddle with it too much as the coating may start to fall off.
A thick coating on the chicken can be achieved by simply repeating step four twice for each piece of chicken.
Use a meat thermometer to check whether the chicken is cooked. The internal temperature of the chicken should be 75°C (165°C).
Nutrition Information
Serving Size: 229g (8.1 oz)
Servings Per Recipe: 2
Calories Per Serving: 289
Amount Per Serving
Saturated Fat: 1.2g
Trans Fat: 0g
Total Carbohydrate: 12.5g
Dietary Fiber: 5.3g
Sugars: 5.7g
Cholesterol: 94mg
Sodium: 302mg
Protein: 27.8g
The information above is an estimate generated by an online nutrition calculator.
More Paleo-Friendly Recipes
Below are some more paleo-friendly recipes that are worth giving a try.
If you want the chicken by itself without the marinara sauce, leave out the sauce or check out my crunchy paleo fried chicken recipe. It has a slightly different coating to the one I use in this recipe.
Another recipe that I reckon you will love is the sweet and sour chicken. It has some crispy pieces of chicken, vegetables, and a lovely sweet and sour sauce. I highly recommend giving it a try.
I am always glad to hear any feedback that you may have for this paleo chicken parmesan recipe. If you do have some feedback, then please feel free to leave me a comment below.