This peanut chicken curry is an absolute must-try as it is loaded with flavor and can easily feed a crowd.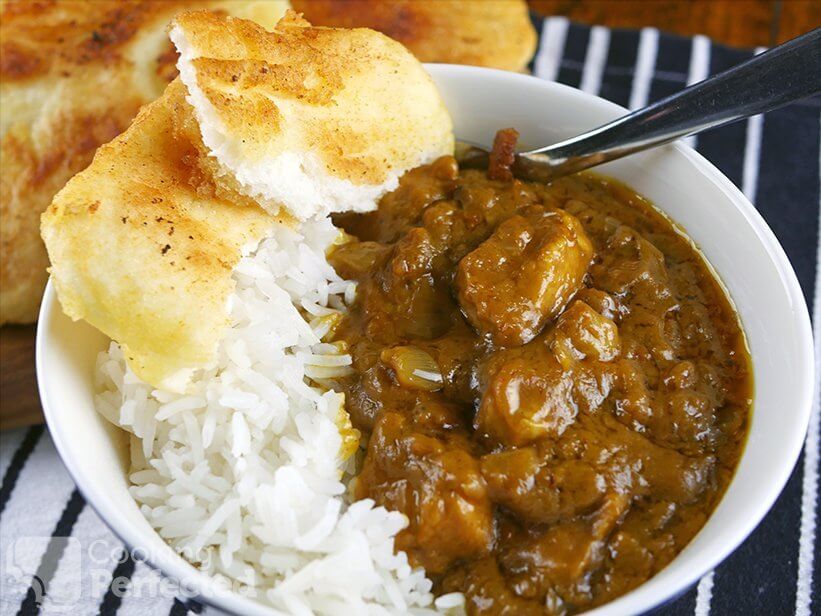 By the time this curry is ready, it will be loaded with flavor thanks to the homemade curry paste, peanut butter, and the delicious chunks of chicken. It is best enjoyed with some fresh steamed rice and some homemade naan bread.
I make use of a homemade curry paste, and I highly recommend that you use it as well. With that said, you can use store-bought red curry paste instead, but I believe the flavors are not nearly as good.
You should be able to feed about eight people without having to make any adjustments to the ingredient quantities. If you need to feed more, then you might want to double or triple the recipe.
There are a ton of alterations that you can make to this recipe. Be sure to check out some of the cooking tips further down the page if you are interested in making some adjustments.
Delicious Side Dishes
No curry is complete without a good naan bread. Luckily, you can quickly make gluten-free naan bread right at home. You will not need a massive amount of ingredients, and the result is gorgeous.
Regular steamed rice is a perfect accompaniment to go with this delicious curry. If you feel like doing something a little different, then you can try some cauliflower rice. It is a much healthier alternative to regular white rice and surprisingly easy to make.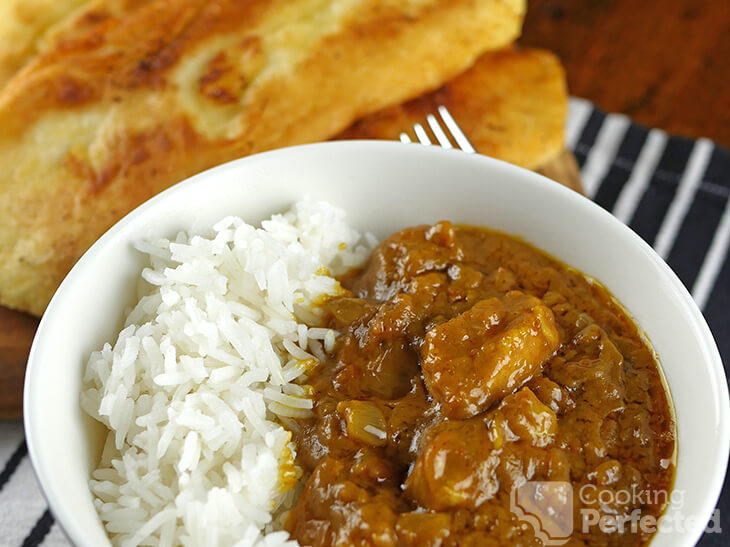 For something completely different, you can serve the curry over the top of some mashed potatoes or mashed cauliflower. Both are excellent choices; however, the cauliflower is a much healthier option.
You can find the full written recipe right below. It will take you through all the steps on how to make this peanut chicken curry.
Peanut Chicken Curry Recipe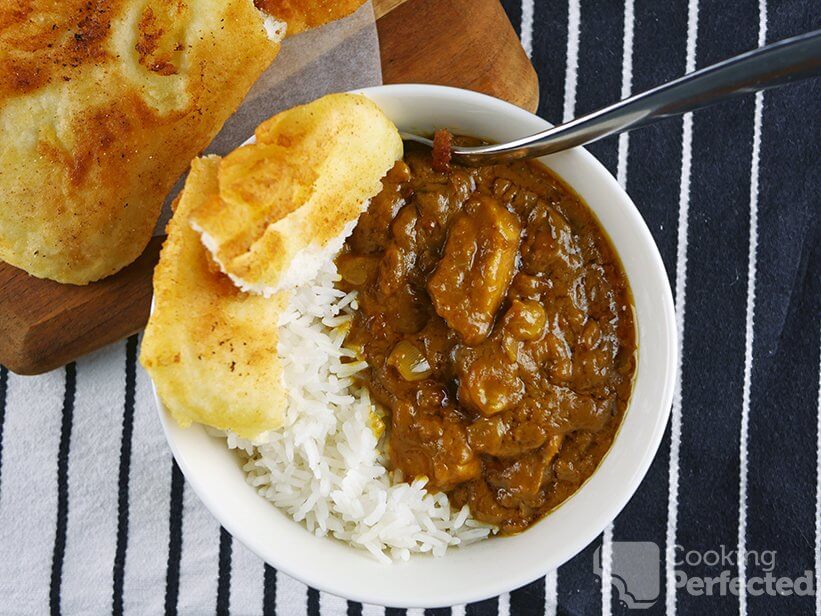 Ingredients
Curry
1 Tbsp oil
1 onion diced
¾ cup red curry paste (see below)
1 kg (2.2 lb) chicken thighs, cubed
400 ml (13.5 fl oz) coconut milk
¼ cup fish sauce
2 Tbsp sugar
½ cup peanut butter
Curry Paste
2 Tbsp dried red chilies, crushed
2 onions, roughly chopped
3 tsp garlic crushed
2 Tbsp oil
1 tsp lemon rind
2 tsp shrimp paste
1 Tbsp paprika
2 tsp turmeric, ground
1 tsp black pepper, ground
Instructions
Firstly, blend all the curry paste ingredients until they are a smooth paste.
In a frypan over medium heat, add 1 Tbsp oil.
Once the oil is hot, add the onion and cook until translucent.
Next, add the curry paste and cook until fragrant, roughly 2-5 minutes.
Add the chicken and cook until browned.
Add the coconut milk, fish sauce, sugar, and peanut butter.
Bring to a simmer and cook for 30 minutes.
Serve & Enjoy.
Recipe Tips
You can also do this curry in the slow cooker. Slow cooking is perfect if you want to get the curry cooking early in the day.
Homemade curry paste is excellent but it can be time-consuming and pricey if you have to buy all the ingredients. You can easily replace the curry paste with a store-bought one instead. Just make sure it is gluten-free.
If you are not a fan of peanut butter, then you can replace this with crushed peanuts. You may need to add a bit more than half a cup.
The longer you simmer this chicken peanut curry, the better the flavors will be. Just make sure you keep an eye on the curry as it can get incredibly thick and start to burn.
If you love the flavor of peanuts, then you can always add some more peanut butter. I would avoid going over one cup as it can start to overpower the curry paste.
Nutrition Information
Serving Size: 325g (11.5 oz)
Servings Per Recipe: 8
Calories Per Serving: 675
Amount Per Serving
Saturated Fat: 20.4g
Trans Fat: 0.2g
Dietary Fiber: 3g
Sugars: 9g
Cholesterol: 191mg
Sodium: 1120mg
Protein: 36g
The information above is an estimate generated by an online nutrition calculator.
More Chicken Recipes
There are so many different types of curry that you can make gluten-free.
This curry is one of my favorites, so I highly recommend that you give it a try before making other curries. If you want something different, then something like a chicken korma curry always goes down a treat.
Another curry that you have got to try is the butter chicken curry. It has all the flavors that you expect in a good curry. Much like this curry, it is made completely from scratch.
I hope that you love this gluten-free peanut chicken curry recipe as much as I do. If you have your own thoughts, tips, or anything else, then please leave a comment below.