These basic paleo meatballs are the perfect replacement for your traditional meatball recipe.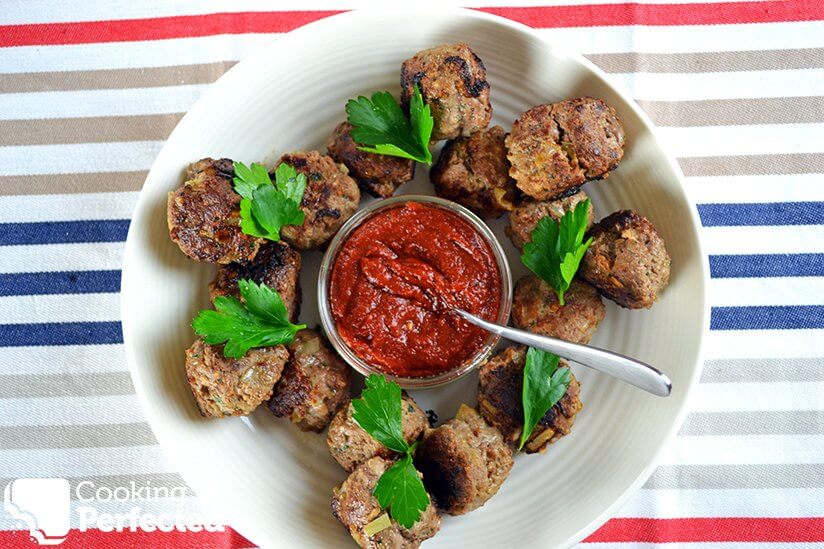 These meatballs cook to be juicy and loaded with flavor. You will only need five very simple ingredients to make these, so they are great if you are running low on ingredients.
Most of the meatball recipes that you find today will make use of breadcrumbs and other non-paleo ingredients to help bulk out the mixture. However, you do not need any of these ingredients to make a good meatball.
Our beef meatball mixture comprises of ground beef, onion, garlic, egg, and some parsley. Feel free to add more herbs or slightly alter the recipe, but try not to go overboard. You can easily ruin the delicate balance of ingredients.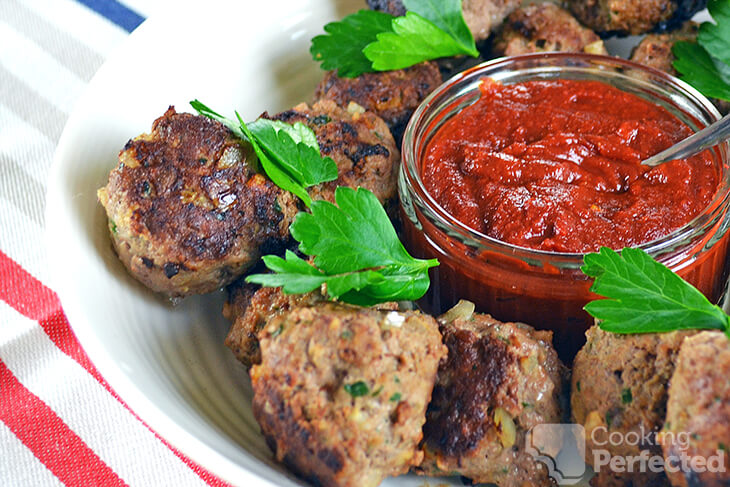 You will get less out of your mixture as we are not bulking it out with floury products. So, you will only feed roughly two people without needing to adjust this recipe.
Serving these Paleo Meatballs
These meatballs are very basic, so you may want to cook a sauce or gravy to go with them. Below are a couple of ideas on how to serve this dish.
There are plenty of gluten-free or paleo-friendly sauces that match perfectly with these meatballs. For example, a good marinara sauce goes amazing with them. You can easily make marinara sauce from scratch in a frypan or in a slow cooker.
If you have some spare time, you can make some mashed cauliflower and some paleo-friendly gravy. Simply place the meatballs on top of the mashed cauliflower and pour the gravy over the entire lot. It is a truly delicious meal.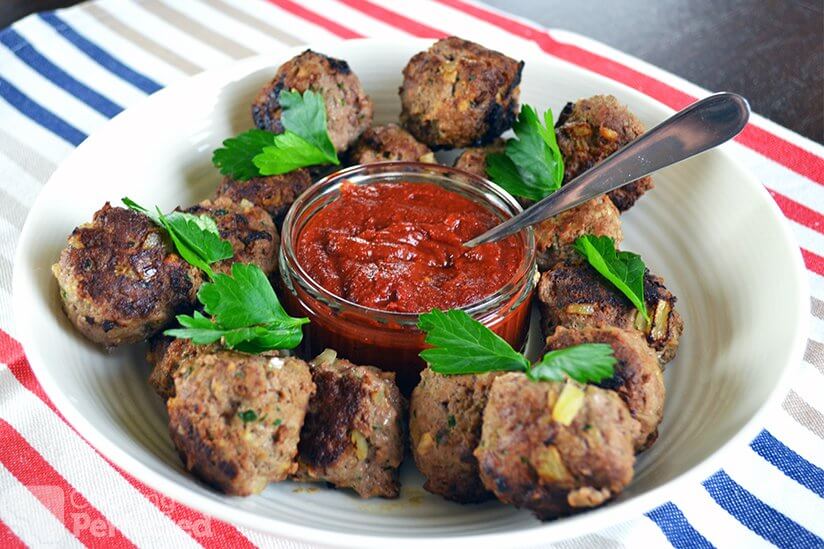 You can make some easy sweet potato fries to go with this dish. It is an excellent side dish that you can bake in the oven as you fry the meatballs. The fries, along with a salad and meatballs, will make for an excellent paleo-friendly meal.
With that all said, I think these meatballs are great by themselves. I ate all of mine with some of the tasty paleo ketchup I made.
If you want to see how to make these paleo meatballs, then check out the video below. I also have a full written recipe right underneath the video that you should check out.
Paleo Meatballs Recipe
Ingredients
500 g (1.1 lb) ground beef
1 egg
1 onion, diced
1 Tbsp parsley, chopped
2 tsp garlic, crushed
Instructions
Place all the ingredients in a bowl and mix. The more you work the mixture, the better they will keep their shape and not fall apart.
Roll the beef mixture into balls using roughly one tablespoon for each meatball.
In a frying pan, place about one tablespoon of paleo-friendly fat such as coconut oil.
Once the oil is hot, add the meatballs.
Cook until well browned. Make sure you keep turning them, so they cook evenly.
Serve & Enjoy.
Recipe Tips
Using the oven is typically a lot easier than using the stove as you can place the meatballs in the oven and wait until they are cooked. Preheat the oven to 180°C (350°F) and place the balls onto an oven tray lined with baking paper. Lastly, bake for 10-15 minutes or until cooked.
To make more meatballs out of a single batch, try adding some almond flour to the meatball mix. You may need to add another egg to counteract the almond flour. Adding too much almond flour will likely make the mixture go dry and crumbly.
The type of ground meat that you use is entirely up to you. This recipe will work fine with ground turkey, chicken, pork, and most other meats.
You can always freeze a big batch of these meatballs and use them later. However, I always prefer cooking from fresh, if possible.
These paleo-friendly meatballs should not fall apart as you cook. Just the egg and meat will be enough to keep these bound together. With a bit of seasoning, the meatballs will also taste absolutely amazing.
Nutrition Information
Serving Size: 332g (11.7 oz)
Servings Per Recipe: 2
Calories Per Serving: 523
Amount Per Serving
Saturated Fat: 6.6g
Trans Fat: 0g
Dietary Fiber: 1.3g
Sugars: 2.5g
Cholesterol: 305mg
Sodium: 199mg
Protein: 79.5g
The information above is an estimate generated by an online nutrition calculator.
More Paleo-Friendly Recipes
There are plenty more paleo recipes worth making. Below are a couple of examples of what else you can make.
The spicy meatballs are yet another paleo-friendly recipe that I highly recommend that you try. The meat is packed with flavor, and the homemade tomato sauce has a lovely zing to it.
You have got to try the paleo-friendly beef stroganoff as it is incredibly delicious. It features a deliciously creamy sauce, tender beef, and some flavor-packed mushrooms. It certainly is a dish that will make you proud of being paleo.
If you want to leave feedback, a variation, or anything else on this paleo meatballs recipe, be sure to leave us a comment below.