If you're struggling without ketchup, then this paleo ketchup recipe will save you! This recipe is pretty easy to cook up and should keep for at least a couple of weeks in the fridge.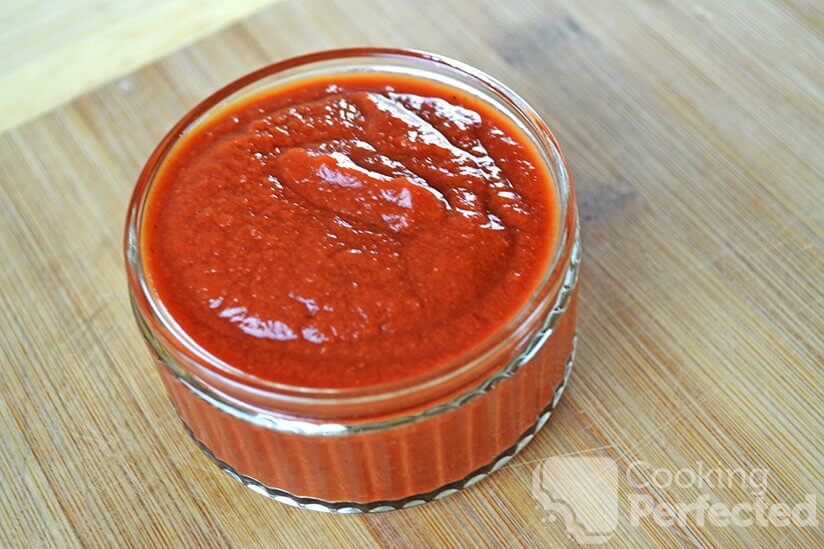 If you're like most people, ketchup is one of the first things to go from the cupboard when starting the Paleo diet. You will find that most store-bought condiments are loaded with sugar and artificial preservatives and flavors.
Unfortunately, ketchup is usually a staple condiment, so a paleo-friendly version was on the top of my list of foods to try converting. This recipe is a bit different from the store-bought varieties but still tastes amazing.
Perfecting the Ketchup
There are lots of slight tweaks that you can make to the ketchup recipe to make it more to your liking. I will go through some suggestions on what you can do.
Getting the right consistency is vital for the perfect sauce. You can add some water if you find the sauce too runny, otherwise, simmer the sauce for longer to thicken it.
Tasting the ketchup is highly essential to get the best outcome. I recommend tasting as you go and adjusting flavors and seasonings. For example, you might want to sweeten it a little with honey.
Different seasonings can be added for more flavor. For example, adding some paprika or cumin can add a ton of flavor to the ketchup. I recommend only adding a teaspoon at a time and tasting to ensure that you don't go overboard.
If you have any feedback or tips, then please be sure to let us know.
What to have with this Paleo Ketchup
So many different foods go great with ketchup. Below is a couple of examples of paleo-friendly recipes that you can have with this sauce.
This ketchup goes amazingly well with some of our paleo sweet potato fries. The fries are super easy to make and perfect if you want a tasty side dish.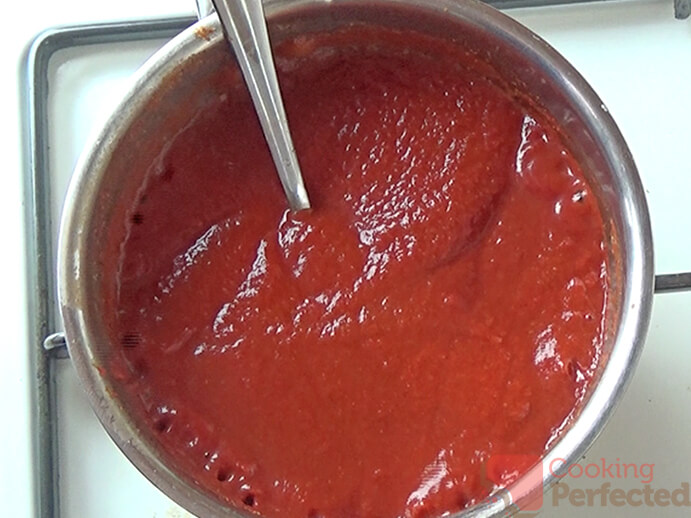 You should try some chicken nuggets with the ketchup as it tastes a lot better than it sounds. For a complete meal, you can also make some sweet potato fries to go with the chicken.
Some hearty beef meatballs also match pretty well with a condiment such as ketchup. It's a delicious combination that I highly recommend that you try.
There are a lot more foods that go great with ketchup, so if you have any suggestions, be sure to leave a comment.
If you want to see how to make paleo ketchup, then be sure to check out my video below. Alternatively, the full written recipe is immediately underneath the video.
Paleo Ketchup Recipe
Ingredients
400 g (14.1 oz) tomato paste
1 cup water
2 Tbsp apple cider vinegar
½ tsp garlic powder
½ tsp onion powder
¼ tsp dry mustard powder
¼ tsp ground cloves
¼ tsp cinnamon, ground
Instructions
Mix all the ingredients in a saucepan and bring to the boil.
Reduce to a simmer and allow to cook for about 5-10 minutes.
Allow to cool before transferring to a sterile glass container.
Serve & Enjoy.
Recipe Tips
If you want a thicker or thinner paleo ketchup, then simply adjust the water. More water would make it thinner, while less would make it thicker.
If you do love a bit of sweetness to your ketchup, then you can try adding some honey. I would start with one tablespoon and keep tasting and adding more until you get it to something that suits your needs. Keep in mind while honey is paleo-friendly, it's important not to go too overboard with it if you're looking to lose weight.
Store any leftover ketchup in the fridge for later use. Make sure the container is sterile, and you don't store it hot. Storing it hot will allow condensation to form and will encourage mold to grow on the food.
Nutrition Information
Serving Size: 14g (0.5 oz)
Servings Per Recipe: 48
Calories Per Serving: 7
Amount Per Serving
Saturated Fat: 0g
Trans Fat: 0g
Dietary Fiber: 0g
Sugars: 1g
Cholesterol: 0mg
Sodium: 8mg
Protein: 0.4g
The information above is an estimate generated by an online nutrition calculator.
More Delicious Paleo Recipes
The amount of recipes that you can make paleo-friendly is staggering. Below is just a couple of examples of delicious recipes that you need to try.
If you're after other amazing paleo condiment recipes, then be sure to check out our paleo mayonnaise. The mayonnaise, much like the homemade ketchup, is super easy to make and beats all those store-bought varieties.
For something that's an entire meal and very delicious, you should try the paleo-friendly beef and broccoli stir fry. It's a little different from the traditional version of the recipe but is still very flavor-packed.
If you have any feedback on this Paleo ketchup recipe or have your own fantastic variation, then please feel free to drop us a comment below.