This paleo ranch dressing is deliciously good and is the perfect condiment or salad dressing for a lot of dishes.
Like mayo, this was yet another condiment that I missed when I started cooking paleo. This simple alternative to store-bought varieties is so much better and healthier.
This recipe has all the flavors that you know and love with traditional ranch dressing. The biggest difference is we're using a Paleo-friendly mayonnaise and alternative ingredients that are considered paleo-friendly.
Making Paleo Mayonnaise
This recipe will require a paleo-friendly mayonnaise, so you will need to make it from scratch or buy it from a store.
The ideal and cheapest solution is to make some homemade paleo mayonnaise, which I already have a good recipe for. It's super easy to make, so don't fret about getting it wrong.
Buying a Paleo-friendly mayonnaise can be tricky as your local supermarket likely doesn't stock it. So, your best chance to buy some will be to check out a local specialist shop or visit an online store like Amazon.
Foods that go great with Ranch Dressing
As you can imagine, there are a lot of dishes that this dressing would work surprisingly well as an accompaniment. It is delicious as a salad dressing but also exceptionally good as a dip.
I love dipping the almond crusted fried chicken into this ranch dressing when I am feeling a bit peckish. The crunchy chicken and ranch dressing is a delicious combination that I highly recommend giving a try.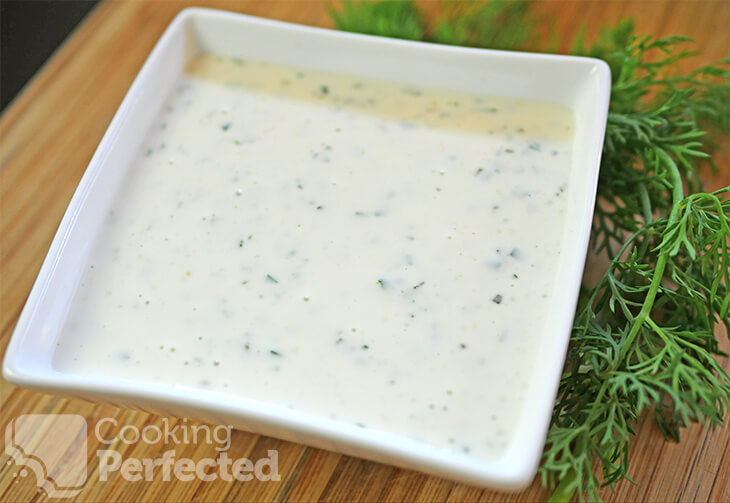 The coconut crusted chicken is yet another delicious dish that matches nicely with this ranch dressing. If you want to go one step further, you can make a salad using the dressing, chicken, and some delicious greens.
There are lots more foods that ranch dressing will go great with, but the two chicken dishes are the first ones that I thought of. If you have a paleo-friendly pairing for this dressing that you would love to share, then please don't hesitate to leave a comment at the bottom of this page.
If you want to see how to make this Paleo-friendly ranch dressing, then be sure to check out the video below. Alternatively, the full written recipe is right underneath the video. The written recipe has some cooking tips that will help you perfect this dressing.
Paleo Ranch Dressing Recipe
Ingredients
¾ cup paleo mayonnaise
¼ cup coconut cream
¼ tsp onion powder
¼ tsp garlic powder
½ tsp dill weed, chopped
½ tsp tarragon, chopped
½ tsp chives, chopped
½ tsp parsley, chopped
Instructions
Add all the ingredients into a bowl and mix until well combined.
Season to taste with salt and pepper.
Cover and place in the fridge for at least 30 minutes.
Keep refrigerated until needed.
Recipe Tips
This dressing will last in your fridge for about a week, but don't be surprised if it can last a little longer than that. If in doubt, make sure you discard it.
In this recipe, you can use dried or fresh herbs. I prefer fresh, but sometimes they can be a bit expensive or hard to get.
You may not find any need to add salt or pepper to the dish, so make sure you taste before adding either of these.
Make sure you mix your coconut cream before you add it to your ranch dressing mixture. You will find that sometimes coconut cream will separate, and some of it will be almost solid and the rest runny.
Make sure you refrigerate the leftover coconut cream so you can use it in a different dish.
If you find the ranch dressing is a little too thick for your liking, then simply add more coconut cream. Keep in mind if you add too much, it will go runny and have a strong coconut taste to it.
Nutrition Information
Serving Size: 14g (0.5 oz)
Servings Per Recipe: 17
Calories Per Serving: 49
Amount Per Serving
Saturated Fat: 1.3g
Trans Fat: 0g
Dietary Fiber: 0g
Sugars: 0.8g
Cholesterol: 3mg
Sodium: 74mg
Protein: 0.2g
The information above is an estimate generated by an online nutrition calculator.
More Paleo Condiments
There are so many great condiments that you're able to keep enjoying while on the paleo diet. The best thing about making foods at home is that you know what is going into it, and you can tweak the ingredients so that the flavor is perfect for you.
Making ketchup at home is surprisingly easy, and the result is super delicious. The best part about making it from scratch is that you can tweak the recipe, so it's perfect for your taste buds. I highly recommend giving it a try.
A delicious condiment that is both fulfilling and Paleo-friendly is guacamole. Our recipe has a few additional ingredients that help add a ton of flavor. However, it is still recognizable as a guacamole dip.
I hope you enjoy this homemade paleo ranch dressing recipe. If you come across any issues, have feedback, or anything else, then please feel free to leave a comment below.