This homemade tartar sauce combines delicious mayonnaise with all the flavors of a traditional tartar sauce. It's just like the store-bought varieties but even better.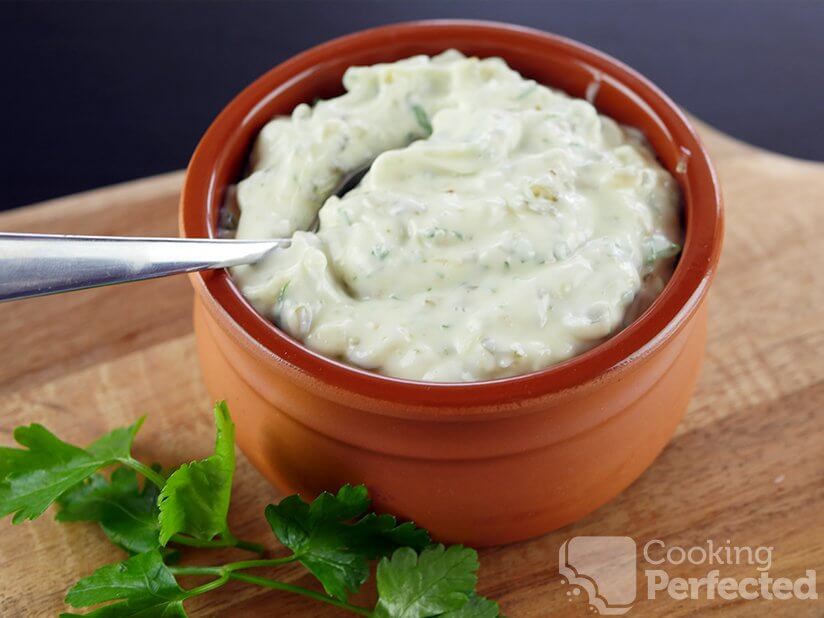 This tasty condiment is also sometimes spelled Tartare sauce in some countries. It is typically based on mayonnaise or aioli and has several more ingredients added such as capers, gherkins, lemon juice and sometimes dill.
I love this recipe as it has all the flavors that you expect with a good tartar sauce. It's the perfect dipping sauce for a whole range of food, especially seafood.
This homemade tartar sauce is so easy to quickly make as long as you have some mayonnaise lying around. If you don't, then it's pretty easy to make quickly.
How to make Paleo Tartar Sauce
To make this sauce paleo-friendly simply make sure you use a paleo-friendly mayonnaise. You can easily make it at home with just a few simple ingredients.
Alternatively, you can just buy some paleo mayo from a specialized store or online at a store such as Amazon (It's pretty affordable).
This recipe is the perfect replacement for all those non-paleo supermarket brands, and the best thing is you know exactly what's gone into it.
Uses for Tartar Sauce
I love dipping any kind of seafood into this delicious condiment. However, some of my favorites include food such as something like fried fish, salmon cakes, and much more.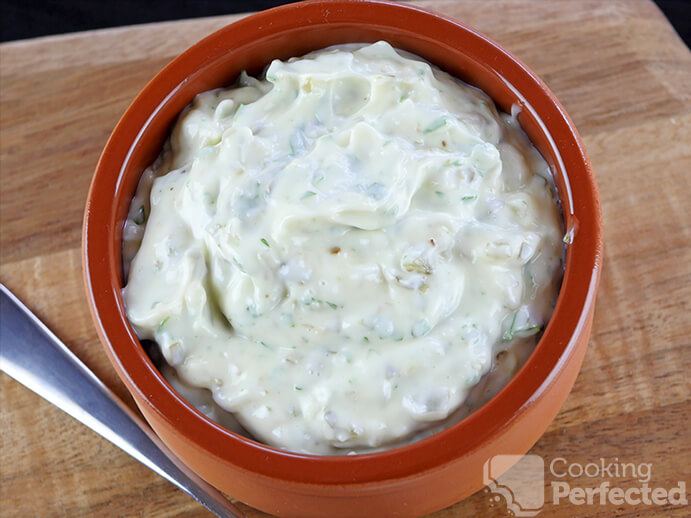 Even some sweet potato fries go well with it. Tartar is certainly one of my favorite condiments that I would struggle if I lost it entirely out of my diet.
There are plenty more meals that this condiment goes excellent on the side as a dipping sauce. If you have any ideas you want to share, be sure to leave us a comment.
How long does it last
The time this will last heavily depends on how you store it and if you use homemade mayonnaise or not. I recommend storing it in the fridge at all times.
If stored in the fridge and made with bought mayonnaise, then this sauce can last for a couple of weeks. Homemade mayonnaise will last roughly a week. If it looks spoiled, then do not eat and discard immediately.
This easy tartar sauce recipe is pretty straightforward, but if you want to watch a nice and short video on how to make it, then you can find one below. Alternatively, the full written recipe is right underneath the video.
Homemade Tartar Sauce Recipe
Ingredients
1 cup mayonnaise
2 tsp capers, finely chopped
2 gherkins (pickles), finely chopped
2 Tbsp flat leaf parsley, chopped
1 tsp lemon juice
Instructions
Combine the mayonnaise, capers, gherkins, parsley and lemon juice in a bowl.
Season with salt and pepper to taste.
Refrigerate until needed.
Recipe Tips
This tartar sauce will keep for up to seven days. This time will vary depending on if you made the mayonnaise at home or bought some.
Turning your mayo into tartar sauce doesn't add an extra seven days' life to it, so if the mayo is already old, then it may be best to make some new stuff.
You can use either fresh or dried parsley in this recipe. I tend to try and stick to fresh as much as possible, but sometimes it can be hard to get affordable fresh parsley.
Dill is also an excellent herb that you can add to this dipping sauce. I recommend adding about one tablespoon of chopped dill.
If you don't like black specks of pepper in your condiments, then using white pepper is a good way to avoid this. However with something like tartar sauce you're unlikely to notice this anyway.
It's best to leave this sit for a couple of hours in the fridge before eating it. This sitting time will allow the flavors to develop more, leaving you with a rich and better-tasting sauce.
Nutrition Information
Serving Size: 14g (0.5 oz)
Servings Per Recipe: 23
Calories Per Serving: 43
Amount Per Serving
Saturated Fat: 0.5g
Trans Fat: 0g
Dietary Fiber: 0g
Sugars: 1.2g
Cholesterol: 3mg
Sodium: 94mg
Protein: 0.1g
The information above is an estimate generated by an online nutrition calculator.
Other Condiments Worth Trying
Another mayo-based condiment that you may like to check out is the ranch dressing. This dressing is better suited for chicken dishes and salads while tartar sauce is better for seafood.
Coconut butter is another condiment that I highly recommend trying. It's pretty delicious on toast and works pretty well in cooking. You can easily make coconut butter at home and save a fair bit of money.
I hope you enjoy this super easy tartar sauce recipe as much as I do. There is a ton of variations for this recipe so if you want to share yours then be sure to leave a comment below.