This tasty paleo peach cobbler is the perfect treat for anyone looking for a fruity paleo-friendly dessert. It's pretty easy to make and it tastes as good as it looks.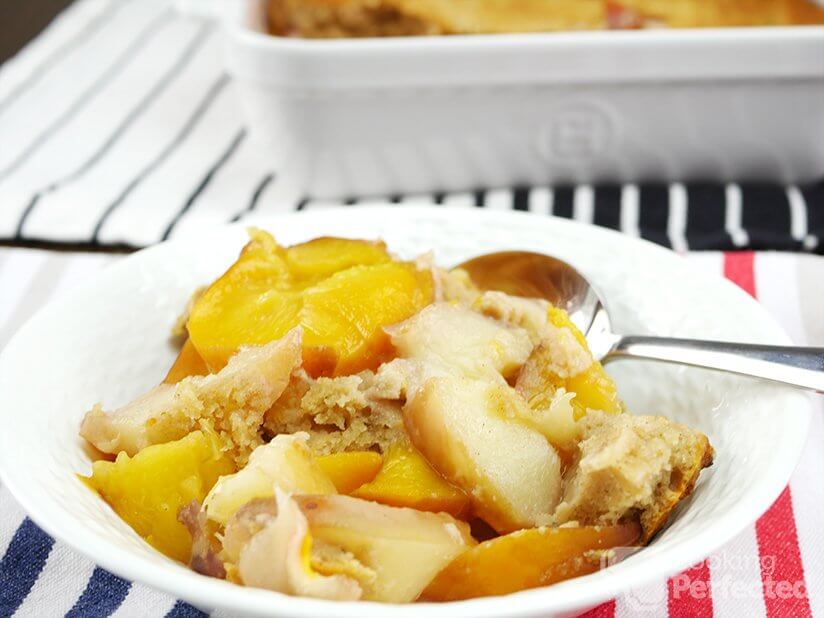 By the time you go to eat this cobbler, the peaches will be super tender and have a fantastic cake mixture on top. The cake has a slight hint of cinnamon that matches with the peaches nicely.
You should be able to feed roughly six people from a single batch of this recipe. However, as you would expect, this can vary heavily depending on how hungry people are.
This peach cobbler is also gluten-free, so it's perfect if you're cooking for people who are suffering from coeliac disease or they're gluten sensitive.
What to Serve with this Peach Cobbler
By following the paleo diet, you're a little restricted to what you can serve with this delicious dessert, but below are a couple of suggestions.
My favorite is to serve this dessert with some paleo-friendly ice cream. It adds a delicious creaminess to the dessert that helps bring all the flavors and textures together. You can make some paleo ice cream at home, or you can buy some from the supermarket.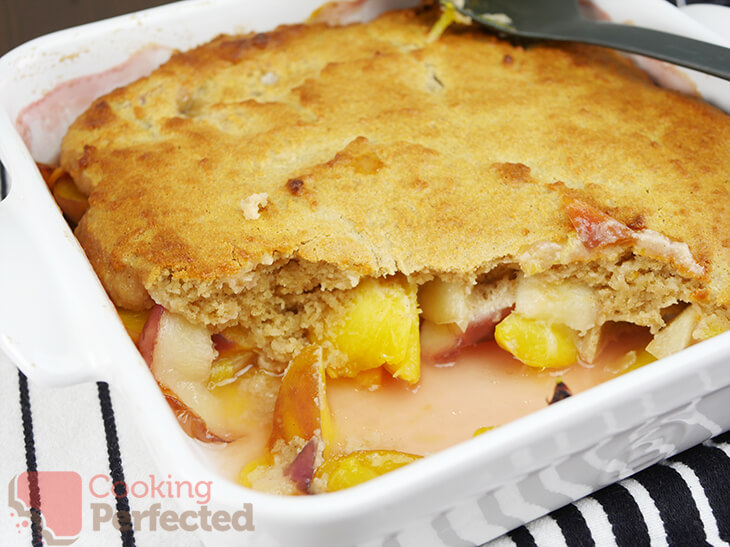 A homemade coconut custard is excellent drizzled over the top of the cobbler. It requires a bit more time in the kitchen unless you can find some for sale at your local store.
If you have more suggestions on what to serve with this cobbler, then be sure to leave a comment at the bottom of this page.
Tweaking the Recipe
There are a few changes that you can make to this recipe to make it more to your liking. If you want to know more, then read through the few tips below.
I use fresh peaches in this recipe, but if you're unable to get your hands on some, then you can use tinned peaches instead. Try to use peaches that are in juice rather than syrup as they typically use fewer sugars.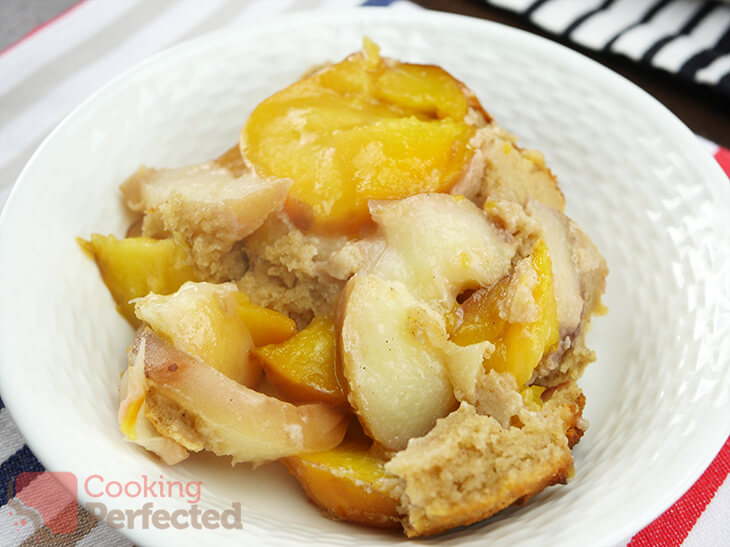 If you love spices, then you can add some more to the topping and fruit. I use some cinnamon, but a mixture of nutmeg and cinnamon will work really well. Be careful on how much you add as they can quickly overpower all the other flavors.
More fruit can be added to the cobbler if you want to mix it up a little. Summer berries such as raspberries or blueberries will work nicely in with the peaches. If you love blueberries, you should also check out our blueberry and pear crisp recipe.
What to do with Leftovers
One of the best things about desserts is that the leftovers are great the next morning for breakfast. Just keep the leftovers covered in the fridge until you need them. The peach cobbler is delicious both cold and hot, so you don't need to reheat it.
The leftover peach cobbler should last for three days in the fridge. Alternatively, it should last for six months in the freezer.
If you would like to see how to do this recipe, then be sure to check out the video below. The video will take you through all the steps to making this incredible paleo-friendly dessert.
Paleo Peach Cobbler Recipe
Ingredients
Topping
¼ cup honey
2 Tbsp coconut oil, melted
¾ cup coconut milk
1 tsp vanilla extract
2 eggs
2 & ½ cups almond flour
½ cup tapioca starch
1 tsp baking powder
1 tsp cinnamon, ground
¼ tsp sea salt
Filing
500 g (1.1 lb) peach slices
Instructions
First, preheat an oven to 180°C  (350°F).
Lightly grease a deep baking dish with a Paleo-friendly oil.
In the baking dish, add the peach slices.
Bake the peaches in the oven for 15 minutes.
Meanwhile, in a bowl, beat the honey, vanilla, coconut oil, coconut milk, and the eggs together.
Add the dry ingredients to the wet mixture and gently fold in.
Top the peaches with the batter mixture.
Bake for 30-45 minutes or until the topping is cooked.
Serve & Enjoy.
Recipe Tips
While I recommend that you use fresh peaches, you can use canned peaches instead. Just keep in mind, tinned peaches often have added sugar, so try to get a no-sugar-added variety.
If you feel like going extra fruity, then add some blueberries in with the peaches. I don't recommend baking the blueberries before adding the topping.
You don't have to bake the fruit before adding the topping. This skip will mean the peaches will not be as tender by the time it's finished cooking.
The tapioca starch in the peach cobbler paleo-friendly topping will help bind it and make it much more enjoyable.
Nutrition Information
Serving Size: 199g (7 oz)
Servings Per Recipe: 6
Calories Per Serving: 478
Amount Per Serving
Saturated Fat: 12.2g
Trans Fat: 0g
Dietary Fiber: 7g
Sugars: 21g
Cholesterol: 55mg
Sodium: 334mg
Protein: 12g
The information above is an estimate generated by an online nutrition calculator.
More Paleo-Friendly Recipes
A peach cobbler is just one of many different types of paleo desserts that you're able to make.
Most paleo-friendly desserts you're going to find are fruity, but there are some that are not. If you're interested, you should also check out the deliciously moist paleo chocolate brownies.
Another fruity dessert that I highly recommend that you make is the paleo-friendly baked apples. These apples cook to be juicy, tender and loaded with a delicious walnut filling. I highly recommend giving them a try.
This tasty paleo peach cobbler is a perfect dessert, but like most sweet things should only be consumed in moderation. If you have any feedback, tips, or variations that you would like to share, then feel free to leave a comment below.