This paleo apple crisp has a delicious apple and cinnamon filling topped with a coconut and almond crumble. It is certainly a must-try dessert.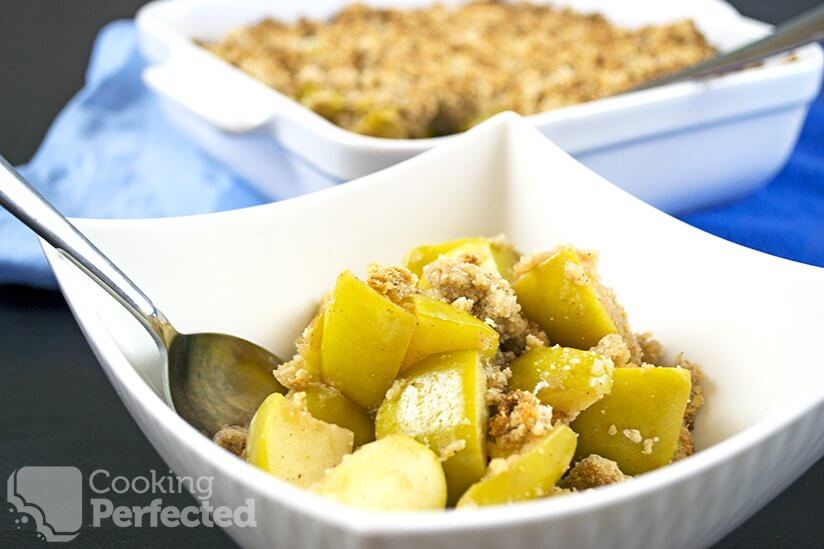 When you bite into this dessert, you will taste some delicious apples topped with a lovely almond and coconut crunchy topping. The apples will be tender and have a slight hint of cinnamon. It is the perfect fruity dessert to end the day with.
You may be more familiar with the term apple crumble rather than crisp. These are pretty much the same dish but is called a different name in different countries.
Depending on how hungry everyone is, you should get roughly six servings out of this apple crisp. I recommend serving it with an accompaniment like paleo-friendly custard or ice cream.
If I have leftovers, I usually have them for breakfast as the apple crisp heats up pretty well. The topping might not be as crunchy, but the flavor is certainly still there.
Tweaking the Apple Crisp
You can change a few things so that this dessert suits your tastes better. Below are a couple of ideas on what you can do.
If you prefer your apple crisp to have tons of crunch, then I recommend adding some nuts. However, it is important to remember peanuts are not considered paleo-friendly. Still, other nuts such as almonds, hazelnuts, and macadamias can all be added.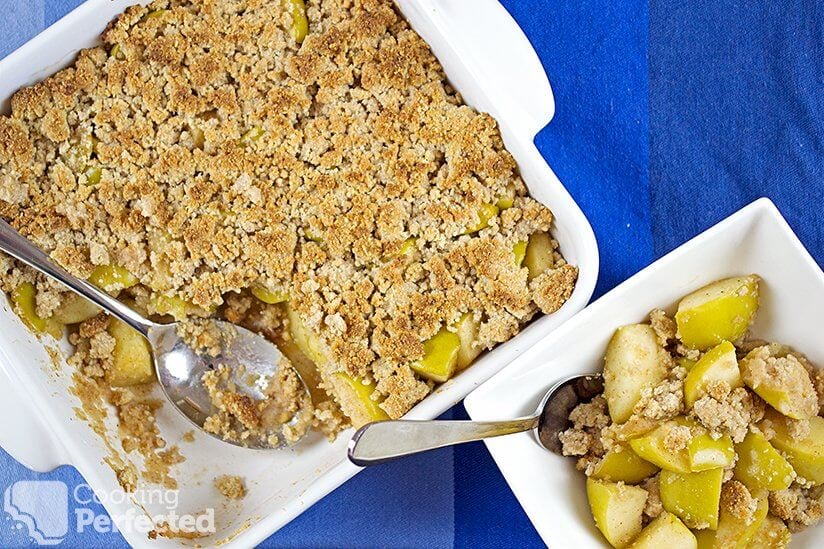 You can add more fruit in with the apple for a bit more flavor. Raspberries or blueberries are an excellent addition and will add loads of color and flavor. Experiment a little to get the best combination.
One last tweak you can do involves adding some more spices into the topping mixture. I only add cinnamon, but some nutmeg and ground cardamom might work nicely as well.
Be sure to let us know of any combinations that you come up with. I will love to hear your ideas.
What to Serve with Apple Crisp
Below are a couple of ideas on what to serve with this apple crisp. Since we are trying to keep things paleo-friendly, there is not a massive number of options.
This dish is one of my favorite desserts, and it goes amazingly well with some paleo-friendly custard. Personally, I try not to go over the top with desserts, but this one is the perfect treat to have now and then.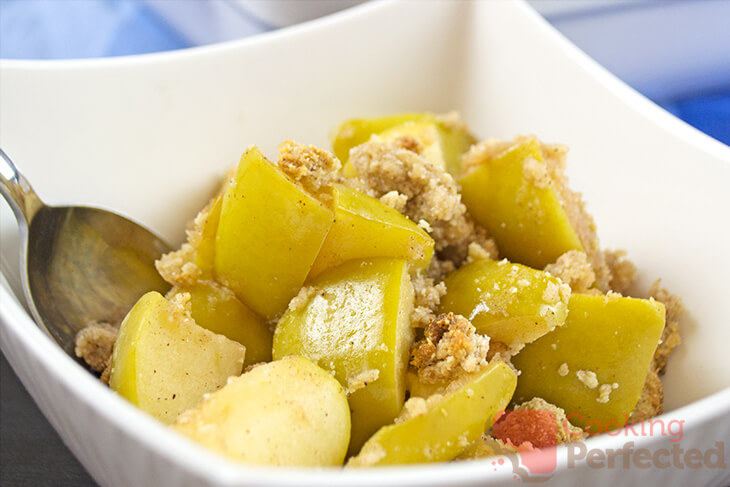 A delicious paleo-friendly ice cream will go down a treat with this apple crisp. You can make some at home, or you can try and find some at the supermarket. If all else fails, you can always cheat a little and use regular dairy ice cream.
If you want to see how to make a paleo apple crisp, then be sure to check out the video below. It will take you through all the steps from start to finish. Underneath the video is a full written recipe.
Paleo Apple Crisp Recipe
Ingredients
Apple Filling
1 kg (2.2 lb) apples, cored and chopped
1 tsp lemon juice
1 tsp cinnamon, ground
Topping
180 g (6.3 oz) almond flour
2 Tbsp coconut flour
1 tsp cinnamon, ground
4 Tbsp coconut oil
¼ cup honey
Nuts if you prefer an extra crunch
Instructions
Firstly, preheat an oven to 180°C (350°F).
Add the chopped apple, cinnamon, lemon juice, and two tablespoons of water into a large pot.
Place the pot over medium heat and cook for 5-15 minutes or until the apple has softened.
While the apple is cooking, prepare the topping.
Place the almond flour, coconut flour, cinnamon, coconut oil, and honey in a bowl.
Using your fingers, combine the ingredients until it starts to resemble large breadcrumbs.
Once the apple is cooked, place it into an ovenproof 8×8 pan.
Add the topping over the apple. Make sure you cover the apple completely.
Place into the oven and cook for 15-20 minutes or until the crumble is golden brown.
Serve & Enjoy.
Recipe Tips
Cooking the apples can be a bit difficult as they will continue to cook further in the oven. If you like them tender, I recommend only cooking them in a pot for five to ten minutes to avoid overcooking. A knife should be able to cut easily, but the apple should not mush.
You can even try cooking this apple crisp in the slow cooker. It is the perfect cooking method if you want to do other things while this dessert is cooking.
Nutrition Information
Serving Size: 291g (10.3 oz)
Servings Per Recipe: 6
Calories Per Serving: 387
Amount Per Serving
Saturated Fat: 8.8g
Trans Fat: 0g
Total Carbohydrate: 50.9g
Dietary Fiber: 9.3g
Sugars: 37.8g
Cholesterol: 0mg
Sodium: 3mg
Protein: 5.8g
The information above is an estimate generated by an online nutrition calculator.
More Paleo Desserts
Another recipe that I absolutely love as a dessert and is very similar to this one is the delicious rhubarb crumble. It features a delicious apple and rhubarb filling topped with almond and coconut.
The fruity peach cobbler is another paleo-friendly dessert that I highly recommend. It features delicious pears topped with a almond flour cake. If you want a dessert to impress, then you have got to try this one.
If you have made my paleo apple crisp recipe and would love to leave some feedback or a variation you have done, then feel free to leave me a comment below.