These paleo spicy meatballs are an incredible dinner dish that's relatively easy to make. The fresh tomato sauce goes perfectly with the spiciness of the meatballs.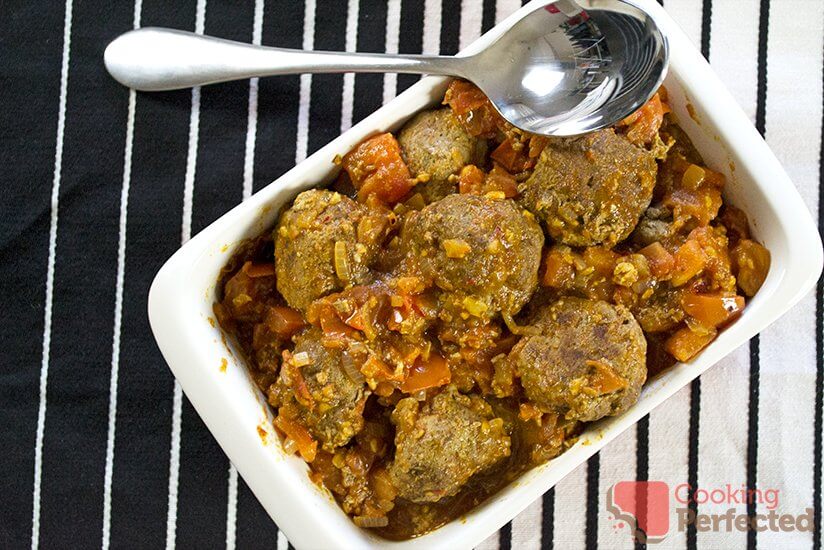 These meatballs cook to be incredibly juicy and loaded with flavor. The delicious sauce compliments the meatballs nicely and features some delicious flavors thanks to the spices that we use. It's an easy and fulfilling meal that I highly recommend that you try.
You should be able to feed roughly six people with this recipe, but this will heavily depend on how hungry people are and how many side dishes you make.
What to Serve with these Meatballs
Depending on how hungry you are, these meatballs are usually fine just on their own. Still, if you're looking for something extra to have, then below are a couple of ideas.
For a super healthy option you should try some zucchini pasta. It's a great alternative to traditional wheat pasta and is quite healthy. You can make zucchini pasta by simply putting a zucchini through a spiralizer.
You could also make some creamy mashed cauliflower to go with these spicy meatballs. It's a healthy alternative to the mashed potatoes we all know and love.
Another side dish that goes great with these meatballs is some sweet potato fries. They're super easy to make, but you will need to bake them in the oven.
Tweaking the Recipe
One thing that you can do if you love spicy food is to add some chili to the tomato sauce. This extra chili will create a truly spicy dish that will please anyone who loves their food nice and spicy.
Feel free to add more vegetables to the tomato sauce. For example, diced bell peppers, mushrooms, or carrot will add lots more flavor and nutrition to the sauce. You may need to cook the sauce for longer to ensure that the extra vegetables are cooked.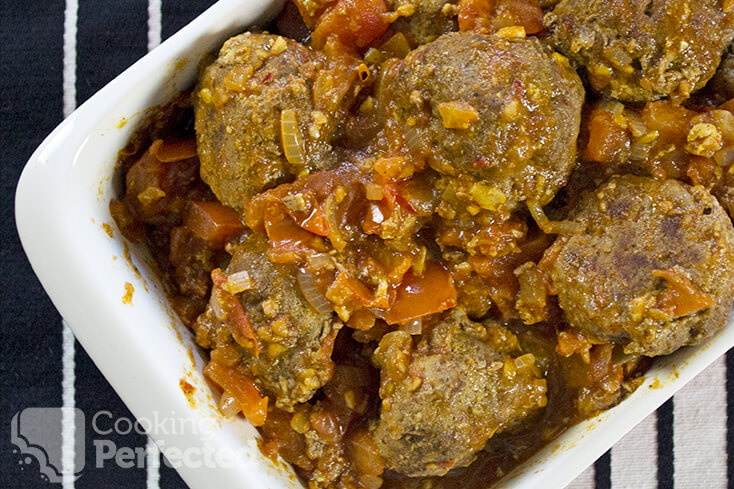 If you end up with any leftovers, then make sure you keep them as they will reheat just fine. Make sure you heat the leftover meatballs in the tomato sauce; otherwise, they may go a bit dry.
The video below will take you through all the steps on how to make these delicious spicy meatballs. Alternatively, there is a written recipe immediately beneath the video.
Paleo Spicy Meatballs Recipe
Ingredients
Meatballs
500 g (1.1 lb) ground beef
1 egg
1 onion, diced
2 tsp garlic, crushed
2 tsp cumin, ground
1 tsp turmeric, ground
2 tsp chili powder
Tomato Sauce
½ tsp olive oil
1 onion, diced
3 tsp garlic, crushed
1 tsp cinnamon, ground
2 tsp cumin, ground
½ tsp cloves, ground
4 cups freshly diced tomatoes
Instructions
In a bowl, add the ground beef, egg, onion, garlic, cumin, turmeric, and chili powder. Mix until well combined.
Form into meatballs, use about one tablespoon per meatball.
In a frypan over medium heat, add the meatballs and cook until lightly browned.
Once cooked, place to the side.
In the same frypan, add the onion, and garlic. Cook until the onion is translucent and softened.
Add the cumin, cloves, cinnamon, and cook until fragrant. (2-3 minutes)
Finally, add the tomatoes and cook for about 10 minutes.
Next, add the meatballs and simmer on low heat for about 15 minutes. Baste the meatballs with the tomato sauce.
Season to taste.
Serve & Enjoy.
Recipe Tips
If you don't have time to cut tomatoes or have access to fresh tomatoes, then you can always replace these with chopped tinned tomatoes instead.
You can cook the meatballs in the oven rather than in the frying pan. You should find the meatballs are likely to hold together better that way.
If you're having trouble getting your meatballs to hold together, then you should try mixing the ingredients for longer.
Don't be afraid to add a bit more liquid into the sauce if it's looking dry. Water or chicken stock will work perfectly.
Nutrition Information
Serving Size: 253g (8.9 oz)
Servings Per Recipe: 6
Calories Per Serving: 219
Amount Per Serving
Saturated Fat: 2.3g
Trans Fat: 0g
Total Carbohydrate: 10.7g
Dietary Fiber: 3g
Sugars: 4.9g
Cholesterol: 102mg
Sodium: 85mg
Protein: 28.2g
The information above is an estimate generated by an online nutrition calculator.
More Paleo-Friendly Recipes
Below are a couple of paleo-friendly recipes that you should also try.
If you're after just plain meatballs, then be sure to check out my delicious paleo meatballs recipe. They go perfectly with homemade ketchup or even mayonnaise.
One of my favorite paleo-friendly recipes is the paleo beef stroganoff. It's creamy, flavorsome, and straightforward to make. I highly recommend giving it a try if you want a Paleo pasta dish.
I hope that this recipe has helped you cook up some amazing paleo spicy meatballs. If you have some feedback, variation, or anything else, then feel free to leave me a comment below.