Back to Recipe
Print Recipe
Paleo Spicy Meatballs Recipe
---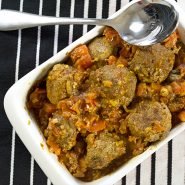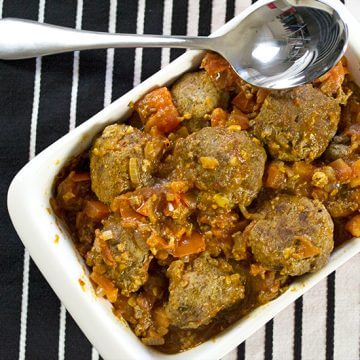 Prep time: 10 Minutes
Cook time: 20 Minutes
Total time: 30 Minutes
Serves: 6
Ingredients
Meatballs
500 g (1.1 lb) ground beef
1 egg
1 onion, diced
2 tsp garlic, crushed
2 tsp cumin, ground
1 tsp turmeric, ground
2 tsp chili powder
Tomato Sauce
½ tsp olive oil
1 onion, diced
3 tsp garlic, crushed
1 tsp cinnamon, ground
2 tsp cumin, ground
½ tsp cloves, ground
4 cups freshly diced tomatoes
---
Instructions
In a bowl, add the ground beef, egg, onion, garlic, cumin, turmeric, and chili powder. Mix until well combined.
Form into meatballs, use about one tablespoon per meatball.
In a frypan over medium heat, add the meatballs and cook until lightly browned.
Once cooked, place to the side.
In the same frypan, add the onion, and garlic. Cook until the onion is translucent and softened.
Add the cumin, cloves, cinnamon, and cook until fragrant. (2-3 minutes)
Finally, add the tomatoes and cook for about 10 minutes.
Next, add the meatballs and simmer on low heat for about 15 minutes. Baste the meatballs with the tomato sauce.
Season to taste.
Serve & Enjoy.
---
Recipe Tips
If you don't have time to cut tomatoes or have access to fresh tomatoes, then you can always replace these with chopped tinned tomatoes instead.
You can cook the meatballs in the oven rather than in the frying pan. You should find the meatballs are likely to hold together better that way.
If you're having trouble getting your meatballs to hold together, then you should try mixing the ingredients for longer.
Don't be afraid to add a bit more liquid into the sauce if it's looking dry. Water or chicken stock will work perfectly.
Did you make this recipe?
We want to see! Tag
@cookingperfected
on Instagram or use the hashtag
#cookingperfected
so we can find you!
---