A paleo frittata makes for a fantastic breakfast, lunch, or dinner. It is super easy to prepare.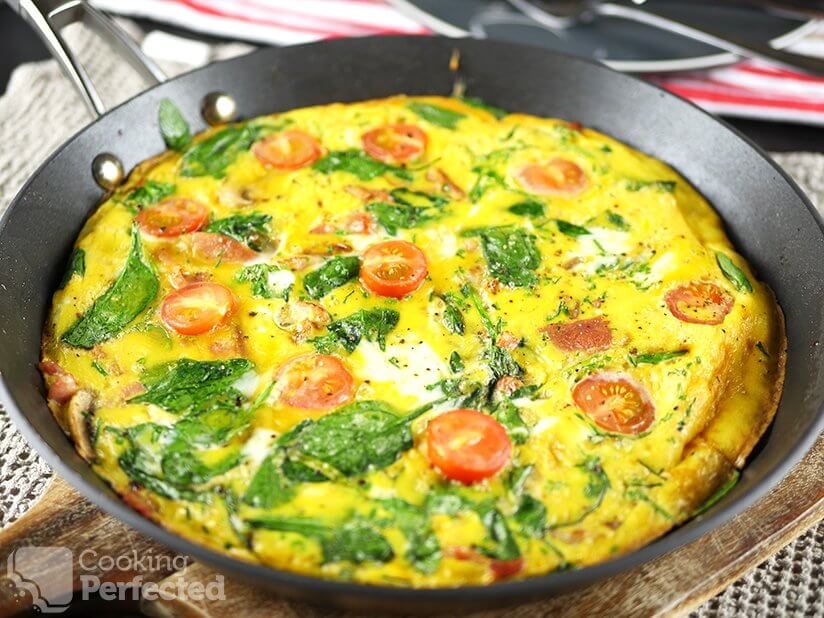 This frittata is packed full of amazing flavors thanks to the crispy bacon, juicy cherry tomatoes, tender mushrooms, and so much more. It is a great range of ingredients that will leave you feeling very satisfied.
You will need to make sure you have a skillet or oven proof pan for this recipe. If you have neither, you can transfer the cooked ingredients to a greased pie dish in step five. After this, just add your egg mix and then bake in the oven.
It will take almost an hour to prepare this dish, so if you need something super fast, you might want to skip on this one and opt for something like a paleo-friendly porridge.
One of the great things with any frittata is how well it will keep refrigerated. If you have any leftovers, then simply wrap them up and have some frittata for lunch the next day. It is great cold or reheated, so make sure you do not end up throwing out the leftovers.
Adjusting the Ingredients
Like every frittata, this is just one combination of ingredients. There are literally hundreds of different variations that you can try. Below are a couple of other combinations that might appeal to you.
A pumpkin filling is very popular and involves using some par-cooked pumpkin, baby spinach, sliced red onion, and some garlic. It is a simple combination but very delicious.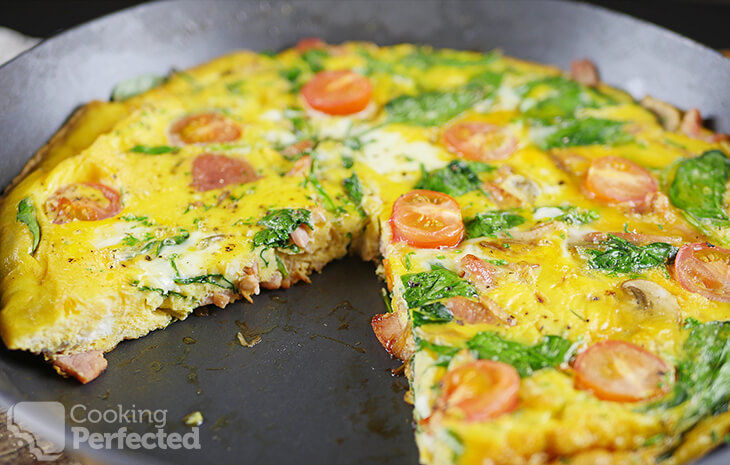 Bacon, zucchini, sliced onion, and sliced bell pepper is another filling that you might be interested in using. I recommend grating the zucchini for the best results.
If you come across a fantastic combination of ingredients that you would love to share, be sure to leave a comment at the bottom of this page.
What to Serve with Paleo Frittata
This frittata is perfect without any side dishes. However, if you want something to go along with it, below are a couple of ideas.
An easy side dish is a simple green salad. In my salad, I love to have a combination of lettuce, cherry tomatoes, red onion, avocado, cucumber, and sliced carrot. However, any salad will work fine, so feel free to be creative.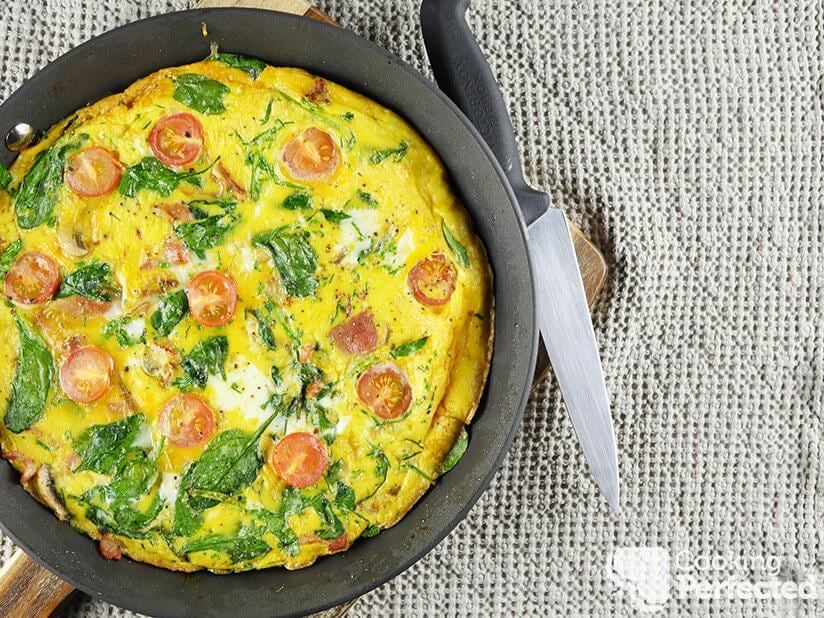 For something a little unhealthier, you can always try baking some sweet potato fries. They match pretty nicely with this frittata and are very easy to make. Also, great if you need to feed a crowd.
If you want to see how to cook this amazing breakfast frittata, then be sure to give my video a watch! It goes through all the steps and is nice and short so that it won't take up too much of your time.
Paleo Frittata Recipe
Ingredients
5 slices bacon, cut into 1 cm (0.4 in) pieces.
1 red onion, sliced
4 button mushrooms, sliced
1 handful of baby spinach
10 eggs, beaten
5 cherry tomatoes, chopped in half
1 tsp chives, chopped
Instructions
First, preheat an oven to about 180°C (350°F).
In a skillet over medium heat, add the bacon and cook until it starts to crisp.
Add the red onion, mushrooms, and cook until the onion is translucent.
Add the spinach, and mix through.
Pour in the egg mixture and cook slightly. Once set around the edges, remove from the heat.
Sprinkle the chopped chives and cherry tomatoes over the top.
Season slightly with salt and pepper.
Place in the preheated oven and bake for 15-30 minutes or until the middle of the frittata has set.
Serve & Enjoy.
Recipe Tips
If you prefer the bacon to not be crispy, then add the onion at the same time as the bacon. Simply cook until the onion is translucent.
Try not to leave the frittata on the stove for too long as this may result in the bottom burning.
Make sure you use an oven-proof skillet pan. Putting a pan with a plastic handle in the oven will result in a very ugly mess.
The bacon can be replaced with your favorite sausage instead. I tend to remove the sausage casing and cook it the same as I would the bacon.
You can leave the mushrooms out if you are not a fan of them. The red onion can also be substituted with a yellow onion. However, I would recommend keeping the rest of the ingredients the same.
Nutrition Information
Serving Size: 385g (13.6 oz)
Servings Per Recipe: 4
Calories Per Serving: 541
Amount Per Serving
Saturated Fat: 12g
Trans Fat: 0g
Total Carbohydrate: 11.3g
Dietary Fiber: 2.9g
Sugars: 6.4g
Cholesterol: 478mg
Sodium: 1617mg
Protein: 39.6g
The information above is an estimate generated by an online nutrition calculator.
More Paleo-friendly Recipes
This paleo egg dish is just one of the many great recipes that you can do.
If you feel like making more egg recipes, then something like a paleo omelette is excellent. It is a bit lighter than this but still has all the flavor you could possibly want.
Another great recipe is some paleo-friendly scrambled eggs. The eggs turn out amazingly creamy thanks to the addition of coconut cream.
I hope that you enjoyed this paleo frittata. If you have a variation, feedback, or anything else that you would love to share, then please be sure to leave a comment below. I will love to hear your thoughts.