This pork roast cooks to be deliciously moist and topped with the perfect crunchy crackling.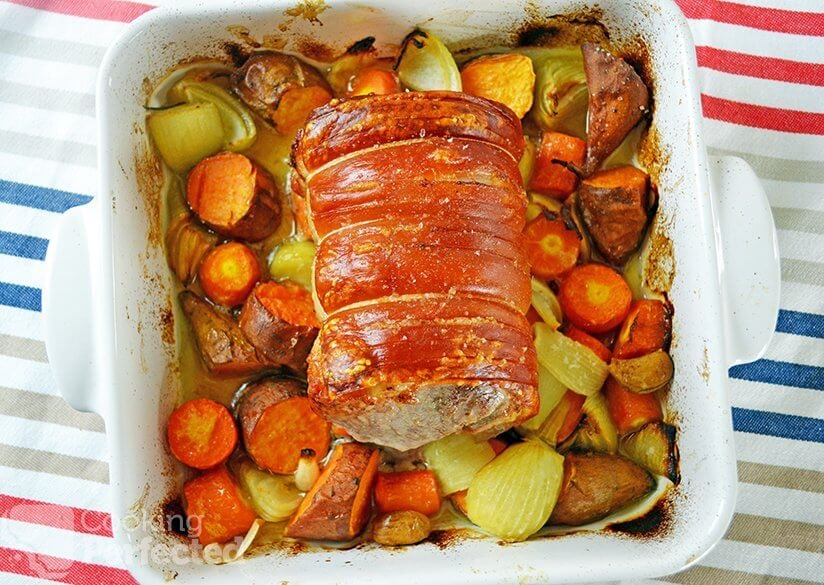 Pork roasts are absolutely amazing when they are prepared and cooked correctly. In this recipe, I will take you through all the steps to achieve the perfect pork roast so that you can impress all your friends, family, and yourself at your next dinner.
I will also be cooking some fantastic roast vegetables alongside this pork roast. These are not much extra work and simply taste amazing. You do not have to do the vegetables if you already have side dishes planned to go with a roast or simply just do not want them.
You should easily be able to feed four to six people without needing to adjust the recipe. If you need to feed more, then you can either make some side dishes or look at doubling the recipe.
Condiments & Side Dishes for Roast Pork
If you want a lovely gravy to go with the pork, then be sure to check our amazing paleo-friendly gravy recipe. It is a fantastic gravy jam-packed with a ton of flavor that goes great with any meat or vegetables.
An alternative to gravy is some homemade applesauce. It matches perfectly with the pork and is very easy to make. If you do not have the time, then you can find it at most good supermarkets.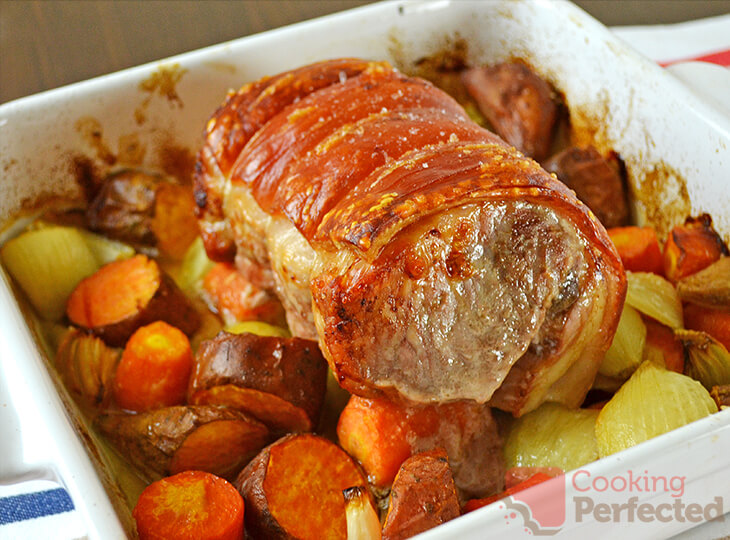 If you are not cooking the vegetables but still want something to go with it, then I highly recommend cooking up some yummy sweet potato fries. These are super easy and taste delicious.
One of my favorite side dishes to have alongside roast pork is cauliflower cheese. It is steamed cauliflower served with a generous amount of cheese sauce. It really is super delicious.
Be sure to check out the fantastic video on how to make this perfect pork roast. It will take you through all the steps and tips you will need to know to get that roast succulent and have that crackling deliciously crunchy.
Pork Roast Recipe
Ingredients
1.8 kg (4 lb) pork loin
Olive oil
Salt
Vegetables:
2 onions, quartered
2 carrots, cut into chunks
1 sweet potato, cut into chunks
1 bulb of garlic
Instructions
First, take the pork out of the fridge and packaging. Pat dry with some paper towel and place to the side.
Preheat the oven to 240°C (465°F).
Place the vegetables into a large roasting dish and lightly drizzle with olive oil.
Using a sharp knife, score the pork skin at about 1 cm (0.4 in) intervals.
Drizzle some olive oil over the pork and then rub a generous amount of salt into it.
Place the pork on top of the vegetables.
Place straight into the oven and turn the heat down to 200°C (390°F).
Cook for one hour or until the pork is cooked.
Remove from the oven and transfer the pork to a board to rest for 5 minutes.
Remove the crackling from the pork and allow to rest for roughly 15 minutes.
Once rested, slice the pork and serve with the vegetables and crackling.
Serve & Enjoy.
Recipe Tips
If you are cooking with the bone-in, you will need to add about twenty minutes to the cooking time. Make sure you check that the pork is cooked before you remove it from the oven.
To ensure that the pork is cooked, you can use a meat thermometer. The internal temperature of the meat should be at least 75°C (170°F).
If the crackling is not as crispy as you would like, simply place it back into the oven separate from the pork and cook it for longer. Doing this under the broiler will help make it super crunchy in no time at all. Just be super careful not to burn it.
Roasts are always something that should be cooked when you have a fair bit of time. If you do not have much time, then it is probably best to cook something else. You can always use pork meat in a different recipe.
Nutrition Information
Serving Size: 405g (14.3 oz)
Servings Per Recipe: 6
Calories Per Serving: 803
Amount Per Serving
Saturated Fat: 15.7g
Trans Fat: 0g
Total Carbohydrate: 17.6g
Dietary Fiber: 2.7g
Sugars: 4.7g
Cholesterol: 240mg
Sodium: 215mg
Protein: 84.3g
The information above is an estimate generated by an online nutrition calculator.
More Delicious Recipes
Below are some of my favorite recipes that I highly recommend giving a try.
You can also do a pork roast in a slow cooker if you are feeling a little experimental. I think a roast cooks best in the oven, but a slow cooker is a great option if you do not have an oven.
Another dish that you might want to try is the oven-baked honey mustard chicken. It features delicious oven-baked chicken breasts in an incredible homemade honey mustard sauce. It really is as good as it sounds.
I hope you enjoy this pork roast recipe as much as I did. If you have your own method, variation for a roast that you would like to share, then please drop me a comment below.