This paleo gravy is absolutely amazing to have with a roast, sweet potato fries, steak, and much more.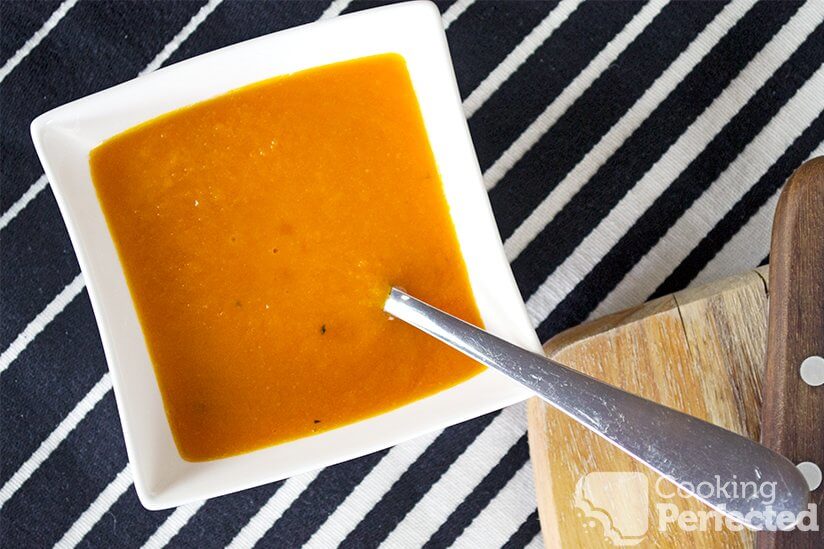 If you miss a good gravy, then this recipe will satisfy that craving. It's loaded with flavor thanks to the onion, garlic, chicken stock, and tomato paste. It's the perfect condiment to have with your next meal.
Since you won't be able to have most flours in your diet, this makes making a good gravy a bit harder. In this recipe, we will recreate the classic gravy in a way that doesn't use any flour at all.
Personally, I would only cook this fresh as it might not taste nearly as good reheated. If you do have leftovers or want to keep it stored for a bit, then it should last about three to five days in the fridge.
Meals That Go Great with This Gravy
There are so many uses for this gravy. My absolute favorite is to have it as a gravy on some delicious roast pork or roast chicken.
This gravy will go amazingly well over some sweet potato fries. The recipe for fries is pretty simple, so you shouldn't have to spend too long in the kitchen preparing everything. However, you might want something else to have with it.
Another meal that will work surprisingly well with this gravy is the paleo-friendly chicken nuggets. You can either drizzle the gravy over the top of the nuggets or simply use it as a dipping sauce. Both options are incredibly good.
If you have any suggestions on what to serve with this paleo-friendly gravy, then please don't hesitate to leave a comment.
Personalizing the Recipe
You can do lots of variations with this gravy, so I will quickly mention a couple of ideas below.
If you want mushroom gravy, then sauté some mushrooms and simply stir them in after you have blended the mixture. It's one of my favorite combinations, so I highly recommend giving it a try.
To make a delicious paleo-friendly pepper gravy, simply add about two teaspoons of peppercorns once you have finished blending. Pepper gravy is perfect to have with a good porterhouse steak.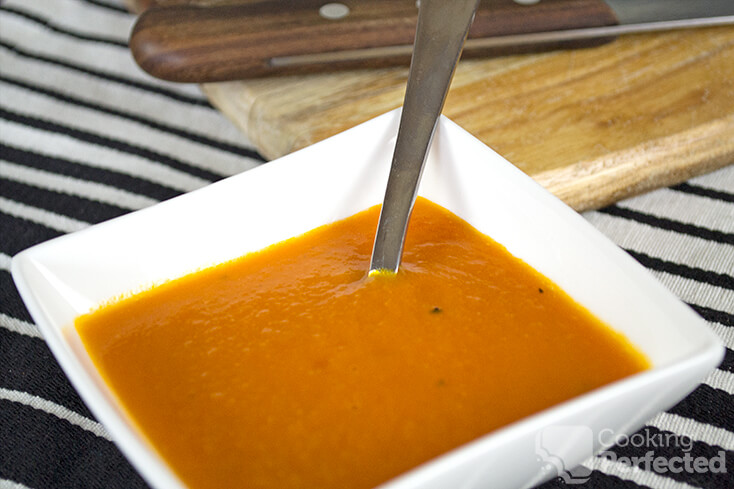 If you want the gravy to be creamy, then add some organic coconut milk into it. Avoid adding too much as this will make it runny.
You can add some cauliflower to the recipe as well. This addition will let you bulk out the paleo gravy a bit more. I would personally add about one to two cups of florets and increase the stock to about two cups.
Make sure you cook the cauliflower all the way through before blitzing to avoid any lumps. You can also push it through a sieve to create a lovely silky smooth gravy.
If you want to see how to make this paleo-friendly gravy, then be sure to check out the video below. If you're just after the text version, then we have the complete recipe right below the video.
Paleo Gravy Recipe
Ingredients
1 Tbsp lard
1 onion, diced
2 garlic cloves, sliced
1 Tbsp tomato paste
½ cup chicken stock
Instructions
In a small pot over medium heat, add the lard.
Add the onion, garlic, and cook until the onion is translucent.
Add the tomato paste and chicken stock.
Now bring to the boil and simmer for 3-5 minutes.
Using a blender, blend until smooth.
Return to the stove and cook until thickened.
Season with salt and pepper.
Serve & Enjoy.
Recipe Tips
When you go to cook a roast, I would personally wait until the roast has finished cooking before making this gravy. So that way, you can use all the fats and liquid that the roast has produced in the gravy.
The lard can be swapped for dripping, ghee, or bacon fat. Pick whatever you like the most.
If you're struggling to thicken up the gravy, then you can use some tapioca flour. Before you add it to the liquid, mix it with a little bit of water. This method will form a paste and will mix in a lot easier and help prevent any annoying lumps from forming.
Nutrition Information
Serving Size: 133g (4.7 oz)
Servings Per Recipe: 2
Calories Per Serving: 93
Amount Per Serving
Saturated Fat: 2.5g
Trans Fat: 0g
Dietary Fiber: 1.6g
Sugars: 3.5g
Cholesterol: 6mg
Sodium: 201mg
Protein: 1.3g
The information above is an estimate generated by an online nutrition calculator.
More Paleo-Friendly Recipes
I have a couple more paleo recipes that you should check out. Below are some of my favorites.
The chorizo and sweet potato casserole is a delicious combination of flavors. It's super simple to make and can easily feed a crowd. It will even go great with this gravy poured over the top.
For a simple meal, you could make some mashed cauliflower and have it with some of this delicious gravy. It's an excellent healthy alternative to the super popular mashed potatoes and gravy that so many fast-food outlets serve.
If you want to leave us some feedback on the paleo gravy, such as improvements, variations, and anything else, then please be sure to leave us a comment below.