This paleo chicken cacciatore is a delicious dish that features tender chicken and a rich tomato sauce.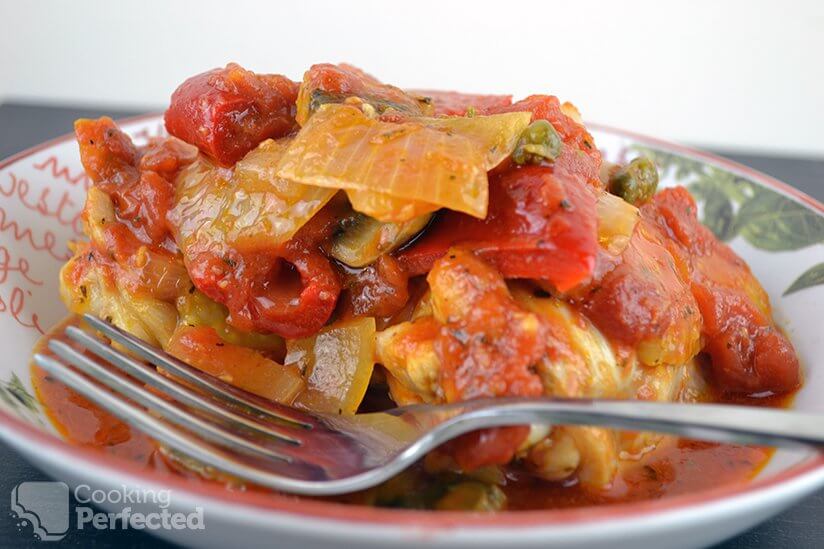 The chicken cooks to be so incredibly tender that it starts to fall off the bone. The cacciatore sauce is loaded with flavor thanks to the tomatoes, bell peppers, herbs, and capers. It's a combination that will have you going back for seconds.
This recipe is perfect if you're cooking for a few people or would just like to have some leftovers for later in the week. You can also double or triple the recipe if you need to feed more people.
Side Dishes Worth Making
There are plenty of side dishes that go great with cacciatore. Below are a couple of recommendations on what you can try.
My favorite side dish is cauliflower rice as it's low carb and incredibly easy to make. I also love that it doesn't overpower the flavors that are in the chicken cacciatore sauce.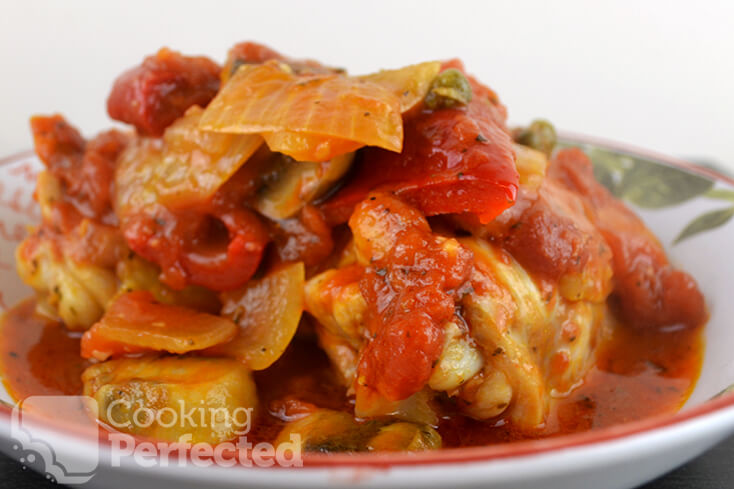 Another great side dish that uses cauliflower is mashed cauliflower. It's super easy and is very similar to mashed potatoes but is low carb. It matches all the flavors of this dish perfectly, so I highly recommend giving it a try.
Of course, lots more side dishes go great with cacciatore, so if you have any recommendations, then be sure to leave a comment at the bottom of this page.
Personalizing this Chicken Cacciatore Recipe
Chicken stock is best for this recipe, as it will help add a ton of flavor to the overall dish. If you're low on ingredients, then you can use water instead, but I recommend using chicken stock.
You can use any cut of chicken for this dish, but I recommend using chicken thigh. If you're using chicken with the bone-in, then you might need to increase the cooking time slightly.
Don't be afraid to add even more vegetables into the sauce. For example, mushrooms, olives, or carrots are all excellent additions that will increase both the flavor and nutrition of this dish.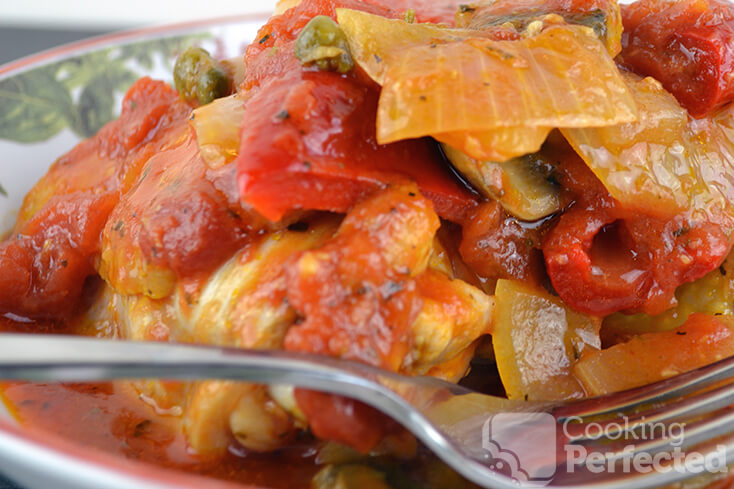 The leftovers of this chicken dish are great the next day for lunch or dinner. Make sure you store any leftovers in the fridge and then heat until it's piping hot. Any leftovers should last for three days in the fridge or six months in the freezer.
Below is a video that will take you through all the steps to making this lovely Paleo chicken cacciatore. Alternatively, a full written recipe is immediately beneath the video.
Paleo Chicken Cacciatore Recipe
Ingredients
1 Tbsp coconut oil
4 chicken thighs
1 onion, chopped
3 garlic cloves, crushed
1 large bell pepper, chopped
5 mushrooms, chopped
400 g (14.1 oz) diced tomatoes
1 cup chicken stock
1 Tbsp capers
1 Tbsp basil, chopped
1 Tbsp oregano
Instructions
In a frying pan over high heat, add the coconut oil.
Add the chicken and cook on each side for about 5 minutes.
Remove the chicken and allow to rest.
Add the onions, garlic, bell pepper, mushrooms, and cook for about 5 minutes or until the onion is soft.
Add the chicken, diced tomatoes, chicken stock, capers, and herbs.
Cover and allow to simmer for about 30 minutes.
Season to taste.
Serve & Enjoy.
Recipe Tips
If you want a thicker sauce, you can cook it for ten minutes longer. However, make sure you remove the lid from the saucepan for the extended time. This method will allow the sauce to reduce and thicken up a bit.
Paleo Chicken Cacciatore doesn't vary too much from the traditional recipes. Omitting the alcohol and flour found in traditional recipes doesn't alter the flavor very much, so you will hardly notice the difference.
The only difference between this recipe and a chicken cacciatore slow cooker recipe is the cooking time. Simply transfer everything after step five into a slow cooker and cook for three to six hours. Alternatively, you can throw everything straight into the slow cooker and turn on and cook for eight hours.
Nutrition Information
Serving Size: 374g (13.2 oz)
Servings Per Recipe: 4
Calories Per Serving: 289
Amount Per Serving
Saturated Fat: 2.6g
Trans Fat: 0g
Dietary Fiber: 10.5g
Sugars: 5.4g
Cholesterol: 111mg
Sodium: 182mg
Protein: 39.3g
The information above is an estimate generated by an online nutrition calculator.
More Chicken Recipes
There are plenty of other delicious chicken recipes that you should try. Some of them are paleo-friendly, while some aren't.
I highly recommend making the paleo-friendly sweet and sour chicken as it's incredibly delicious and is a must-try. It features a delightful sweet and sour sauce, battered chicken, and some tasty vegetables.
Another recipe that I love is the crunchy fried chicken. The chicken is crumbed in a combination of ground almonds, thyme, and paprika. It's super delicious and goes perfect with some sweet potato fries.
I hope that you enjoy cooking this yummy paleo-friendly chicken cacciatore. If you have any feedback that you would like to share, then please don't hesitate to leave a comment below.