These almond crusted chicken nuggets are a fantastic paleo-friendly nibble food that will satisfy your cravings for traditional breaded nuggets.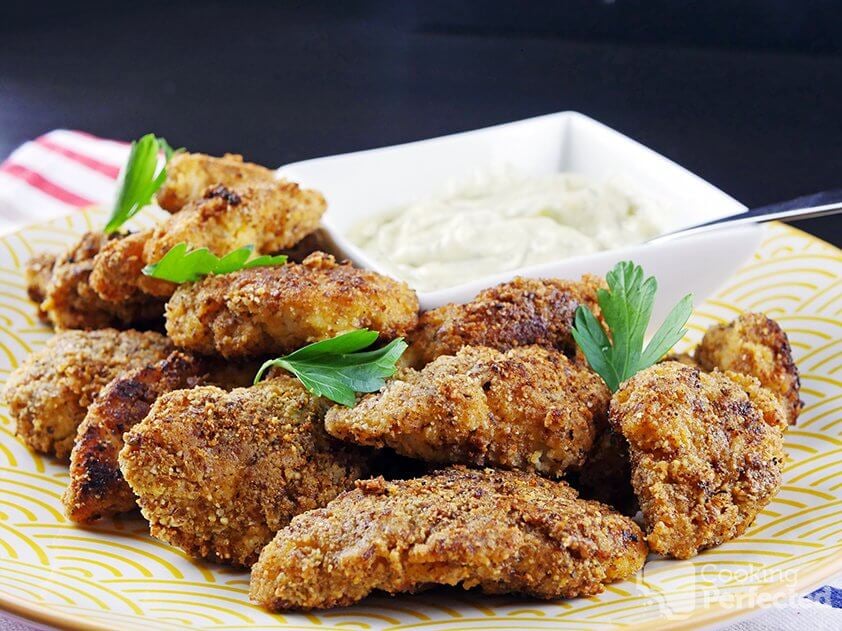 By the time these nuggets are ready, they will be juicy on the inside and crunchy on the outside. They have a slight touch of flavor from the paprika, almond flour, and coconut flour. It is an incredibly delicious combination that makes them worth the effort.
These nuggets are not just great for people on the Paleo diet, they are also perfect for people who are following the keto diet or on a gluten-free diet. They are also perfect if you feel like eating something different from the traditional breadcrumb coating.
A single batch of these nuggets without any side dishes should feed four people. However, you may find that they will feed less, but this depends on how hungry people are.
Tweaking the Recipe
Below are a couple of tweaks that you can make to the recipe so that it is more to your liking.
Herbs such as thyme and rosemary are an excellent addition to the almond crumb as they introduce a lot more flavor. I recommend chopping the herbs finely to get the best result. Half a teaspoon of each will be more than enough.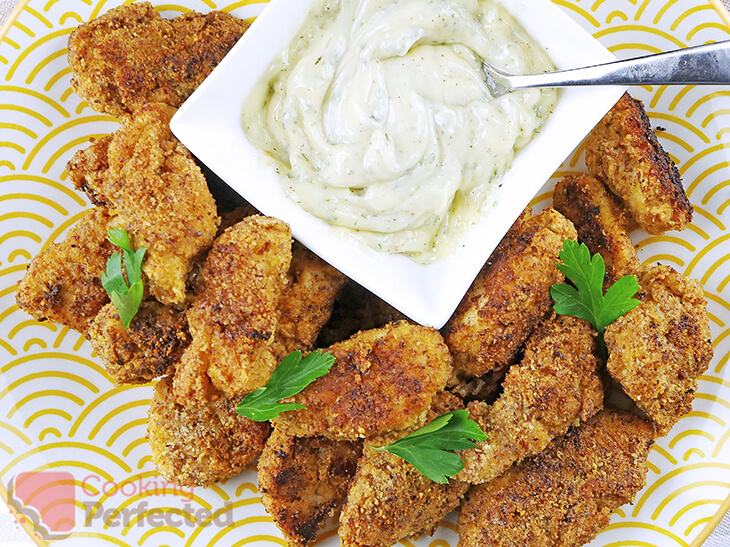 Some garlic and onion powder are also an excellent way of adding lots more flavor to the crumb. For the best result, I recommend adding only a teaspoon of each as you do not want it to overpower the rest of the ingredients.
You can also oven bake these nuggets, so do not feel like you have to fry them. Place them into a preheated oven (200°C or 395°F) and cook for six minutes on each side or until golden brown.
Please do not hesitate to share any adjustments that you made to this recipe, as we will love to hear them. You can leave your feedback in the comment section at the bottom of this page.
What to Serve with Chicken Nuggets
There is a ton of great dipping sauces that go perfectly with these nuggets. For example, in the photos, I use a paleo-friendly ranch dressing. Still, you can also try a paleo BBQ sauce or ketchup. These all work well, but for me, a ranch dressing is the best when it comes to chicken.
These nuggets are great with some paleo-friendly side dishes such as sweet potato wedges. It is up to you, but there is a ton of dishes that these chicken nuggets are great with.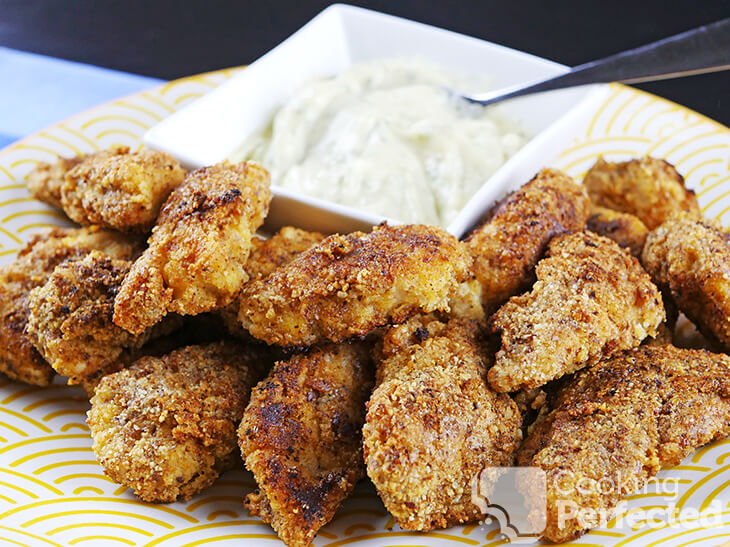 These chicken nuggets are great as leftovers, so make sure you keep them. Store them in the fridge until you need them, they should last for about three days. When you're hungry, you can eat these cold, but I recommend heating them in a preheated oven or in the microwave.
If you want to see how to prepare and cook these almond coated nuggets, then be sure to check out the video below. It will take you through all the steps to making this delicious dish.
Almond Crusted Chicken Nuggets Recipe
Ingredients
2 chicken breasts, cut into bite-sized chunks
½ cup coconut flour
1 cup almond flour
2 eggs
2 tsp paprika
½ cup coconut oil
Instructions
In a bowl, beat together the two eggs.
Mix together the coconut flour and a pinch of salt and pepper in a clean bowl.
Lastly, add the almond flour and paprika into yet another bowl.
Dip the chicken in the following order, coconut flour, egg, and lastly, in the almond flour. Make sure you coat it well at each stage.
In a frying pan over medium heat, add the coconut oil.
Once the oil is hot, add the chicken. Cook on all sides until golden brown and the chicken is cooked.
Serve & Enjoy.
Recipe Tips
These nuggets can also be oven-baked which is perfect if you are looking to avoid using too much oil. Simply bake in a preheated oven set to 200°C (395°F).
You can add different seasonings to the almond mix for a different flavor crumbing. Experimenting is the best way to come up with a combo that you enjoy.
If you are ever worried about under-cooking chicken, then a meat thermometer always comes in handy. Once the internal temperature passes 75°C (165°F), it should be safe to eat.
Nutrition Information
Serving Size: 217g (7.7 oz)
Servings Per Recipe: 4
Calories Per Serving: 513
Amount Per Serving
Saturated Fat: 9.7g
Trans Fat: 0.2g
Dietary Fiber: 4g
Sugars: 7g
Cholesterol: 402mg
Sodium: 174mg
Protein: 40g
The information above is an estimate generated by an online nutrition calculator.
More Delicious Chicken Recipes
If you prefer more of a coconut crumb or just looking for something different, then be sure to check out the coconut-crusted chicken. It's similar to this dish, and at the end of cooking, you're left with lovely amazing pieces of chicken.
Another paleo-friendly chicken recipe that I highly recommend checking out is the chicken piccata. It's crumbed chicken with a delicious citrus sauce. I highly recommend giving it a try.
I love these almond crusted chicken nuggets, and I certainly hope that you will too. If you have some improvements or some feedback, then please be sure to leave a comment below.