This coconut crusted chicken recipe is perfect if you want some delicious crunchy, strips of chicken. They're pretty straightforward and only require three very simple ingredients.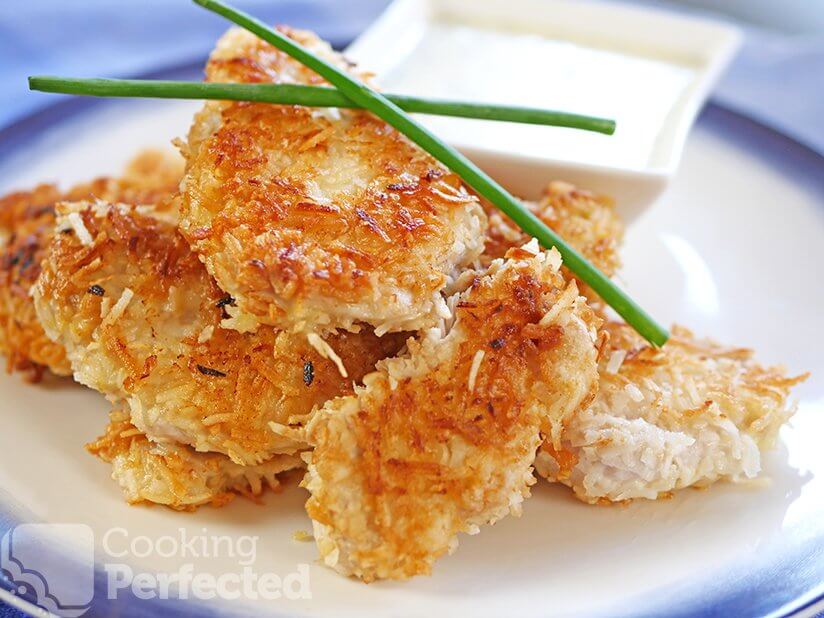 By the time you're finished cooking, you should have some succulent pieces of chicken with a crispy coconut outside. They should be golden brown on the outside and have a strong coconut aroma. They're super delicious and perfect if you're a huge fan of coconut.
One of the best parts about this recipe is how easy it is to do. You can quickly get some delicious chicken prepared, cooked, and ready to eat in no time at all.
If you're not a fan of coconut, then you might want to give these a skip as they have a very strong coconut flavor to them.
What to Serve with Coconut Chicken Tenders
Personally, I enjoy eating these crunchy strips of chicken with some paleo friendly ranch dressing it's excellent as a dipping sauce.
These chicken strips also go great in a green salad with a salad dressing such as olive oil or the ranch dressing I just mentioned.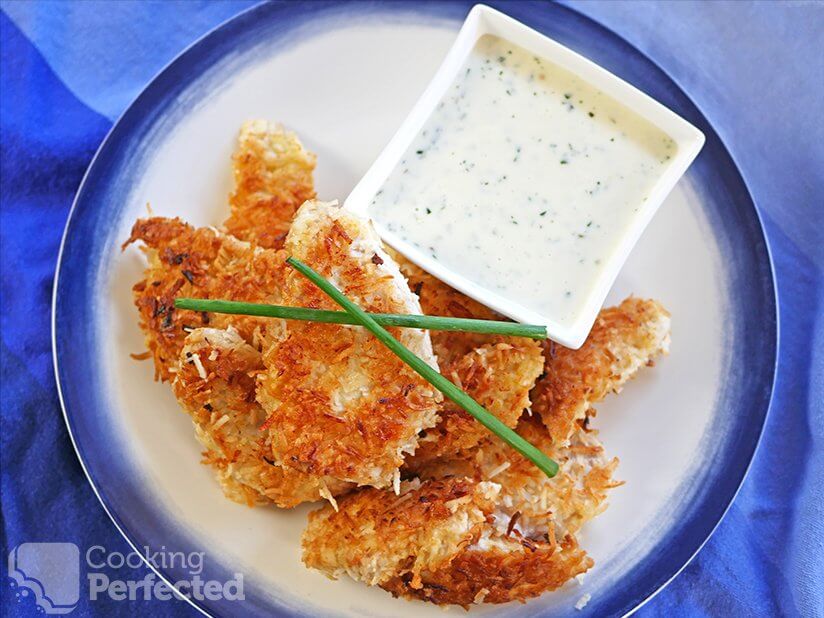 The chicken also goes well with some herby sweet potato fries as a side dish. If you're willing to break from the Paleo diet, then some roasted vegetables such as potatoes are also great.
You can also serve the chicken with a few slices of lime. The lime is perfect as you can squeeze them over the top of the coconut chicken for a slightly different flavor.
Recipe Variations
Now in this paleo-friendly coconut chicken recipe, I fry the chicken strips, but you can also do them in the oven instead. If you want to cook them in the oven, then just check out my notes in the cooking tips section further down this page.
You can season these with other seasonings than just salt. I haven't given it a go personally, but something like cayenne, paprika, garlic powder, or even some chili flakes will take these coconut crusted chicken strips to a whole new level.
One of the best things about this recipe is that it is both gluten-free and Paleo-friendly. You can also make some other slight adjustments to fit your dietary requirements.
If you want to see how to do this recipe visually, then be sure to check out the video below. It goes through all the steps to getting this prepared and cooked up.
Coconut Crusted Chicken Recipe
Ingredients
2 chicken breasts
2 eggs
1 cup shredded coconut
Instructions
First, cut the chicken breasts into strips.
Using a heavy object such as the bottom of a pot or a meat tenderizer, beat the chicken out until it is an even thickness.
Crack the eggs into a bowl.
In a different bowl, add the shredded coconut.
Dip the chicken into the bowl of egg and then into the bowl of shredded coconut.
Repeat until you have coated all the chicken strips then place to the side.
In a pan over medium heat, add about 4 Tbsp. of coconut oil.
Once the oil has heated, add the coated chicken.
Cook for 3-5 minutes on each side.
Once golden brown and the chicken is cooked all the way through, remove from the pan.
Serve & Enjoy
Recipe Tips
If you don't want to fry these, then you can instead bake them in the oven. I recommend placing in the oven and cooking for about 10-15 minutes at 200°C (400°F).
Cooking time will vary depending on how thick the pieces of chicken are. Be careful as is if they are too thick then they will not cook all the way through.
When you go to fry, these chicken strips try and make sure you don't play around with them too much otherwise the coating will start falling off. Personally, I try only to flip once.
If you're frying the chicken strips, try to keep the pan at medium heat as any higher, and you will find the coconut will start to burn.
You can check to see if the chicken is cooked by either cutting them open or by using a meat thermometer. The internal temperature should be at least 75°C (165°F).
Nutrition Information
Serving Size: 315g (11.1 oz)
Servings Per Recipe: 2
Calories Per Serving: 448
Amount Per Serving
Saturated Fat: 15.8g
Trans Fat: 0g
Dietary Fiber: 3.6g
Sugars: 2.8g
Cholesterol: 273mg
Sodium: 179mg
Protein: 43.4g
The information above is an estimate generated by an online nutrition calculator.
More Recipes to Try
If you're not a coconut fan but want a fried chicken recipe, then be sure to check out my recipe for some delicious paleo friendly fried chicken. The recipe is very similar, but you instead get lovely crunchy almond coated chicken.
Another recipe that is super delicious and paleo friendly is the paleo-friendly sweet and sour chicken. It's crispy bits of chicken in an amazing sweet and sour sauce, I highly recommend it.
I hope you have been able to cook up this coconut crusted chicken recipe without any issues. If you have some feedback, variations, or anything else that you would love to share, then please feel free to leave a comment below.