Back to Recipe
Print Recipe
Coconut Crusted Chicken Recipe
---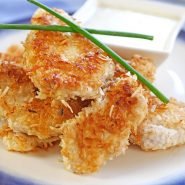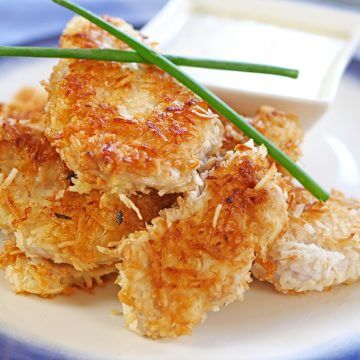 Prep time: 10 Minutes
Cook time: 15 Minutes
Total time: 25 Minutes
Serves: 2
Ingredients
2 chicken breasts
2 eggs
1 cup shredded coconut
---
Instructions
First, cut the chicken breasts into strips.
Using a heavy object such as the bottom of a pot or a meat tenderizer, beat the chicken out until it is an even thickness.
Crack the eggs into a bowl.
In a different bowl, add the shredded coconut.
Dip the chicken into the bowl of egg and then into the bowl of shredded coconut.
Repeat until you have coated all the chicken strips then place to the side.
In a pan over medium heat, add about 4 Tbsp. of coconut oil.
Once the oil has heated, add the coated chicken.
Cook for 3-5 minutes on each side.
Once golden brown and the chicken is cooked all the way through, remove from the pan.
Serve & Enjoy
---
Recipe Tips
If you don't want to fry these, then you can instead bake them in the oven. I recommend placing in the oven and cooking for about 10-15 minutes at 200°C (400°F).
Cooking time will vary depending on how thick the pieces of chicken are. Be careful as is if they are too thick then they will not cook all the way through.
When you go to fry, these chicken strips try and make sure you don't play around with them too much otherwise the coating will start falling off. Personally, I try only to flip once.
If you're frying the chicken strips, try to keep the pan at medium heat as any higher, and you will find the coconut will start to burn.
You can check to see if the chicken is cooked by either cutting them open or by using a meat thermometer. The internal temperature should be at least 75°C (165°F).
Did you make this recipe?
We want to see! Tag
@cookingperfected
on Instagram or use the hashtag
#cookingperfected
so we can find you!
---