Doritos crusted chicken is as good as it sounds. It features deliciously tender chicken coated in your favorite flavored Doritos.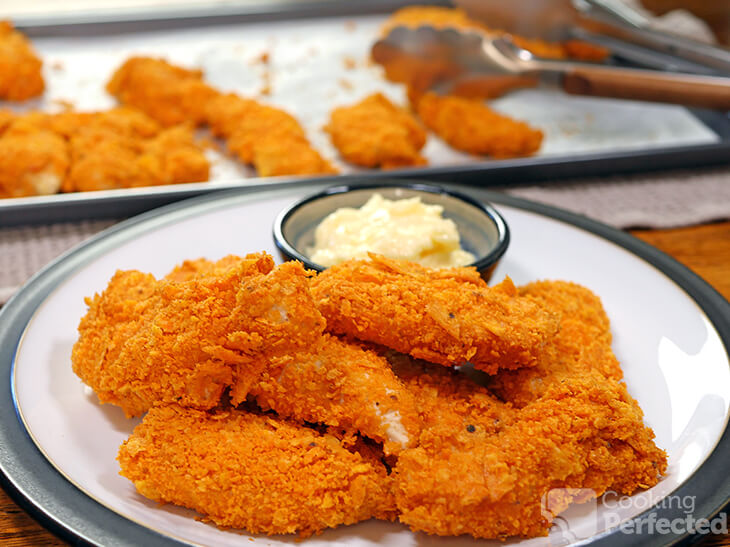 When you pull these delicious chicken strips out of the oven, they will be lovely and golden on the outside and tender on the inside. They are always a huge hit whenever I make them for the family.
Without adjusting this recipe, you should be able to feed roughly four people. I do highly recommend that you make some side dishes to go with the chicken. Some delicious condiments will also work very nicely.
If you somehow end up with leftover chicken, then it is great reheated or as part of another meal. Personally, I love to serve the leftover chicken in a refreshing Caesar salad. The leftovers should last for three days in the refrigerator or three months in the freezer.
Oven-Baked or Shallow Fry
In this recipe, I recommend oven baking the chicken as it is the easiest way to get these perfect. However, you can shallow fry the chicken instead.
If you decide to shallow fry the chicken, simply heat some oil in a frypan and cook the chicken in batches. I recommend cooking roughly four minutes per side. You can double-check the chicken is cooked by using a meat thermometer.
You will need to be careful of the Dorito's flavoring burning when you are pan-frying or oven baking the chicken. I recommend baking at 180°C (350°F) or pan-frying on medium heat. If it looks like the flavoring is burning, then lower the heat slightly.
Personally, I think both cooking methods will result in some delicious chicken. The healthier cooking method is to use the oven. However, I often find fried food is much tastier.
What to Serve with the Chicken
Below are some ideas on what you can serve with this delicious chicken. Feel free to share any of your ideas in the comments section at the bottom of this page.
I love to serve this chicken with some delicious homemade roast potatoes. I typically get the potatoes cooking before I put the chicken in the oven as the potatoes will take much longer to cook. For something, a little healthier, you can try making sweet potato fries to go with the chicken.
A classic green salad will work nicely as a side dish to the chicken. I love to do a classic combination of lettuce, cucumber, tomatoes, and red onion. Alternatively, if you love the flavor of Doritos, I highly recommend trying the taco salad.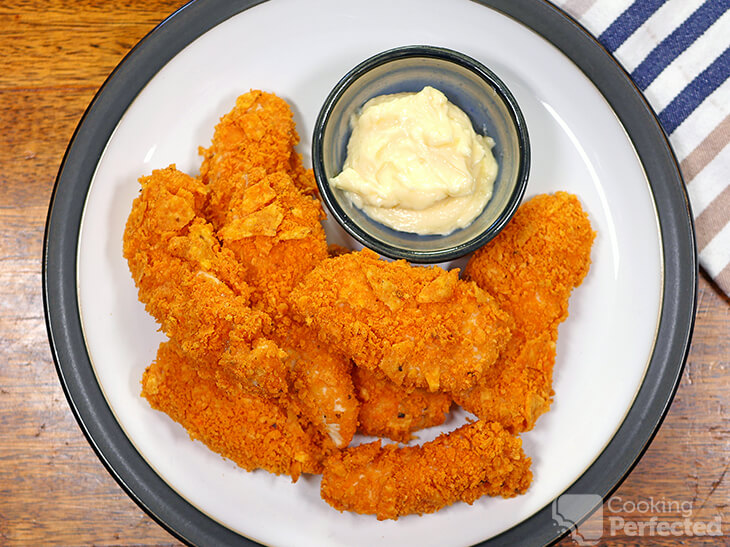 Like any crumbed chicken, there is a ton of condiments that will work nicely with this dish. Personally, I love to serve the chicken with some salsa, mayonnaise, sour cream, or ranch dressing. You can get either of these at the supermarket or make them from scratch.
Below is a video that will take you through all the steps to making the Doritos chicken. If you prefer a written recipe, then there is one immediately beneath the video.
Doritos Chicken Recipe
Ingredients
500 g (1.1 lb) chicken breast, cut into strips
½ cup plain flour
½ tsp salt
¼ tsp pepper
2 eggs, lightly beaten
170 g (6 oz) Doritos, crushed
Instructions
Preheat an oven to 180°C (350°F).
In a bowl, combine the flour, salt, and pepper.
Now, in another separate bowl, add the eggs.
In yet another bowl, add the crushed Doritos.
Dip the chicken into the flour, egg mixture, then the Doritos.
On a lined baking tray, place the coated pieces of chicken.
Bake in the oven for 15 minutes.
Serve & Enjoy.
Recipe Tips
I recommend using a meat thermometer to ensure that the chicken is fully cooked when you remove it from the oven. The internal temperature of the chicken should be above 75°C (165°F).
For a thicker crust, you can double coat the chicken. Be careful when cooking the chicken as it will take longer, and the crust may start to burn before the chicken is fully cooked.
Feel free to swap the chicken breast for chicken thigh instead. The result will still be incredibly delicious.
You can use any flavored Dorito that you want. I love the supreme cheese, but any flavor will work nicely.
Lightly spraying the chicken with oil will help crisp the crumb and keep the chicken moist.
You can add some extra seasoning into the flour mixture. For example, taco seasoning can be added for even more flavor.
Nutrition Information
Serving Size: 206g (7.3 oz)
Servings Per Recipe: 4
Calories Per Serving: 439
Amount Per Serving
Saturated Fat: 4.5g
Trans Fat: 0.1g
Dietary Fiber: 3g
Sugars: 1g
Cholesterol: 163mg
Sodium: 701mg
Protein: 34g
The information above is an estimate generated by an online nutrition calculator.
More Crumbed Chicken Ideas
Below are some of my favorite chicken recipes that I reckon you will love. Each recipe features a different but delicious crumb.
The almond crusted chicken is a excellent alternative to regular breadcrumbs. The almond crumb is loaded with flavor, thanks to the wonderful herbs and spices that we use. I highly recommend giving it a try.
Another chicken dish that I reckon you will love is the cornflake chicken. It is very similar to this recipe, but instead uses cornflakes. The result is a deliciously crunchy coating that matches the chicken nicely.
I hope that you love this Dorito crusted chicken as much as I do. If you have some feedback, then please do not hesitate to leave a comment below.