One of the best salads in the world is a taco salad, and it's so easy to make. It's a must-try if you're already a huge fan of Tacos and Mexican inspired food.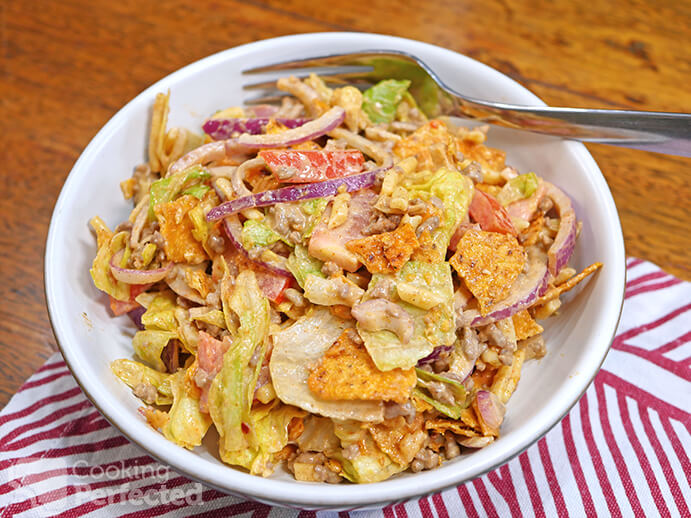 The traditional taco salad recipe originated in Texas back in the 1960s. It's now part of the Tex-Mex cuisine and enjoyed right across the world.
Usually, this salad is served in a tortilla shell stuffed with a range of ingredients such as lettuce, tomatoes, cheese, sour cream, and salsa. This recipe takes this concept and changes it slightly.
Feed a Crowd with Taco Salad
This salad is an excellent way of feeding a hungry crowd as a single batch of this recipe makes a decent amount.
I typically find that this salad will feed six to eight people, but you can easily double or triple the recipe if you need to feed more people. You will likely need a pretty big bowl to make this salad without making a mess.
You can eat the salad without any other dishes, but I love having it alongside some BBQ foods such as sausages, patties, and much more.
Putting your own Spin on this Salad
There isn't a huge amount of variations that you can do to this recipe, but I will list a few ideas anyway.
Firstly, you can turn this recipe into a layered taco salad. Instead of mixing everything, just layer it. It's a bit fiddlier but certainly looks cool and is slightly more appealing.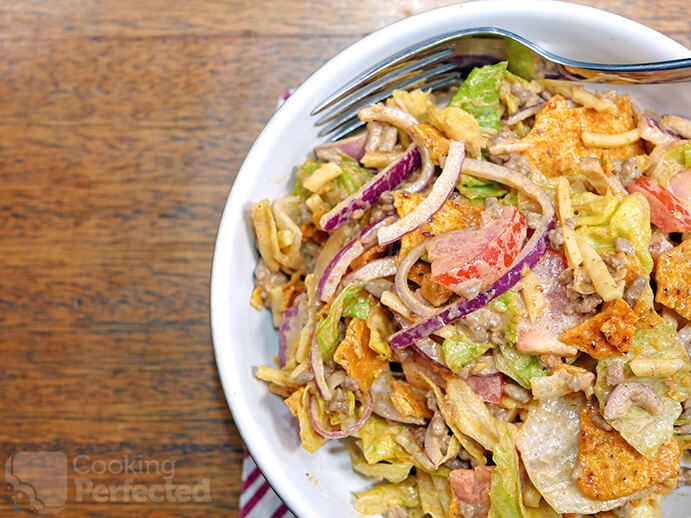 Instead of the store-bought or homemade mayonnaise, you can use sour cream instead. It's a quite a big difference in flavor so make sure like sour cream before switching out the mayonnaise.
Some recipes also add some chili beans into the salad. If you love beans, then this is certainly a change that you need to try. I haven't tried it so I can't comment on how good or bad it will be.
To make this vegetarian, you can use Spanish rice instead of the ground beef. It's an excellent option if you're trying to cut down on the amount of meat you're eating.
Making Taco Salad in Advance
This salad will not last very long, so I highly recommend that you make it as fresh as possible. The corn chips will start to go soggy after a few hours and will not be very nice the next day.
If you absolutely need to make this salad ahead of when you need it then simply do not add the corn chips until you're about to serve. Leaving them out till the end will ensure the corn chips won't go soggy.
Right below is the entire recipe on how to make this delicious taco salad. It's super easy and won't take very long to make. I highly recommend that you give it a try.
Taco Salad Recipe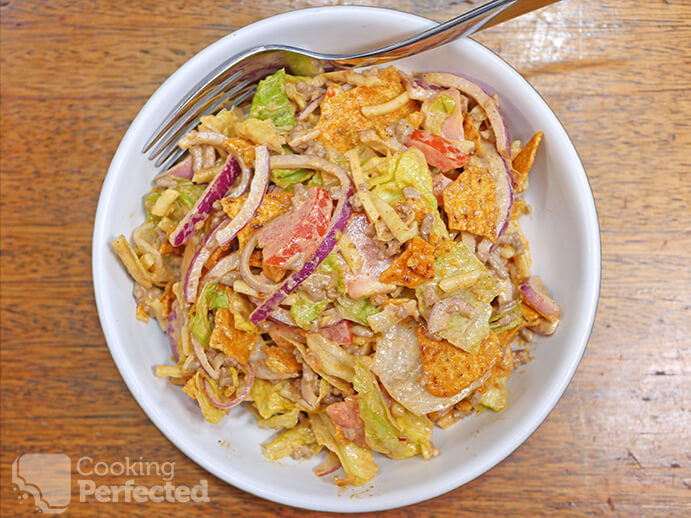 Ingredients
500 g (1.1 lb) ground beef
30 g (1.1 oz) taco seasoning
1 large iceberg lettuce, chopped
1 tomato, chopped
1 red onion, thinly sliced
2 cups, cheddar cheese, shredded
175 g (6.2 oz) corn chips, crushed
Dressing
1 cup mayonnaise
1 Tbsp sugar
1 Tbsp taco seasoning mix
Instructions
In a frypan over high heat, brown the ground beef.
Drain any excess fluid from the frypan and add the taco seasoning. Cook until fragrant and then allow to cool.
In a bowl, gently mix the lettuce, tomato, onion, cheese, beef, and corn chips.
In a small bowl, mix the mayonnaise, sugar and taco seasoning until well combined.
Add the dressing mix into the salad and combine.
Serve & Enjoy.
Recipe Tips
To ensure that this taco salad is gluten-free ensure that you use gluten variants of corn chips, taco seasoning, and mayonnaise.
You can make taco seasoning at home, and it only requires a few basic spices and herbs. It's perfect if you prefer to make everything at home.
The tomato can be swapped for a handful of cherry tomatoes instead. Both are delicious, but the cherry tomatoes will be slightly sweeter.
Corn chips or tortilla chips both work great. You can easily make tortilla chips at home with just a few basic ingredients.
Nutrition Information
Serving Size: 258g (9.1 oz)
Servings Per Recipe: 6
Calories Per Serving: 578
Amount Per Serving
Saturated Fat: 12.1g
Trans Fat: 0.6g
Dietary Fiber: 3g
Sugars: 4g
Cholesterol: 95mg
Sodium: 820mg
Protein: 26g
The information above is an estimate generated by an online nutrition calculator.
More Recipes to Try
There are lots more recipes that you can try. If you're looking for some more Mexican inspired dishes, then we have a couple of recipes that you should try.
The chicken quesadillas are super easy to make and perfect for either lunch or dinner. You can change the filling ingredients to fit more to your liking. I love the recipe as is, but feel free to experiment.
Guacamole is always great, so be sure to make some to go with your next Mexican inspired food. It's super easy to make guacamole and only requires a few basic ingredients.
That's all I have to say about this tasty taco salad. If you have any feedback, tips, or anything else, then please don't hesitate to leave a comment below.