Gluten-free mayonnaise is incredibly easy to make at home quickly. You will need to make sure you have a blender or something capable of whipping at high speeds.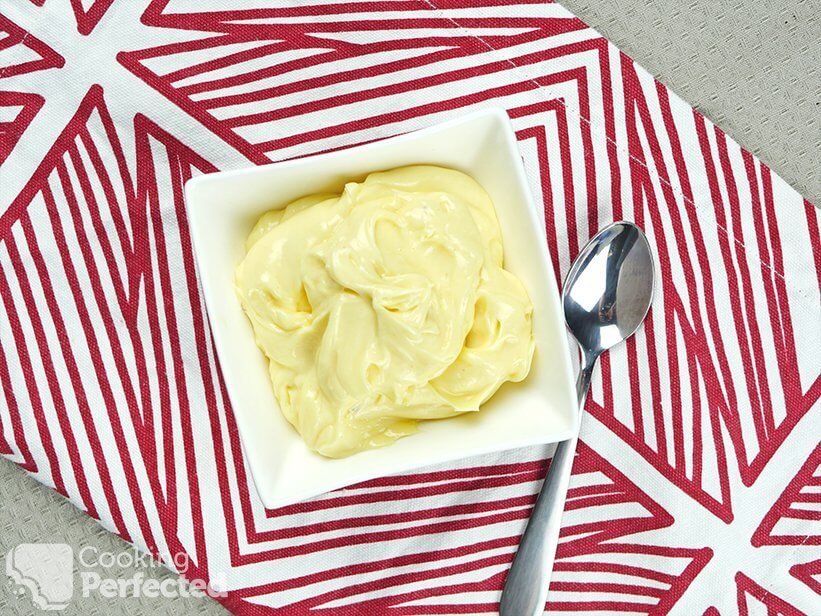 This next bit of information may or may not surprise you, but you will find a lot of the brands of mayonnaise at your local supermarket have gluten in them. For some brands, it's a cross-contamination issue while others use it as a thickener.
Depending on your level of intolerance to gluten, this may give you stomach pains and other problems. Some of the more expensive brands lack gluten but making it at home is a much better and cheaper solution.
Why Make Mayo at Home
One of the best parts of making mayo at home is that you know exactly what has gone into making it.
Being able to adjust the ingredients to suit your needs better is a great reason to make it at home. For example, if you love mustard, then add more mustard. Alternatively, if you love garlic, then add more garlic.
You will need to be careful with homemade mayo as it does tend to spoil faster than the commercial brands. Always refrigerate it when it's not in use and discard after a week unless it looks like it has already spoiled.
As with any homemade product, there is a bit of a risk when it comes to pregnant people. I recommend sticking to the supermarket varieties to be safe until after the pregnancy.
Mayonnaise Uses
There are so many uses for mayo, for example, it's a base ingredient for some salad dressings such as ranch or tartar sauce. It's also a great dipping sauce to go with some sweet potato chips or something similar.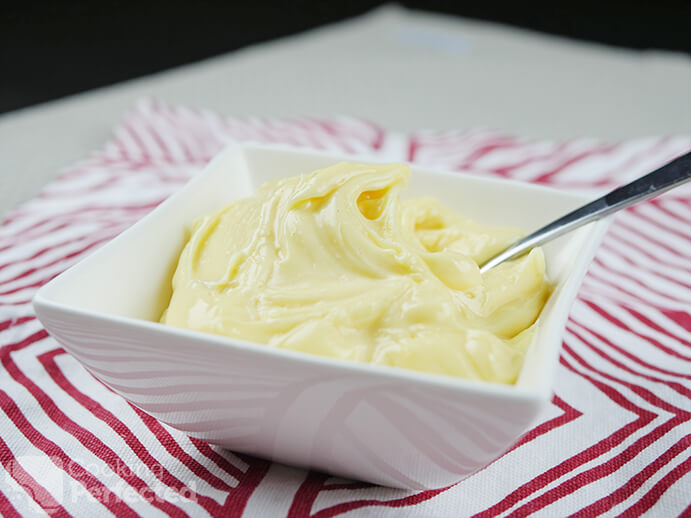 It's also an excellent condiment to use as a spread on a sandwich, wrap or anything really. I love making a tuna and mayo sandwich using some homemade gluten-free bread.
There are just so many options out there that it's impossible to list them all.
How Long Will Homemade Mayonnaise Last
You will find that this mayonnaise will last up to a week when kept in an airtight container in the fridge. Keep in mind that if your eggs are relatively old, then it may not last as long. If it smells funky or looks unpleasant, then discard.
It's also important to remember that this is a raw egg product so make sure you don't leave it sitting on the bench for too long and if you're pregnant then it's best to avoid it altogether.
If you want to see how to make this gluten-free mayonnaise, then I have filmed and prepared a video below. It will take you through all the steps to perfecting this delicious condiment.
Gluten-Free Mayonnaise Recipe
Ingredients
3 eggs yolks
1 tsp Dijon mustard
1 tsp lemon juice
1 cup vegetable oil
Salt
White pepper (Black will put little black specks through your mayo)
Instructions
Add the egg yolks, mustard, and lemon juice into a food processor or blender.
Blend until well combined.
Now turn the blender to high and slowly pour in the oil. (Adding the oil too fast will cause it to split)
Keep pouring until the mayonnaise is thick and all the oil has been used up.
Season with salt & pepper.
Serve & Enjoy.
Recipe Tips
To turn this into a garlic mayonnaise simply add about two teaspoons of crushed garlic at the same time as the mustard.
Make sure you don't use olive oil as this has a dominant flavor and will produce a very nasty tasting mayonnaise that you're likely not to enjoy.
If you love bacon and want your mayonnaise to taste just like it, then you can replace half the oil with bacon fat. Since bacon fat sets hard, your mayonnaise may thicken up a ton when you store it in the fridge.
You will find that this recipe isn't paleo-friendly due to the type of oil I use.
If you find that the mayo has become too thick, then beat in a little bit water until you get the right consistency. However, I have never needed to adjust this recipe.
A risk of making mayo is that the eggs and oil will split. If it does, you can either start over or attempt to save it. I always start over as I don't have much luck rescuing it. To recover it, you need to beat a new egg yolk in the blender and slowly add the split mayonnaise to it. After a while, it should come back together.
Nutrition Information
Serving Size: 14g (0.5 oz)
Servings Per Recipe: 20
Calories Per Serving: 105
Amount Per Serving
Saturated Fat: 2.4g
Trans Fat: 0g
Dietary Fiber: 0g
Sugars: 0g
Cholesterol: 31mg
Sodium: 4mg
Protein: 0.4g
The information above is an estimate generated by an online nutrition calculator.
Other Gluten-Free Recipes To Try
There are so many different gluten-free recipes that you should try. If you're after more condiments, then something like a ranch dressing will take your fancy. It's surprisingly simple and doesn't require any hard to get ingredients.
Some chicken nuggets are perfect for dipping into this delicious condiment, so I highly recommend that you look into making some. They're absolutely delicious and are just as good as the regular nuggets, if not better.
This gluten-free mayonnaise is the perfect homemade recipe for anyone on a gluten-free diet. If you have some feedback, a variation or anything else that you would love to share, then please don't hesitate to leave a comment below.