This gluten-free lasagna noodles recipe is surprisingly easy to make, and the result is so delicious. It is a little more effort than simply buying them from the supermarket, but the result is worth it.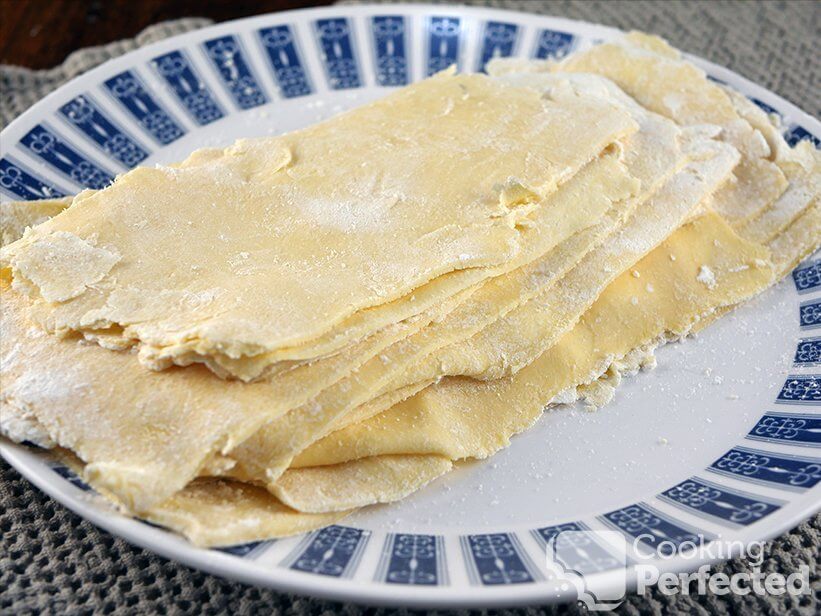 By the time you're finished making this recipe, you should have some lovely sheets of pasta that will be perfect for your next lasagna. I recommend that you use these straight away as they won't keep very well in the fridge.
These lasagna noodles work great with basically any type of lasagna sauce. They will work just fine with different cooking methods such as cooking the lasagna in the slow cooker or an oven.
Why make Lasagna Noodles at Home
It can be hard to find fresh gluten-free lasagna noodles for sale at the supermarket. Luckily this recipe is so easy that you won't ever feel the need to go back to the dry noodles or worry about finding fresh noodles at the store.
A single batch of this recipe should be more than enough for one delicious lasagna that feeds six people. If you need to make multiple, then I highly recommend that you double the recipe.
I recommend that you make these only when you need them. Preparing the lasagna sheets fresh will ensure that they don't end up sticking together or degrading overnight. They're pretty easy to make and will only add about twenty minutes to your preparation time.
How to use Lasagna Noodles
Once you have made the gluten-free lasagna noodles, you can use them instead of regular noodles in almost every single lasagna recipe. Just make sure that no gluten products will be in the other components such as the béchamel sauce.
Since these noodles are fresh, you don't need to boil them before use. They may soak up a little bit of liquid so keep this in mind when you make the sauce.
If you're running low on time, then you can always make a lazy lasagna using these gluten lasagna noodles. Doing this will save you lengthy time by skipping the béchamel and other tedious bits of making a lasagna.
You can find the full recipe on how to make these gluten-free lasagna noodles right below. If you find the recipe handy, then be sure to sign up to our mailing list or follow us on social for more gluten-free recipes.
Gluten-Free Lasagna Noodles Recipe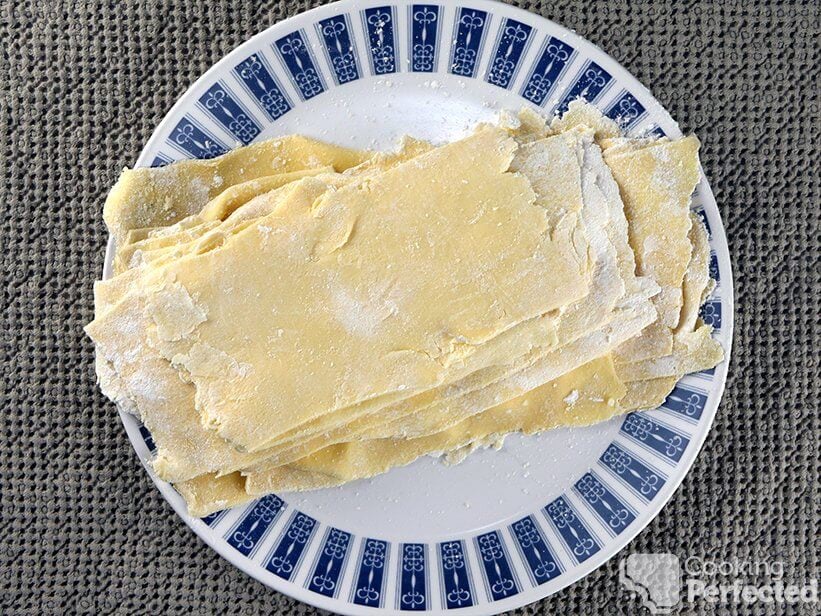 Ingredients
Instructions
In a bowl, add the eggs, water, oil, and salt. Beat together.
Slowly add in the flour until it forms a soft ball.
Lightly dust a bench with gluten-free flour.
Roll out the dough until 2 mm (0.07 in) thick.
Cut into roughly 5cm (2 in) strips.
Use as required in your lasagna recipe.
Recipe Tips
A pizza cutter makes cutting the lasagna noodles into strips a lot easier. Otherwise, a sharp knife will suffice.
The trickiest part of this recipe is getting the consistency correct. I recommend slowly adding the flour and monitoring how it goes. It should be a soft but firm ball by the time you're finished mixing it.
Try to roll the dough out, so that it's flat with little to no bumps. If the noodles are uneven, you could have some parts of the lasagna that are really thick with pasta and others with barely anything.
Gluten-free goods can be hard to prepare, so try not to lose patience while making this recipe. Practice makes perfect, and before you know it, you will be popping out excellent gluten-free foods.
Nutrition Information
Serving Size: 296g (10.4 oz)
Servings Per Recipe: 1
Calories Per Serving: 888
Amount Per Serving
Saturated Fat: 3.7g
Trans Fat: 0.1g
Dietary Fiber: 5g
Sugars: 1g
Cholesterol: 327mg
Sodium: 710mg
Protein: 30g
The information above is an estimate generated by an online nutrition calculator.
More Gluten-Free Recipes
I absolutely love these lasagna noodles, but there is also a ton of other gluten-free recipes that I love.
If you feel like something a little crunchier, then you need to try the homemade chicken nuggets. They're as good as they sound, totally worth giving a try if love chicken.
A dish that you might also enjoy is the gluten-free beef stroganoff. It has a creamy sauce that pairs well the beef and mushrooms. Serve with some gluten-free pasta.
We have plenty more pasta recipes that are worth checking out. Unfortunately, a lot of them aren't gluten-free but can easily be adapted by changing the type of pasta used.
This gluten-free lasagna noodles recipe has worked out for me so many times, and I hope you experience the same. If you have some tips, feedback or anything else, then please don't hesitate to leave a comment below.