This easy roasted red pepper dip is packed full of flavor and only needs four very simple ingredients. It's super easy to whip up, making it great if you need a dip super fast.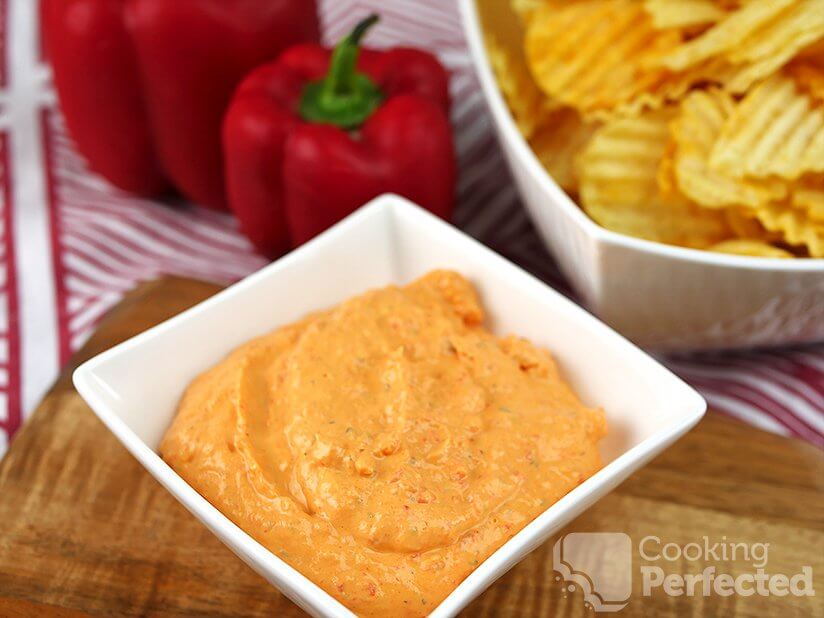 One of the best things about this dip is how tasty it is. It also doesn't require a ton of time and ingredients. This makes it perfect for when you need to prepare tons of food, but you're looking to save on time while keeping things tasting great.
You can get roasted red peppers in a jar, so you don't need to worry about roasting them. Just make sure you drain the fluid before adding them to the rest of the ingredients. You can get roasted red peppers in a jar at pretty much any good supermarket or online at stores such as Amazon.
There are so many other dips that you can make, such as a corn relish dip. They are all pretty easy, making them great for when you're low on time.
Tweaking the Recipe
There are a couple of tweaks that you can make to this recipe if you wanted to. I love the dip without any of these changes.
If you love a bit of heat in your dips, then you can add half a teaspoon of either cayenne pepper or chili powder. Either of these will add a fair bit of heat to the dip, so be sure you want it to be spicy.
For a bit of extra flavor, you can add some balsamic vinegar into the dip. Be very careful with how much vinegar you add as it will add a slight bit of sourness to the dip. I recommend adding only a teaspoon or two.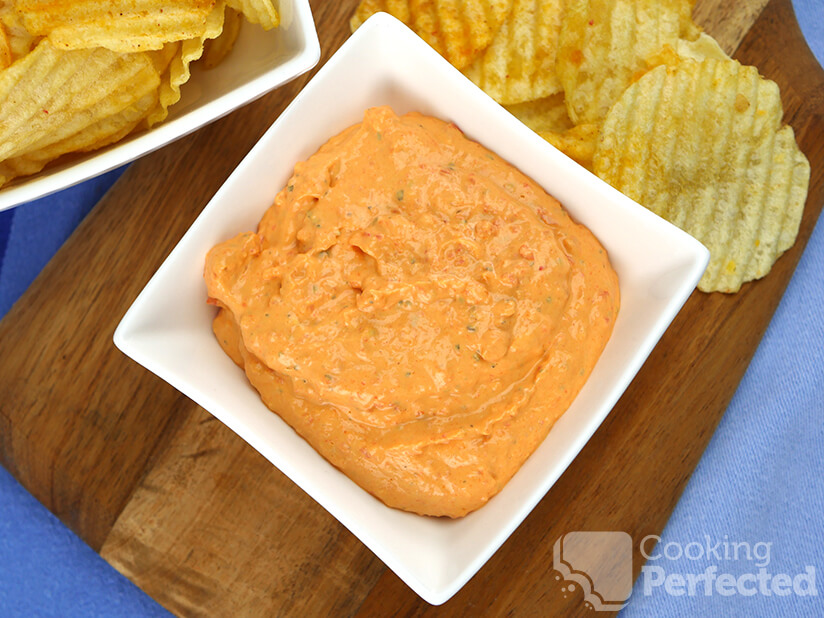 Sour cream is a popular addition to this dip, and it is great if you need to bulk it out slightly and make it slightly runnier. It will also impart its own flavor into the dip, so keep this in mind.
Feta can be added alongside the cream cheese for some extra flavor. I would add about fifty grams or two ounces of feta. However, feel free to experiment to get the best tasting dip.
You can substitute the cream cheese for a light variety instead. Either type will work fine for this delicious red pepper dip.
If you have any ideas that you would like to share regarding this dip, then please don't hesitate to leave a comment below.
Storing the Dip
You're able to keep this dip in the fridge for up to about a week. Keep in mind the cream cheese will harden when kept in the refrigerator. To soften simply allow to warm slightly before serving.
If you love visuals, then be sure to check out the video below as it will take you through a couple of steps to making this roasted red pepper dip. If you prefer, you can find a full written recipe right underneath the video.
Roasted Red Pepper Dip Recipe
Ingredients
Instructions
Add all the ingredients to a blender and blitz together.
Season to taste with salt and pepper.
Serve & Enjoy.
Recipe Tips
For the easiest method of making this dip, I would use drained jar roasted red peppers. Alternatively, you can roast some of your own just make sure you remove the skins.
Both fresh and dried basil works fine in this roasted red pepper dip. Personally, I recommend using fresh but dried works just as well.
A good quality cream cheese can make a huge difference when it comes to dips. If you're having trouble with taste and texture, then I highly recommend trying a different brand of cream cheese.
Here in Australia, red peppers are known as red capsicums. So keep this in mind when shopping for ingredients to make this delicious dip.
Nutrition Information
Serving Size: 113g (4 oz)
Servings Per Recipe: 4
Calories Per Serving: 199
Amount Per Serving
Saturated Fat: 11.3g
Trans Fat: 0g
Dietary Fiber: 1g
Sugars: 4g
Cholesterol: 56mg
Sodium: 392mg
Protein: 5g
The information above is an estimate generated by an online nutrition calculator.
More Delicious Dips
There are so many quick and easy dips that you're able to whip up with just a couple of ingredients.
The French onion dip is super easy and goes great with this one. Perfect if you want to make several different dips for your next dinner party.
Another delicious onion dip that's worth trying is the caramelized onion dip. It's packed with flavor and super easy to make.
If you have some feedback, variations, or anything else that you would like to add about this easy roasted red pepper dip, then please be sure to leave a comment at the bottom of this page.