The air fryer is great at quickly cooking some frozen onion rings. They are the perfect easy side dish.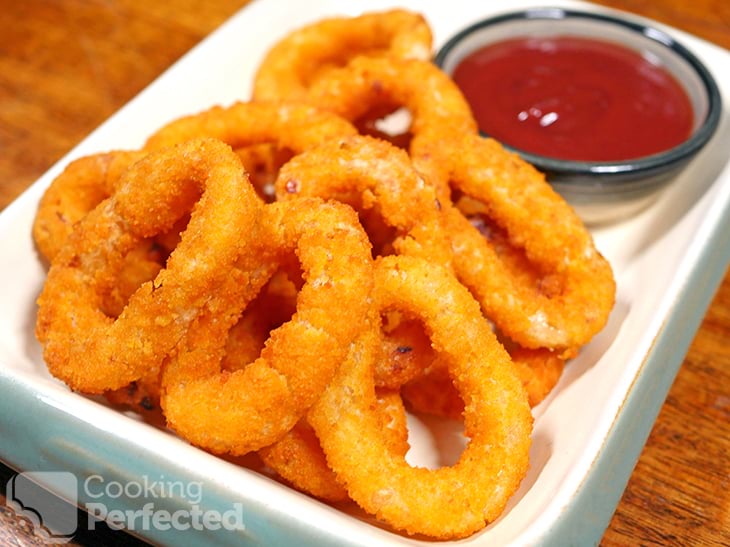 Once ready, the batter on the onion rings will be crispy and have a lovely crunch. The onion itself will be hot and taste delicious. They go best with a couple of condiments, such as ketchup and BBQ sauce.
The brand of onion ring you buy will dictate how good this dish will turn out unless you are cooking homemade frozen onion rings. Try and get your favorite brand for the best result.
Onion rings are a hugely popular side dish that originated in the United States. They are a thick slice of onion that has been dipped in batter or coated in breadcrumbs. The prepared onion ring is then usually deep-fried in hot oil. In our case, we will be cooking them in the air fryer.
You should be able to get four servings without needing to adjust this recipe. However, it heavily depends on whether you eat these as a side dish or as a meal. You can easily double or triple the recipe if required.
What to Serve with Onion Rings
Burgers and onion rings are a match made in heaven. Some people add the onion rings into their burgers for a bit of extra crunch and flavor. If you feel like lots of cooking, you can cook some delicious hamburgers in the air fryer.
There is a vast range of condiments that go nicely with onion rings. A few of my favorites include ketchup, mayonnaise, tomato relish, ranch dressing, or BBQ sauce. Of course, there are loads more that will work great, so if you have a personal favorite, be sure to let us know.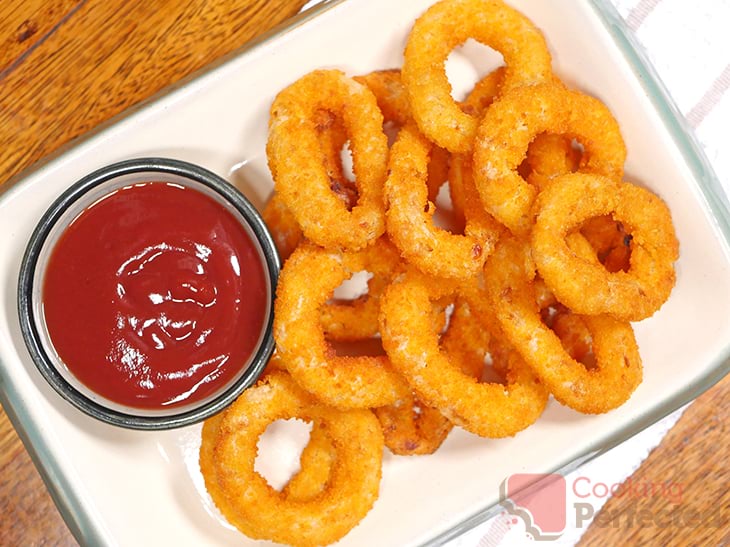 A delicious salad will match perfectly with these onion rings. I love to do a simple salad, usually lettuce, tomatoes, cucumber, red onion, and a salad dressing. It turns out well and makes for an extremely easy meal.
If you are catering for a party, many different finger foods will go brilliantly with these onion rings. For example, fries, chicken tenders, dim sims, mini sliders, spring rolls, or even some puff pastry cheese sticks.
The recipe below will take you through all the steps to cooking some frozen onion rings in the air fryer. If you give our steps a try, be sure to let us know how you went.
Air Fryer Frozen Onion Rings Recipe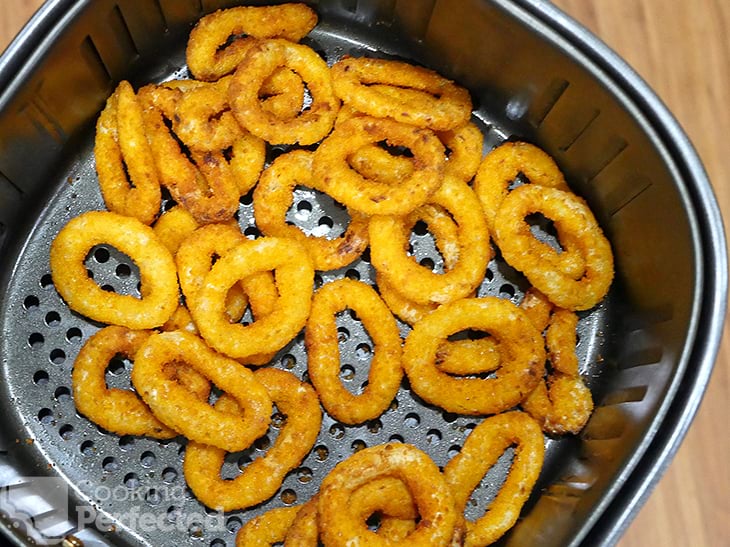 Ingredients
500 g (1.1 lb) crumbed frozen onion rings
1 tsp cooking oil
Instructions
Preheat the air fryer to 180°C (350°F). It should take roughly 5 minutes to heat.
Place the onion rings into the air fryer.
Lightly spray the onion rings with the cooking oil.
Cook for 15 minutes. I recommend shaking the air fryer basket every 5 minutes.
Serve & Enjoy.
Nutrition Information
Serving Size: 126g (4.4 oz)
Servings Per Recipe: 4
Calories Per Serving: 332
Amount Per Serving
Saturated Fat: 5.7g
Trans Fat: 0g
Dietary Fiber: 2g
Sugars: 0g
Cholesterol: 0mg
Sodium: 307mg
Protein: 4g
The information above is an estimate generated by an online nutrition calculator.
More Delicious Recipes
Below are a couple of other recipes for cooking frozen food in the air fryer.
I love cooking some frozen chicken tenders in the air fryer. They cook to be perfectly crisp on the outside and hot on the inside. The tenders go great with these onion rings and some air-fried sweet potato fries.
Using the air fryer is my favorite way to cook some frozen meatballs. You can get the perfect cook on them before adding them to a delicious homemade pasta sauce. I also enjoy them with a few different dipping sauces.
I love air-fried onion rings, and I hope that you do too. If you have some feedback, then please do not hesitate to leave a comment below.