The air fryer is great for cooking frozen chicken nuggets to perfection. They are super easy to get right and are great if you are low on time.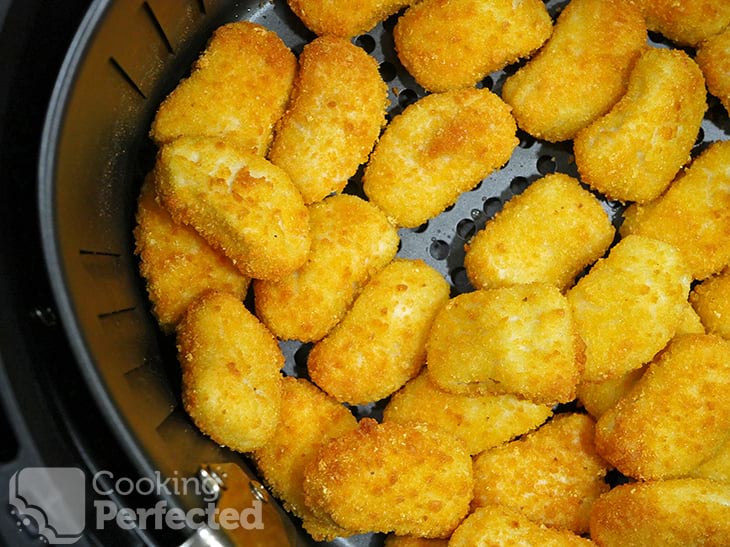 Once the chicken nuggets are ready, they will be deliciously crispy on the outside and be succulent on the inside. I love eating chicken nuggets with a couple of condiments, such as mayonnaise. These are truly a treat and will please anyone who loves a good nugget.
The air fryer is perfect for cooking chicken nuggets. It takes just a few minutes to preheat the air fryer and only fifteen minutes to cook the nuggets. It is much faster than a traditional oven, and the result is just as good.
A single batch of these chicken nuggets will feed roughly four to six people. However, it heavily depends on whether you are feeding big eaters. Personally, I love to make some extra side dishes to go alongside the nuggets.
Serving Ideas for Chicken Nuggets
There are loads of different side dishes that match perfectly with chicken nuggets. Below are a couple of ideas on how you can serve these delicious nuggets.
Steak fries are the perfect choice to go alongside these nuggets. You can cook the fries in an air fryer, but you will likely need multiple air fryers to have all the food cooked simultaneously. Sweet potato fries are an excellent choice if you want something a little healthier.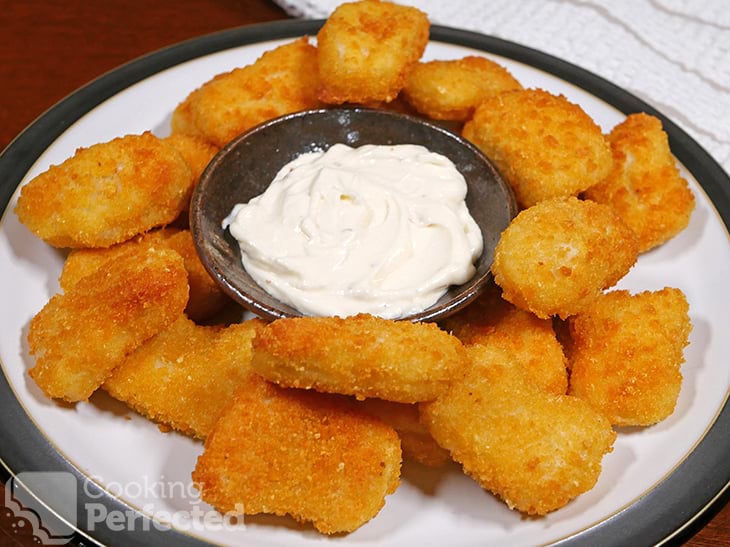 Nuggets always go great with a wide range of delicious condiments. For example, the chicken will match perfectly with BBQ sauce, mayonnaise, ranch dressing, ketchup, hot sauce, or guacamole.
If you are having a party, then there are so many more foods you can cook in the air fryer. For example, I love cooking some homemade sausage rolls, steak fries, mozzarella sticks, Dorito chicken, or Dim sims.
Achieving the Perfectly Cooked Nugget
Most chicken nuggets are roughly the same size, so you should not need to adjust the cooking time. However, if you have larger or smaller nuggets, you may need to increase or decrease the cooking time. I highly recommend using a meat thermometer to ensure the chicken is cooked correctly.
Lightly spraying the chicken nuggets with cooking oil will help ensure a delicious crispy crumb. With that said, the oil is optional and does not need to be used to get them cooked perfectly.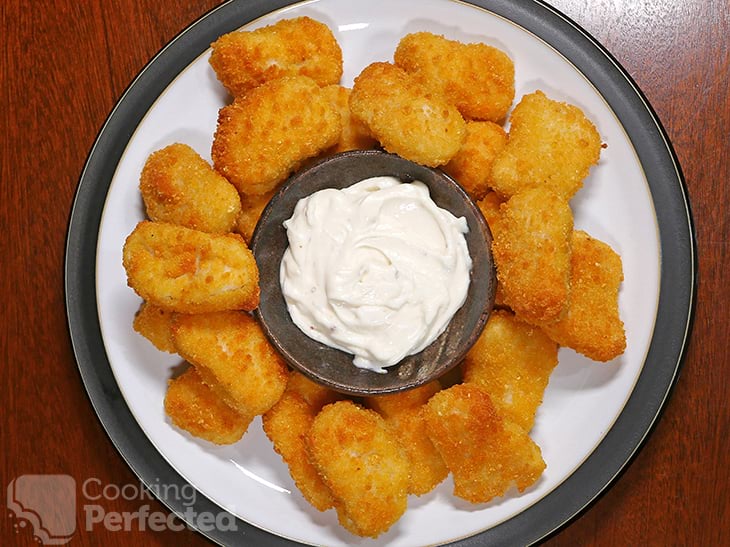 A single layer of nuggets will work best, but if you need to, a little bit of stacking will not hurt. You can do multiple batches if needed.
The recipe below will take you through all the steps to cooking these chicken nuggets perfectly in the air fryer.
Air Fryer Frozen Chicken Nuggets Recipe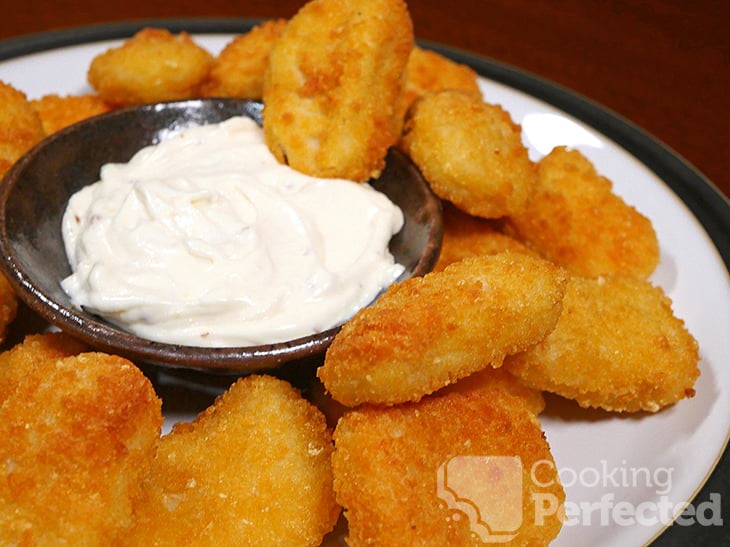 Ingredients
1 kg (2.2 lb) frozen chicken nuggets
1 tsp cooking oil
Instructions
Preheat the air fryer to 200°C (390°F). It should take roughly 5 minutes to heat.
Place the nuggets into the air fryer.
Lightly spray the chicken nuggets with the cooking oil.
Cook for 15 minutes. I recommend turning the nuggets halfway through cooking.
Serve & Enjoy.
Recipe Tips
Use a meat thermometer to check the internal temperature of the chicken. The internal temperature of the chicken should be 75°C (170°F).
Spraying the chicken with a little bit of oil will help achieve a deliciously crunchy crumb.
Preheating the air fryer is optional, but it does help achieve a better result. The air fryer should also only take a couple of minutes to heat.
The nutritional information below is only an estimate. For more accurate information, please refer to the box for your chicken nuggets.
Nutrition Information
Serving Size: 250g (8.8 oz)
Servings Per Recipe: 4
Calories Per Serving: 627
Amount Per Serving
Saturated Fat: 7.5g
Trans Fat: 1g
Dietary Fiber: 0g
Sugars: 6g
Cholesterol: 155mg
Sodium: 532mg
Protein: 29g
The information above is an estimate generated by an online nutrition calculator.
More Air Fryer Recipes
There are loads of air fryer recipes that are worth giving a try. Below are a couple of my absolute favorites that I highly recommend cooking.
One of my absolute favorite recipes for the air fryer is the seasoned pork chops. They cook to be incredibly tender and succulent. They are best served with some extra side dishes such as Hasselback potatoes and creamed spinach.
If you love cooking frozen foods, you have to try frozen fish sticks in the air fryer. They are incredibly easy to cook and taste amazing with some tartar sauce. A must-try if you love fish sticks.
I hope that the frozen chicken nuggets cook perfectly in the air fryer for you. If you have some feedback, then please do not hesitate to leave a comment below.