I love using my air fryer for quickly cooking some frozen broccoli to perfection.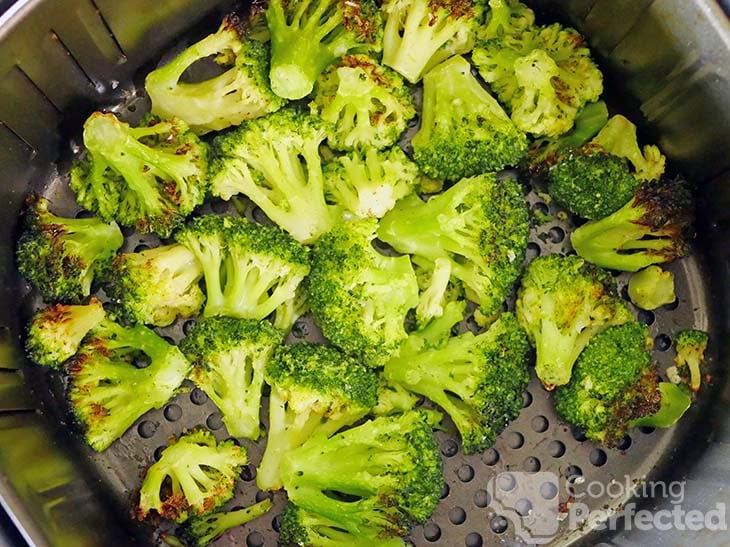 Once the broccoli is ready to eat, it will be slightly crisp and deliciously hot. I season the broccoli with a pinch of salt and pepper, but you can always add spices and herbs if you want more flavor.
You should be able to feed roughly four to six people without having to adjust the recipe. However, it depends on many different variables, such as whether you are serving it as a side dish or not.
You can keep leftover broccoli in the fridge for roughly three days. It is best to reheat the leftovers in the air fryer or the microwave. Alternatively, you can eat it cold.
There are plenty of other frozen vegetables that you can air fry. I find air frying is a fabulous way to defrost and cook food quickly, so I highly recommend giving it a try. It is much easier and faster than cooking broccoli in a traditional oven.
Serving Ideas for Air-Fried Broccoli
The best way to serve this broccoli is as a healthy side dish to another meal. I love serving it alongside roast potatoes, meat, and other vegetables. Roast meat such as pork, chicken, or lamb will work incredibly well.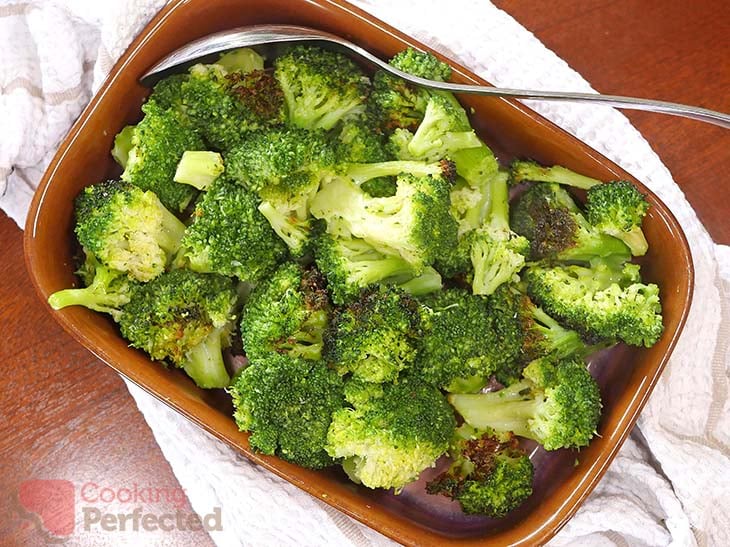 Air-fried broccoli is an excellent addition in a wide variety of dishes such as soups, salads, stir-fries, a topping on pizza, and so much more. I love using it in a broccoli and cheese soup, but there are tons of other meals where it will be delicious.
Adjusting the Recipe to your Tastebuds
You can easily add more flavor to the broccoli by mixing it in a bowl with some herbs, spices, or seasonings. For example, cumin, garlic powder, thyme, red chili flakes, Italian seasoning, or even something like Cajun seasoning will work great. Feel free to get creative to get the best flavor combination that you love.
Much like air fryer cauliflower, the air-fried broccoli is delicious topped with some shredded cheese. I recommend a combination of cheddar and parmesan for the best flavor, but feel free to use whatever you like the most.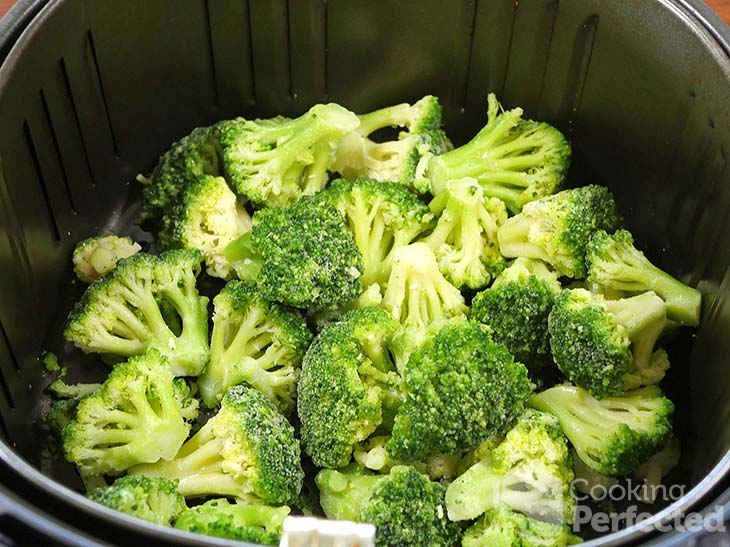 A simple garnish over the top of the broccoli will help elevate the dish. I love a simple combination of roasted pine nuts, lemon zest, and a drizzle of lemon juice. You can try other garnishes, such as shaved parmesan cheese or a drizzle of balsamic vinegar.
You can use fresh broccoli instead, but you may need to reduce the cooking time. For example, to avoid super crunchy broccoli, you may want to blanch the broccoli florets first and cook it for half the time in the air fryer.
The recipe below will go through the few easy steps to cooking frozen broccoli in the air fryer. If you give the recipe a try, be sure to let us know what you think in the comments section at the bottom of this page.
Air Fryer Frozen Broccoli Recipe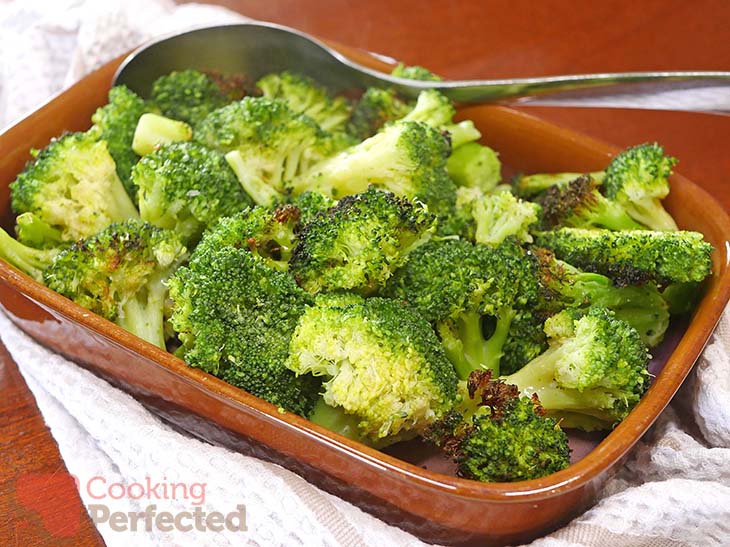 Ingredients
750 g (1.7 lb) frozen broccoli florets
1 tsp cooking oil
1/4 tsp salt
1 pinch of pepper
Instructions
Preheat the air fryer to 180°C (350°F). It will take roughly five minutes to heat up.
Add the frozen broccoli to the air fryer basket as a single layer and lightly spray with oil.
Sprinkle the salt and pepper over the top of the broccoli and gently shake the air fryer basket.
Cook for 15 minutes or until lightly browned. Shake halfway through cooking.
Season to taste with salt and pepper.
Serve & Enjoy.
Recipe Tips
The broccoli can go from being perfectly cooked to overcooked very quickly. I recommend checking every few minutes once you get close to the fifteen-minute mark.
You can use fresh broccoli instead of frozen, but the cooking time will be drastically shorter. I recommend roughly seven minutes if you are cooking fresh or thawed broccoli.
Avoid overloading the air fryer basket as it can cause inconsistent cooking.
The type of oil you use can drastically impact the flavor of the broccoli. I used a lighter tasting oil such as vegetable oil, but you can try strong tasting oils such as coconut oil or olive oil.
This dish is gluten-free, keto, vegan, and paleo-friendly, so it is a perfect side dish if you are cooking for people with strict dietary requirements.
Nutrition Information
Serving Size: 189g (6.7 oz)
Servings Per Recipe: 4
Calories Per Serving: 59
Amount Per Serving
Saturated Fat: 0.3g
Trans Fat: 0g
Dietary Fiber: 6g
Sugars: 3g
Cholesterol: 0mg
Sodium: 190mg
Protein: 5g
The information above is an estimate generated by an online nutrition calculator.
More Air Fryer Vegetable Recipes
There are so many different vegetable dishes that you can easily cook in the air fryer. Below are a couple of my absolute favorite recipes.
Our roast pumpkin recipe is an absolute must-try and cooks perfectly in the air fryer. The pumpkin is excellent as a side dish but can be used in soup or other meals that require roasted pumpkin.
If broccoli isn't taking your fancy, then you could always give air-fried frozen cauliflower a try. The steps are roughly the same as this recipe, but instead, you will have lovely cauliflower florets. Again, I highly recommend giving it a try.
I hope you enjoy this air fryer frozen broccoli recipe as much as I do. It is one of my favorite low-carb side dishes. If you have feedback, please do not hesitate to leave a comment below.