The air fryer is a great way to quickly cook some frozen roast potatoes. They cook to be crisp and delicious.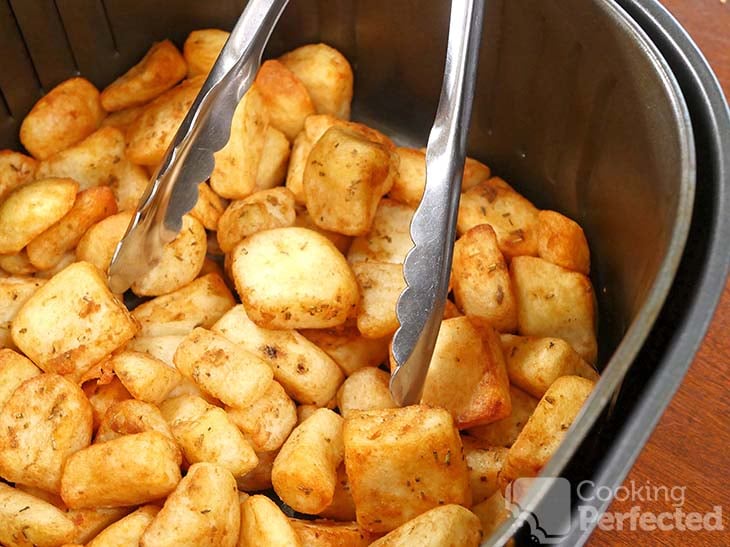 The outcome of this recipe will heavily depend on the type of roast potatoes you have in your freezer. I typically buy pre-seasoned frozen roast potatoes as they taste the best and are perfect for a quick and easy meal.
I love using the air fryer for cooking frozen foods as it is much easier and faster than the traditional oven. These potatoes are another excellent example of how fast an air fryer can cook.
You should be able to get roughly four to six serves without having to adjust the recipe. However, it will vary depending on who you are cooking for and whether it is a side dish or not.
Homemade roast potatoes are absolutely delicious and well worth it if you have the spare time to spend in the kitchen. I recommend giving our air fryer homemade roast potatoes recipe a try, but if you have a household favorite, you can use that instead.
Serving Ideas for Roast Potatoes
The most obvious way to serve roast potatoes is with some roast meat. You can use the air fryer to roast some pretty amazing pieces of meat. For example, I love cooking roast pork, beef, chicken, or even fish in the air fryer.
The potatoes will go great as a side dish to some crumbed chicken. There is a wide variety of chicken that you can cook in the air fryer. I highly recommend giving the chicken nuggets or the chicken parma a try. They are both delicious dishes.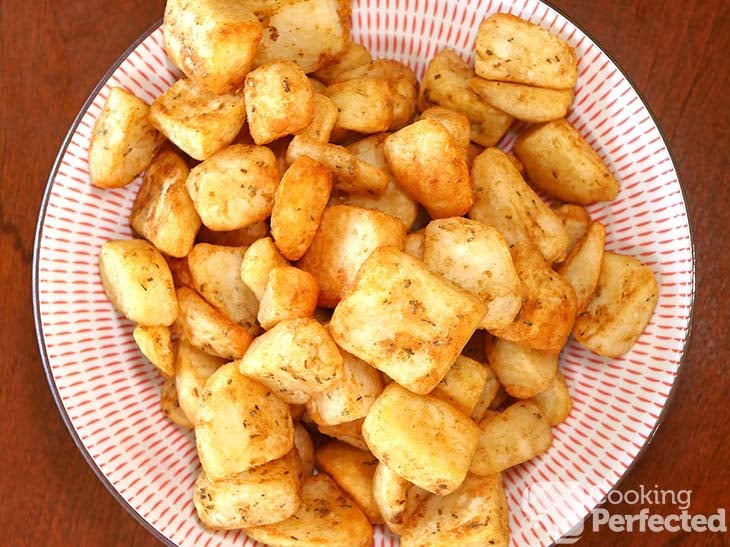 You can use these roast potatoes in a delicious homemade potato salad. Our salad recipe features caramelized onion, crispy bacon, and an amazingly delicious salad dressing. Whenever I make it for friends and family, it is always a huge hit.
One of the simplest ways to elevate these potatoes is simply by loading them with a ton of cheese and crispy bacon bits. First, air fry the potatoes until ready, then top with the mozzarella cheese, bacon and cook until the cheese has melted.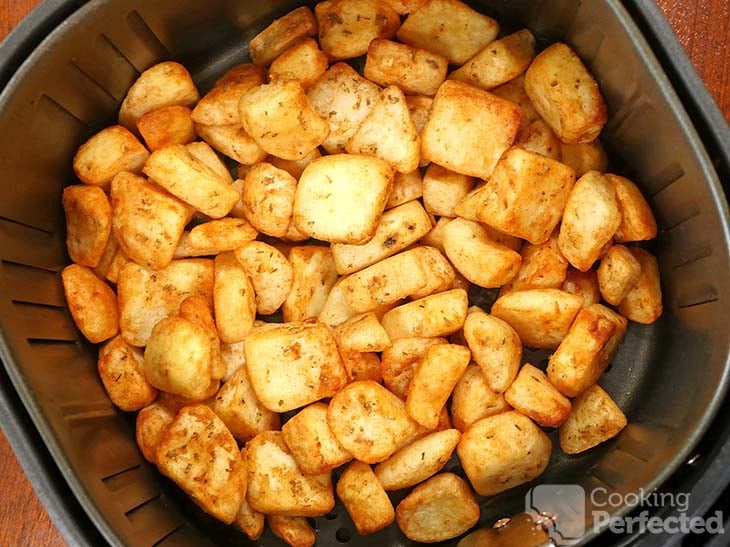 Lastly, you can simply serve the air-fried roast potatoes with a couple of condiments. For example, I love dipping these potatoes into some sour cream and sweet chili. However, sauces such as mayonnaise, tomato sauce, or even BBQ sauce will work great.
The recipe below will take you through the few easy steps to cooking frozen roast potatoes in the air fryer. If you have any feedback regarding this recipe, please leave a comment at the bottom of this page.
Air Fryer Frozen Roast Potatoes Recipe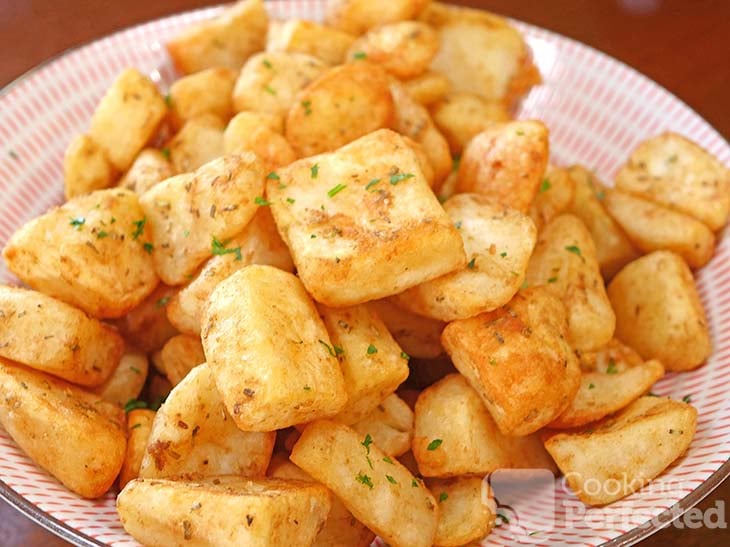 Ingredients
1 kg (2.2 lb) frozen roast potatoes
1 tsp cooking oil
Instructions
Preheat the air fryer to 200°C (390°F). It will take roughly five minutes to heat.
Place frozen roast potatoes into the air fryer basket and lightly spray with oil.
Bake for 20 minutes or until golden brown. Shake or turn the potatoes halfway through cooking.
Serve & Enjoy.
Recipe Tips
Depending on the size of your roast potatoes, you may need to increase or decrease the cooking time.
You do not need to add the oil, but it is recommended to achieve the best crispiness on the potatoes.
Double-check the packaging for the roast potatoes to ensure that they are gluten-free. Some brands add gluten products to help produce nicer roast potatoes.
The times in this recipe are based on cooking the potatoes from frozen. If you have thawed the potatoes, you will likely need to halve the cooking time. I do not recommend thawing the potatoes before cooking.
Nutrition Information
Serving Size: 167g (5.9 oz)
Servings Per Recipe: 6
Calories Per Serving: 223
Amount Per Serving
Saturated Fat: 0.4g
Trans Fat: 0.1g
Dietary Fiber: 4g
Sugars: 1g
Cholesterol: 0mg
Sodium: 497mg
Protein: 4g
The information above is an estimate generated by an online nutrition calculator.
More Air Fryer Potato Recipes
There are loads more potato recipes that you can cook in the air fryer. Below is a couple that I believe you will love.
Using the air fryer to cook some frozen potato wedges works exceptionally well. I love serving the wedges with some sour cream and sweet chili.
You have to give Tater Tots a try in the air fryer. They cook to be deliciously crispy and are an absolute delight. Like most potato dishes, they are best served alongside another meal. Alternatively, you could use them in a casserole.
I love how easy it is to cook frozen roast potatoes in the air fryer and hope that you find it easy too. If you have some feedback, please do not hesitate to leave a comment below.