These delicious homemade chicken tenders cook perfectly in the air fryer.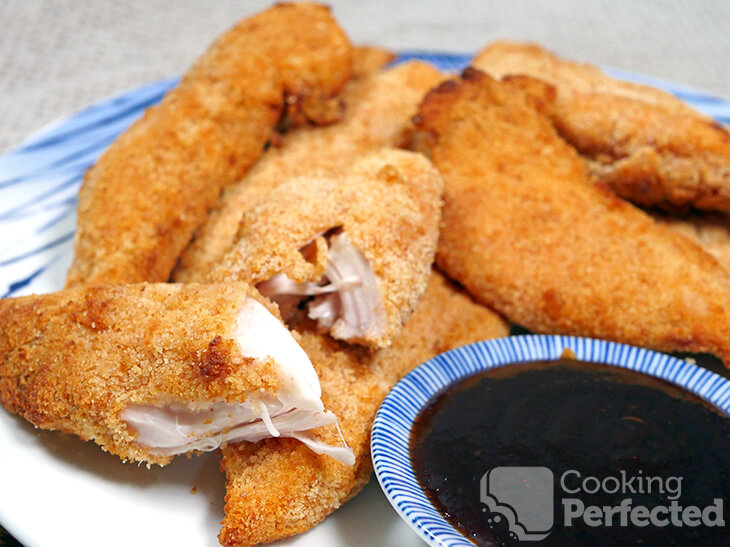 When you take these chicken tenders out of the air fryer, they will be crispy on the outside and deliciously tender on the inside. The chicken is loaded with flavor thanks to our simple but delicious seasoning mixture.
A single batch of these chicken tenders should feed roughly four people. I do recommend that you make some side dishes to go with the chicken. You can also double or triple the recipe if you need to feed more people.
Leftover chicken works great in other meals. For example, I love to make a delicious sandwich and load it with some chicken tenders. It is a simple but delicious lunch. The leftover chicken should last for three days in the fridge.
Chicken Tenders Serving Ideas
There are loads of condiments and side dishes that will go nicely with these chicken tenders. Below are just a few of my favorites.
I personally love serving these chicken strips with some delicious condiments. A good BBQ sauce is one of my favorite choices. However, something like garlic aioli, honey mustard, mayonnaise, or even some ranch dressing will work great. These pieces of chicken will work great with almost anything.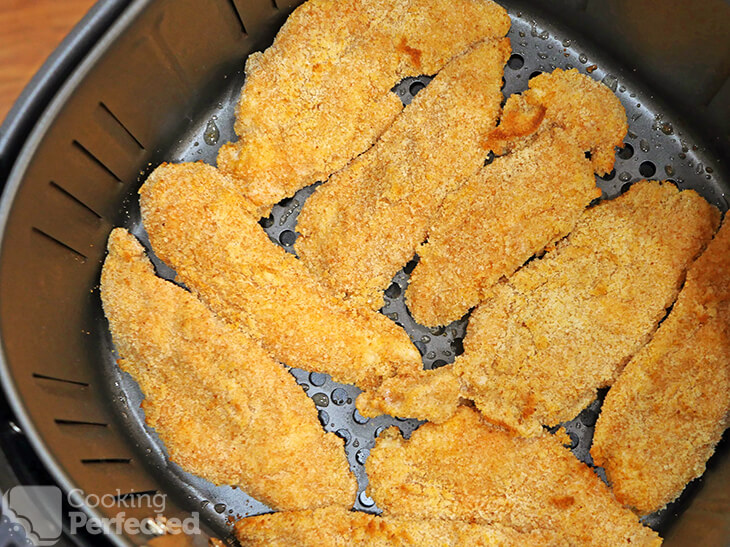 More substantial side dishes such as steak fries are the perfect match for this chicken. You can go a little healthier and make some sweet potato fries instead. Other delicious potato options include potato gems or Hasselback potatoes.
I recommend serving the chicken alongside some homemade cornbread and a delicious salad, as they are a delightful combination. If you have a bit of spare time, I recommend trying out our homemade potato salad recipe.
Altering the Crumb
There are a few ways you can alter the crumb that we use to coat the chicken. Below are a few ideas on what you can do.
Instead of the onion powder, garlic powder, and paprika, you can use a different seasoning. For example, you can try coating it in some taco seasoning or Cajun seasoning. You could also go basic and use just salt and pepper.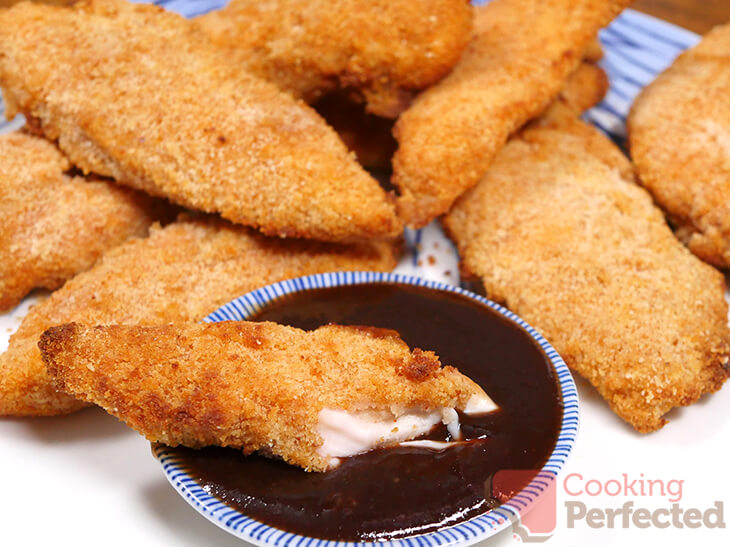 The type of breadcrumbs you use is entirely up to you. For this recipe, I made use of some gluten-free breadcrumbs. However, you can use panko breadcrumb or regular breadcrumbs, and this recipe will work fantastically.
You can try replacing the breadcrumbs or doing a combination of breadcrumbs and something else. Crushed cornflakes or ritz crackers are great additions. If cornflakes sound appealing, you should check out our cornflake chicken recipe.
The recipe below will take you through all the steps to making these chicken tenders and cooking them in the air fryer.
Air Fryer Chicken Tenders Recipe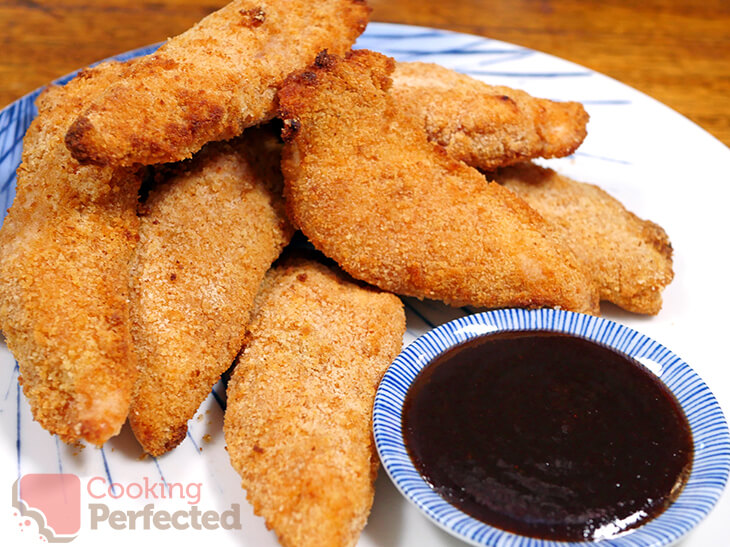 Ingredients
750 g (1.7 lb) chicken tenderloins
100 g (3.5 oz) plain flour
1 tsp onion powder
2 tsp garlic powder
2 tsp paprika
1 tsp salt
1/2 tsp black pepper
1 egg
180 g (6.3 oz) breadcrumbs
Instructions
In a bowl, combine the flour, onion powder, garlic powder, paprika, salt, and pepper.
Crack the egg into a separate bowl and beat slightly.
Lastly, add the breadcrumbs into yet another bowl.
One by one, coat the chicken in the following order. First, in the seasoning mixture. Next, coat in the egg. Lastly, coat in the breadcrumbs. Repeat until you have coated all the chicken.
Preheat the air fryer to 200°C (390°F). It should take roughly 5 minutes.
Cook the chicken in batches so there is only a single layer. Cook for 10 minutes, flipping halfway through. Repeat until you use all the chicken tenders.
Serve & Enjoy.
Recipe Tips
Lightly spraying the chicken with oil is a great way to achieve a crispier crumb.
You can beat out the chicken for a more even cook. However, I do not find it necessary with chicken tenders.
I recommend using a meat thermometer to check the internal temperature of the chicken. The internal temperature of the chicken should be 75°C (170°F).
I am using a 7.2L (6.6 qt) air fryer, so you may need to do multiple batches. You may also find the chicken will cook faster than expected if you use a smaller air fryer.
Nutrition Information
Serving Size: 274g (9.7 oz)
Servings Per Recipe: 4
Calories Per Serving: 446
Amount Per Serving
Saturated Fat: 2g
Trans Fat: 0g
Dietary Fiber: 3g
Sugars: 3g
Cholesterol: 163mg
Sodium: 961mg
Protein: 47g
The information above is an estimate generated by an online nutrition calculator.
More Air Fryer Recipes
There are lots more delicious recipes that you can do in the air fryer. Below are a few of my personal favorites.
Our delicious pork chop recipe for the air fryer features a homemade seasoning that is loaded with flavor. It is one of my favorite recipes, so I highly recommend that you give it a try.
You can try cooking some chicken breasts in the air fryer for an easier and slightly healthier meal. I love rubbing the chicken with a seasoning mixture for the best results. Something like taco seasoning will work great.
I hope that you love these air fryer chicken tenders as much as I do. If you have any feedback, then please do not hesitate to leave a comment below.