You have got to try these Hasselback potatoes as they are incredibly delicious. They cook to be crispy on the outside, tender on the inside and loaded with flavor.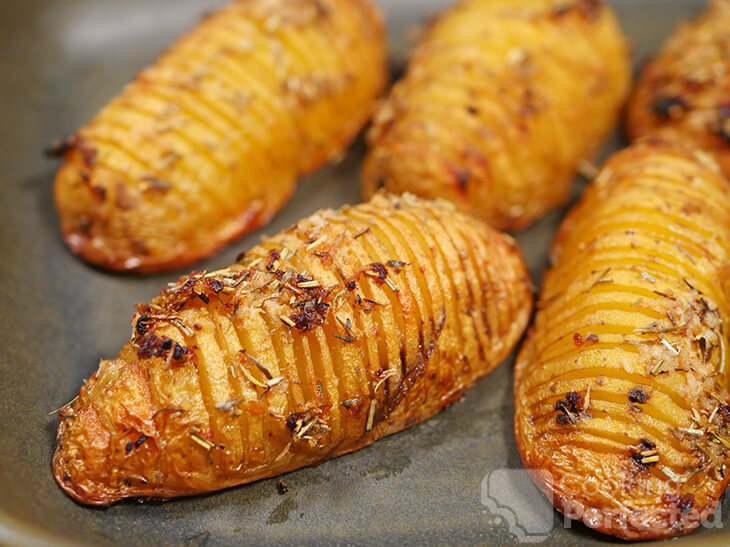 By the time these potatoes are cooked, they will be soft on the inside and crispy on the outside. They always have a delicious crunch to them, and they have some amazing flavor thanks to the delicious herbs.
Hasselback potatoes (Hasselbackspotatis) were created in Sweden by a trainee chef named Leif Ellizon. Today, they are a popular side dish that is made all around the world. Personally, they are one of my favorite types of baked potatoes.
A single batch of this recipe should make enough potatoes to feed roughly four to six people. I do recommend serving the potatoes with a meal such as a roast. I have a few ideas for main meals a bit further down the page.
The leftover potatoes will be quite decent the next day but not nearly as good as they are fresh. They should last for roughly three days in the refrigerator. While you can freeze the Hasselbacks, they might overcook once you reheat them in the oven.
Serving Ideas for Hasselback Potatoes
These potatoes are best served as a side dish to a main meal or as part of a feast. They are super easy to get right and will not chew up too much time. Below are some suggestions for meals to go with these spuds.
Crumbed chicken such as Dorito crusted chicken will go perfectly with these potatoes. Along with the Hasselbacks, the chicken also goes great with a delicious salad. It is a great combination and perfect for feeding a crowd.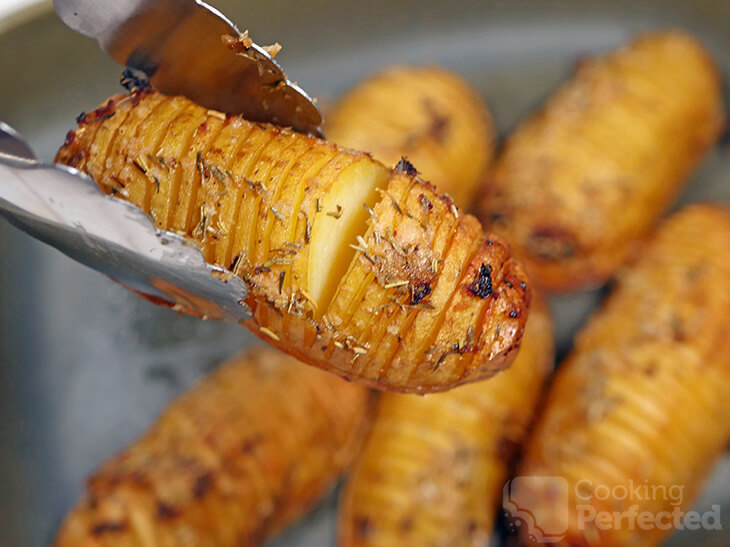 These potatoes are always going to be the perfect match for a roast. There are loads of different roasts that you can do, but some of my favorites include pork roast, roast chicken, or even some freshly cooked corned beef.
Personalizing the Potatoes
There are quite a few ways to adjust this recipe so that it is more to your liking. Below are a few ideas on how you can change this recipe to be more to your taste.
Some grated cheese works perfectly over the top of these potatoes. Something like cheddar or parmesan will work the best. I recommend adding the cheese for the last ten minutes of cooking.
To go one step further than the recommendation above, you can add some breadcrumbs with the cheese. Mix the cheese with the breadcrumbs and a bit of butter for the best results. Again, add it for the last ten minutes of cooking, so the crumb does not burn.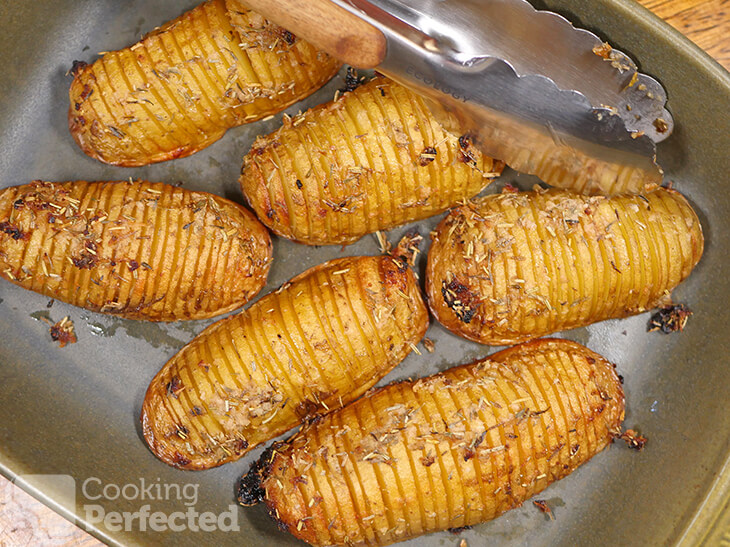 You can make some loaded Hasselback potatoes by simply topping the potatoes with your favorite ingredients. My favorite combination is loads of cheese, bacon, guacamole, and sour cream. I add the bacon and cheese for the last ten minutes before serving and topping it with the rest of the ingredients.
Feel free to add some spices into our seasoning mixture for the potatoes. Paprika, cayenne pepper, or even cumin are great spices for potatoes. Make sure you do not go overboard, as the spices can quickly overpower all the flavor.
The recipe below will take you through all the steps to making these Hasselback potatoes. Be sure to let us know what you think.
Hasselback Potatoes Recipe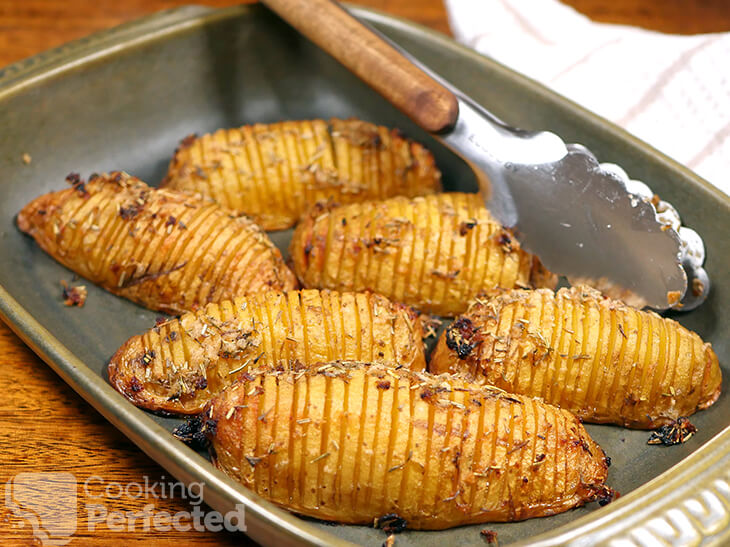 Ingredients
1 kg (2.2 lb) potatoes, cut in half
2 Tbsp olive oil
2 tsp garlic, crushed
1 tsp rosemary, dried
1 tsp thyme, dried
1 tsp salt
¼ tsp pepper
Instructions
Preheat an oven to 200°C (390°F).
Lightly grease a baking tray with oil.
In a bowl, combine the olive oil, garlic, rosemary, thyme, salt, and pepper.
On a chopping board, place two chopsticks with enough room for a potato between them.
Place a potato half cut side down between the chopsticks.
Cut the potato thinly, roughly 2mm or 1/8 inch gap between slices. The chopsticks will stop you from cutting too far. Repeat until all the potatoes are cut.
Place the potatoes on the baking tray with the flat side facing down.
Using a pastry brush, coat each potato in our oil mixture.
Bake in the oven for 40 minutes or until golden brown.
Serve & Enjoy.
Recipe Tips
Fresh or dried herbs will work fine for this recipe. If you are using fresh herbs, you may want to double the quantities used.
More spices can be added to the seasoning mixture.
The potatoes can be boiled beforehand to ensure that they are deliciously fluffy on the inside. It is also great for reducing the time you need them baking in the oven.
You can prepare the potatoes the night before but keep them in a pot of water to prevent them from browning.
Wooden spoons are great alternatives to chopsticks.
Nutrition Information
Serving Size: 260g (9.2 oz)
Servings Per Recipe: 4
Calories Per Serving: 255
Amount Per Serving
Saturated Fat: 1g
Trans Fat: 0g
Dietary Fiber: 6g
Sugars: 2g
Cholesterol: 0mg
Sodium: 597mg
Protein: 5g
The information above is an estimate generated by an online nutrition calculator.
More Potato Recipes
I highly recommend checking out some more of our potato recipes, as they are all delicious. Below are a couple of my favorites that I highly recommend checking out first.
The Tater Tot casserole is a truly deliciously simple dish. It features a delicious ground beef and gravy mixture topped with Tater Tots and a generous amount of cheese. If you love comfort food, then you have got to give this recipe a try.
A salad that will work great with this dish is our caramelized onion potato salad. The salad has a deliciously creamy dressing that perfectly matches the crispy bacon, tender potato, and caramelized onion. It truly is a delicious dish.
I love Hasselback potatoes and hope that you will like this recipe. If you have some feedback, then please do not hesitate to leave a comment below.