This Dorito casserole is an incredible blend of ingredients. It features layers of ground beef, salsa, sour cream, cheese, and delicious Dorito chips.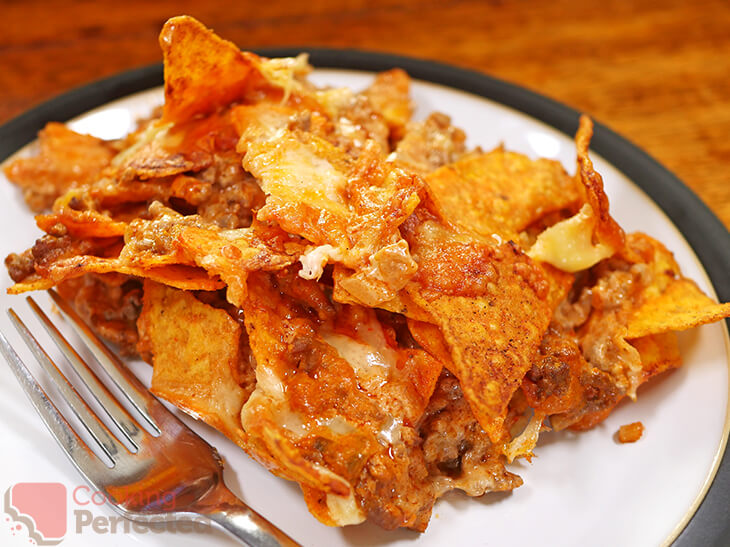 When you take a bite of this delicious casserole, you are greeted with crunchy chips, a delicious beef mixture, and loads of cheese. The beef mixture is a combination of salsa, taco seasoning, sour cream, and ground beef.
You should be able to feed six people from a single batch of this recipe. If you need to feed more, then I recommend making some side dishes or doubling the recipe. You will need multiple casserole dishes if you decide to double the recipe.
The leftovers of this casserole are delicious, so make sure you keep them. However, it is important to note that the Doritos will be quite soggy when you reheat the leftovers. You can keep the leftovers for up to three days in the refrigerator.
Adjusting the Recipe
There are quite a few ways you can adjust this recipe so that it is more to your liking. Below are a couple of ideas on what you can do.
Feel free to add more vegetables to the ground beef mixture. For example, bell peppers, diced tomatoes, olives, or even mushrooms will work nicely with the rest of the ingredients.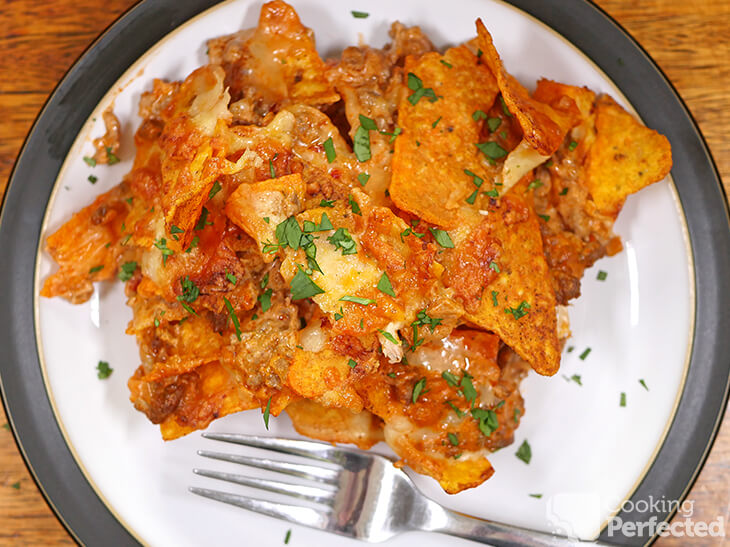 Use your favorite flavor of Dorito for the best results. I typically use supreme cheese, but nacho cheese will also work very nicely. Be sure to let us know the flavor you end up using.
I recommend using cheddar cheese in this recipe, but other types of cheese will also work. For example, a blend of mozzarella and cheddar is always highly recommended.
What to Serve with Dorito Casserole
There are plenty of accompaniments and side dishes that will work nicely with this casserole. Below are just a couple of my favorite ideas.
You can also top the casserole with some extra ingredients such as chopped tomato or chopped avocado. Cilantro is also a pretty good garnish for the casserole.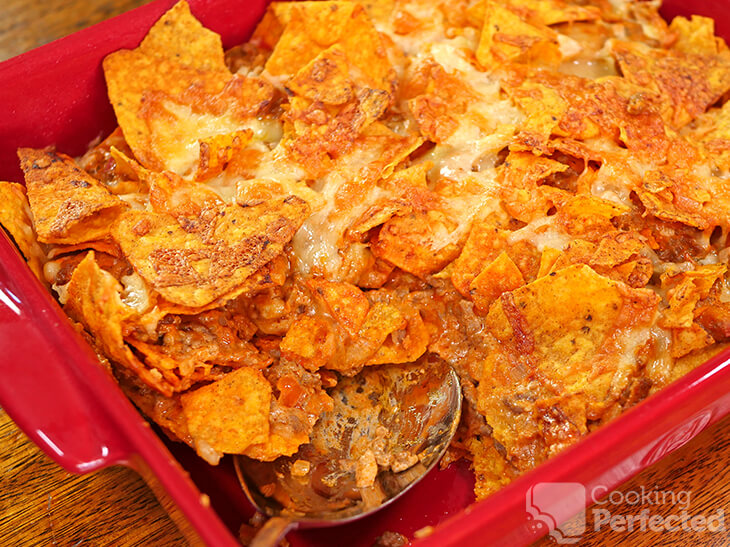 There are loads of condiments that work great with this casserole. I love to let people serve the casserole with some extra tomato salsa, homemade guacamole, refried beans, and extra sour cream.
If I am cooking for a crowd, I love to cook some extra food. Something like a side of garlic bread will work very nicely with the casserole. You can pick some garlic bread up at the local supermarket, or make it at home.
The video below will take you through all the steps to making this incredible Dorito casserole. Alternatively, the recipe underneath the video will help you make this casserole.
Dorito Casserole
Ingredients
1 onion, diced
2 tsp garlic, crushed
500 g (1.1 lb) ground beef
30 g (1.1 oz) taco seasoning
375 g (13.2 oz) salsa
200 g (7.1 oz) sour cream
250 g (8.8 oz) cheddar cheese, shredded
380 g (13.4 oz) Dorito chips
Instructions
Preheat an oven to 190°C (375°F).
In a frying pan over medium heat, add a splash of oil, onion, and garlic. Cook until the onion is translucent.
Next, add the ground beef and cook until browned.
Stir in the taco seasoning and salsa and bring to a simmer.
Turn the stove off and add the sour cream into the frying pan. Stir until well combined.
In a greased large baking dish, spread out 1/3 of the Doritos. Top with 1/3 of the cheese, then 1/2 beef mixture. Repeat again.
Top with the remaining Doritos and cheese.
Bake in the oven for 30 minutes.
Serve & Enjoy.
Recipe Tips
I recommend baking the casserole immediately; otherwise, the Doritos will start to go soggy.
Doritos is recommended, but other brands of tortilla chips will work fine as a replacement.
Feel free to replace the ground beef with other meats such as ground turkey or shredded chicken.
You can crush the Doritos slightly, so they are not as big. Make sure you do not crush them too much as they will turn to mush. I prefer to leave them at the full size.
Nutrition Information
Serving Size: 308g (10.9 oz)
Servings Per Recipe: 6
Calories Per Serving: 663
Amount Per Serving
Saturated Fat: 11.5g
Trans Fat: 0.9g
Dietary Fiber: 5g
Sugars: 7g
Cholesterol: 84mg
Sodium: 1196mg
Protein: 28g
The information above is an estimate generated by an online nutrition calculator.
More Delicious Casserole Recipes
There are so many different casseroles that you can make, and below are a couple of my favorites.
The tuna casserole is one of my favorite meals and features a cheesy sauce, pasta, and loads of shredded tuna. I highly recommend giving it a try if you love easy casseroles.
I have also got to recommend the easy tater tot casserole. It is loaded with tater tots, cheese, and a delicious ground beef gravy. If you feel like some comfort food, then this is the casserole you need to try.
I hope that you enjoy this Dorito casserole as much as I did. If you have some feedback, then please do not hesitate to leave a comment below.