This tuna casserole is amazingly tasty and is so easy to make. It is my favorite recipe for when I need to feed a crowd but do not have much in the cupboards.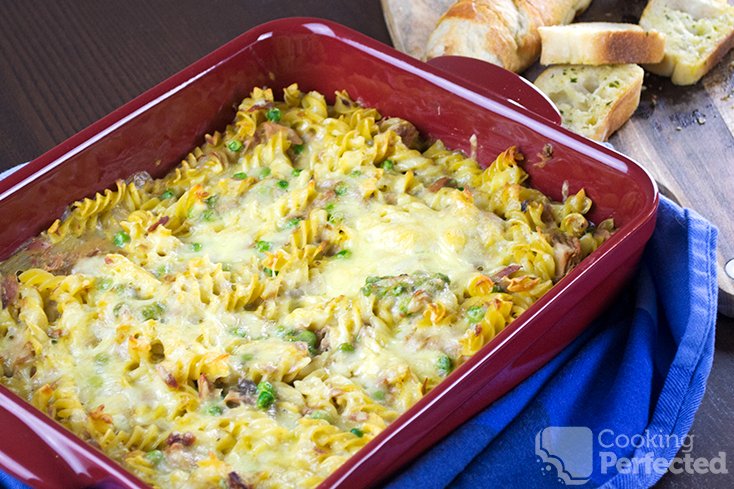 I love this casserole as it is incredibly creamy, loaded with flavor, and is very easy to prepare. It's always been a crowd pleaser, so I highly recommend giving it a try.
One of the best things about this recipe is that it only requires just a few ingredients. It's the perfect casserole if you're finding yourself cash strapped or running low on ingredients.
You will be able to feed roughly four to six people from a single batch of this casserole. However, this heavily depends on how many side dishes you make and how hungry everyone is.
Side Dishes to Go with Tuna Casserole
If you're thinking of what else to have with this dish, then below are a couple of ideas on what you can make.
Like any pasta dish, I love to have this casserole with a side of garlic bread. You can easily make the garlic bread at home, and place into the oven for the last ten minutes of cooking.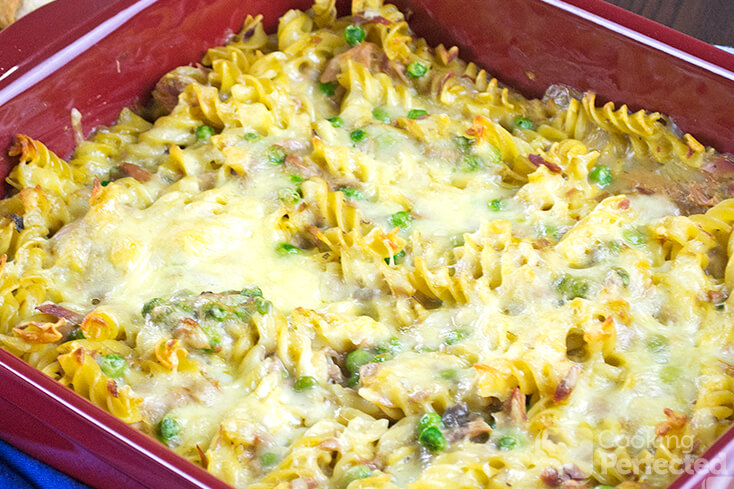 I love making some oven-baked sweet potato fries to have as a side dish with this casserole. They're super delicious and will help feed a crowd.
A lovely green salad works nicely as a side dish and is super easy to make. A combination of lettuce, cherry tomatoes, sliced red onion, and cucumber make for an excellent simple salad. For something a little more complicated, I recommend a taco salad.
Be sure to let us know of any side dishes that you recommend serving with this casserole.
Personalizing the Casserole
There are quite a few adjustments that you can make to this recipe so that it will be more to your liking. Below are a couple of ideas on what you can do.
From time to time, I like adding some corn kernels to the casserole sauce mixture. I typically half the amount of peas and add half a cup of corn kernels. It's a delicious addition that helps adds a little bit of nutrition.
More vegetables can be added to the sauce mixture. For example, bell pepper, celery, and mushrooms are all excellent additions. They will add more flavors, colors, and make the casserole even better. The only downside is that these will need to be pan-fried first.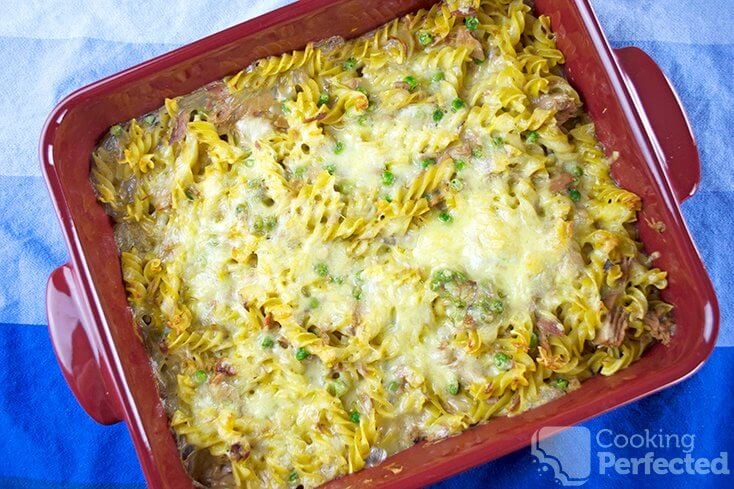 For a crunchy topping, you can mix the cheese with some breadcrumbs and butter. I have more detailed steps in the recipe tips section further down the page.
The leftovers are great for lunch or dinner the next day. Simply keep the leftovers in the fridge or freezer until required. They should last for a few days in the refrigerator or a few months in the freezer.
As always, we have a fantastic video right below that shows you how to make this easy tuna casserole. If you prefer a written recipe, then there is one immediately below the video.
Easy Tuna Casserole Recipe
Ingredients
420 g (14.8 oz) can tuna
420 g (14.8 oz) cream of chicken soup
420 g (14.8 oz) cream of mushroom soup
1 cup cheddar cheese, shredded
1 cup peas
4 cups of cooked pasta (Macaroni or spiral)
Instructions
Preheat an oven to 180°C (350 °F).
In a large baking dish, combine the tuna, cream of chicken, cream of mushroom, cooked pasta, and the peas.
Top with the shredded cheese.
Bake for about 25 minutes or until the cheese is golden brown and the pasta mixture is hot.
Serve & Enjoy.
Recipe Tips
If you prefer this tuna casserole to be a little less crunchy, then cover it with aluminum foil before placing it in the oven. If you want the topping to brown a little, then remove the foil roughly ten minutes before removing it from the oven.
You can mix half of the cheese through the sauce for an extra cheesy casserole.
A popular variation on this recipe is to use egg noodles instead of pasta. This choice usually comes down to preference. Personally, I prefer the pasta over the noodles.
If you love a crunchy topping, simply mix one cup of breadcrumbs, two tablespoons of melted butter, and the cheese from the recipe in a bowl. Once done, add the mixture to the top of the casserole before placing it in the oven. Other variations for a crunchy topping include crushed potato chips, fried onions, or crushed corn flakes.
You don't have to bake the casserole, you can instead heat the sauce mixture over the stovetop. The only thing you will lose is the crispy cheese on top.
I recommend picking your favorite brand of tinned soups for the best result.
Nutrition Information
Serving Size: 326g (11.5 oz)
Servings Per Recipe: 6
Calories Per Serving: 461
Amount Per Serving
Saturated Fat: 6.7g
Trans Fat: 0g
Total Carbohydrate: 41.5g
Dietary Fiber: 2.9g
Sugars: 2.9g
Cholesterol: 47mg
Sodium: 909mg
Protein: 32.8g
The information above is an estimate generated by an online nutrition calculator.
More Casserole Recipes
If you're looking for similar casserole recipes, then be sure to check out the pepperoni pizza casserole. This recipe is indeed a hit with the kids as it mixes everyone's favorite pizza with pasta.
The lazy lasagna is an excellent meal if you need to cook for a few people but don't have time to spend all day cooking. It's super easy to prepare and tastes fantastic.
If you have any thoughts, variations, or anything else that you would like to add to this easy tuna casserole recipe, then be sure to leave us a comment below.