This gluten-free tuna mornay is one of my childhood favorite dishes. It's very simple and tastes absolutely amazing.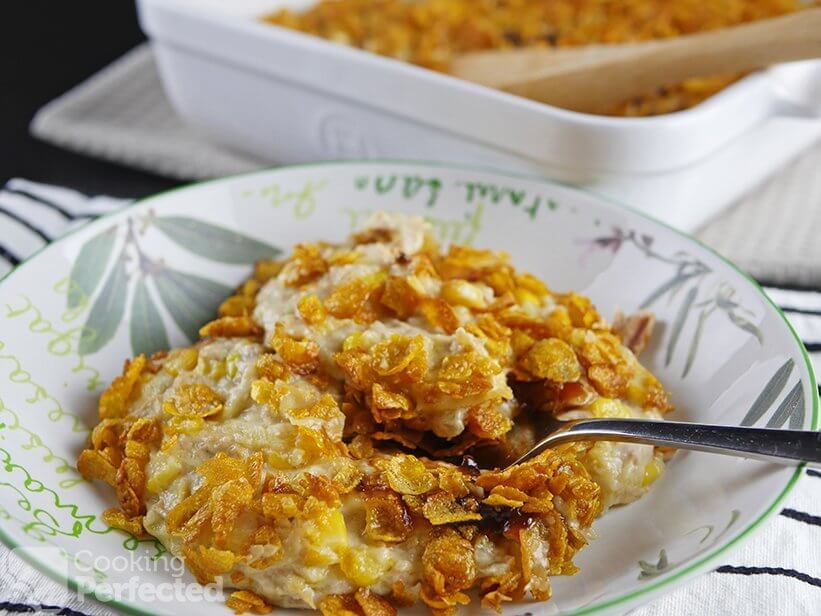 You will find that the crunchy cheesy topping adds a much-needed crunch that so many mornay's are missing. I highly recommend that you don't skip this part of the dish as it's amazing.
The dollops of the fruit chutney just add explosions of flavor to this dish. You will be amazed at just how well it works with the overall meal without being too overpowering.
Feeding a Crowd
If you need to feed a crowd, then this mornay also goes well with rice or some pasta. I prefer the mornay just by itself without any extras. However, without any extras, you will likely only feed six people from a single batch of this recipe.
I recommend cooking the pasta while the mornay is baking in the oven. Once the tuna mornay is ready, serve the pasta and spoon some mornay over the top. Also, don't forget to use gluten-free pasta if you're cooking for people who are sensitive to gluten.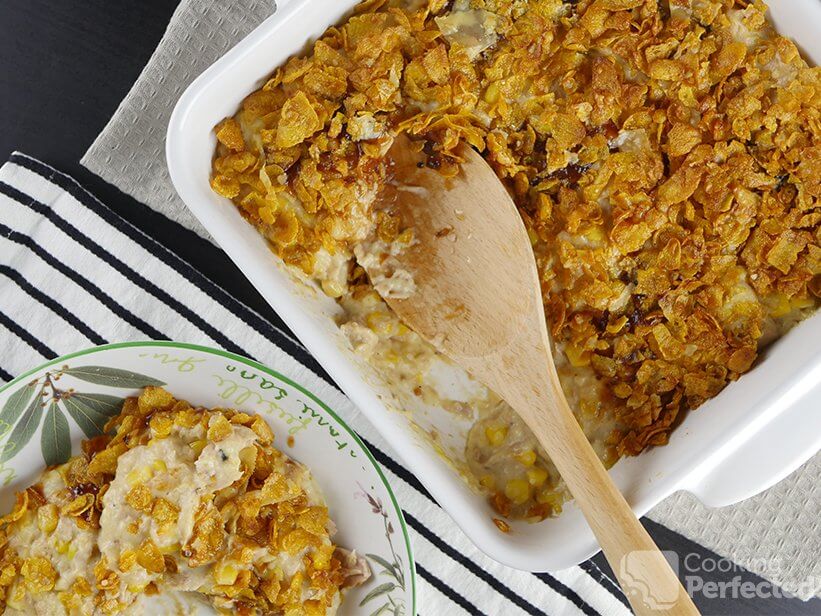 Rice is another super easy accompaniment that you can have with this dish. Much like the pasta, simply cook the rice while the mornay is baking in the oven.
There are plenty of other side dishes that you can make to go with tuna mornay. If you have any suggestions be sure to let us know in the comments section towards the bottom of this page.
Changing the Tuna Mornay Recipe
There are some alterations that you can make to the recipe that might make the dish more to your liking. I think it's great without any changes, so I don't recommend playing around with the recipe too much.
If you want to add more vegetables to this mornay, then something like mushrooms or even celery would work pretty well. If you're going to add either of these, I recommend adding them at the same time as the onion.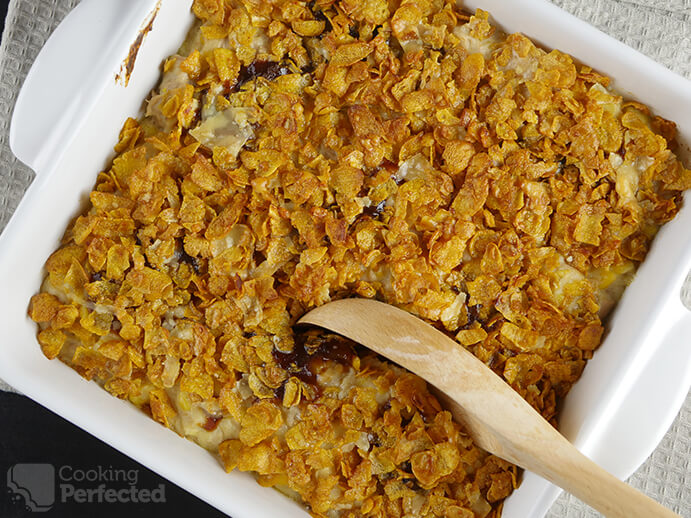 You could add some cooked pasta into the sauce mixture before putting it into the oven. This change will essentially change the recipe into a delicious tuna pasta bake.
How long will Leftovers Last
Any leftovers are worth keeping as they will keep for a few days in the fridge. The leftovers are great for a relaxed lunch or dinner, as all you need to do is reheat the food.
I don't recommend freezing the tuna mornay as dairy heavy foods don't tend to freeze very well. If you do end up freezing it, be sure to let us know how it goes.
If you want to see how to make this gluten-free dinner recipe, then be sure to check out the video I have prepared below. It goes through all the steps to making this delicious tuna mornay.
Gluten-Free Tuna Mornay Recipe
Ingredients
60 g (2.1 oz) butter
1 onion, diced
1 tsp garlic, crushed
3 Tbsp gluten-free cornstarch
2 cups milk
1 tsp Dijon mustard
425 g (15 oz) can tuna, drained
310 g (10.9 oz) can corn kernels, drained
1 Tbsp lemon juice
1 cup grated cheese
2 Tbsp fruit chutney
Topping
1 cup gluten-free cornflakes, slightly crushed
2 Tbsp parmesan cheese
40 g (1.4 oz) melted butter
Instructions
Preheat an oven to 180°C (350°F).
In a pan over medium heat, melt the butter.
Add the onion, garlic and cook until onion is translucent.
Add the cornstarch and a pinch of salt & pepper. Cook for 2-3 minutes.
Lower the heat, add the milk and mustard.
Bring to a simmer and stir constantly until thickened.
Stir in the tuna, corn, lemon juice and cheese.
Place in a greased ovenproof casserole dish.
Prepare the topping by mixing the melted butter, cornflakes and Parmesan cheese.
Dollop the fruit chutney across the top of the mornay. Lastly, sprinkle the topping over the top.
Place into the preheated oven and cook until the topping is lightly browned. Roughly 15 minutes.
Serve & Enjoy.
Recipe Tips
If you find the sauce has thickened up too much, then you can simply mix in some more milk. However, you may find the mornay will become runny after baking in the oven.
The topping is optional but does add an extra level to the dish, and I would recommend doing it. You can skip the baking if you don't add the topping.
You can use either fresh or dried Parmesan for the topping.
Nutrition Information
Serving Size: 575g (1.3 lb)
Servings Per Recipe: 6
Calories Per Serving: 466
Amount Per Serving
Saturated Fat: 13.1g
Trans Fat: 0g
Total Carbohydrate: 30.9g
Dietary Fiber: 2.9g
Sugars: 7.7g
Cholesterol: 77mg
Sodium: 362mg
Protein: 31.1g
The information above is an estimate generated by an online nutrition calculator.
More Gluten-Free Recipes
There are plenty more gluten-free recipes that are worth trying. We have lots of savory and sweet dishes that are pretty easy to make.
A dessert that will go very well after this meal is the rich chocolate fudge cake. It's gluten-free and has an incredible texture and taste. I absolutely love the cake and it's always a hit whenever I serve it up at events.
For something savory, I highly recommend trying the curried sausages. Again, the recipe is gluten-free and is packed with flavor. It's a personal favorite and great for feeding a very hungry crowd.
I hope that you love this gluten-free tuna mornay recipe as much as I do. If you have any feedback or have a variation that you would love to share then please don't hesitate to leave a comment below.