I love using my air fryer for cooking beef sausages until they are perfectly delicious. It is much easier and healthier than cooking them in a frying pan.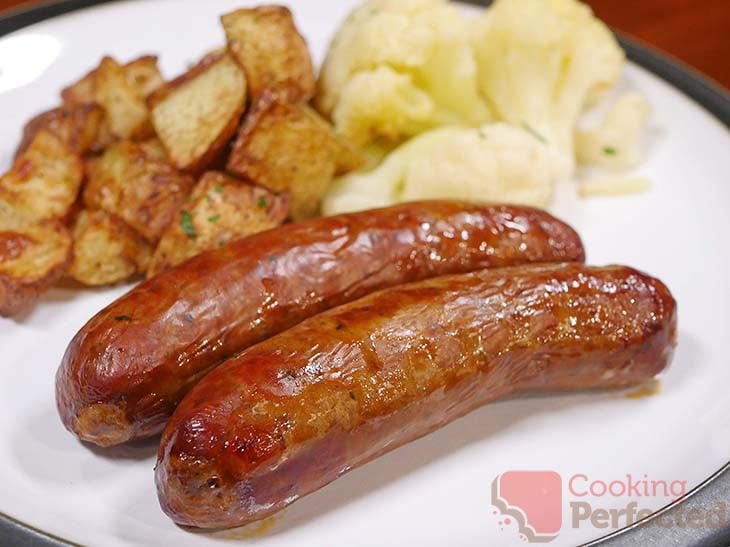 The air fryer is great for cooking beef sausages as you do not require much oil to cook them. Once they are ready to eat, the skin will be crispy, and the insides deliciously tender. However, the result can vary heavily based on the quality of the sausages.
We are using beef sausages in this recipe, but you can easily use a different type of sausage if you want. For example, pork, lamb, or chicken sausages will cook perfectly in the air fryer. We have even tried cooking hot dogs in the air fryer and have them turn out great.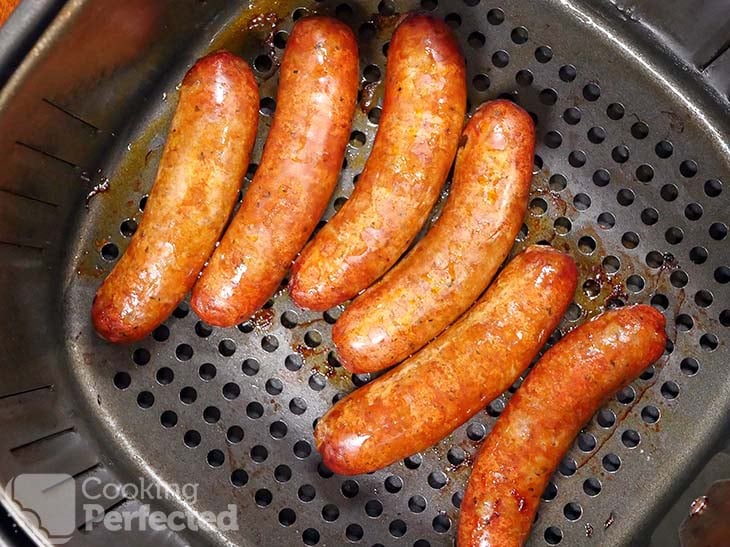 Depending on people's appetites, you should get roughly three to six servings out of this recipe. If you need to feed more people, simply add more sausages to the air fryer. However, you want to be careful about overloading the air fryer basket, as too many sausages will lead to inconsistent cooking. Try air frying in batches if possible.
Serving Ideas for Beef Sausages
One of the best ways to serve sausages is with a delicious gravy. There are a huge number of different gravies that you can make. A few types of gravy that I highly recommend giving a try are mushroom gravy, pepper gravy, onion gravy, or creamy gravy.
Sausages always go great with a potato side dish. I love to stick to potato fries, sweet potato fries, or even hash browns. However, other potato side dishes, such as scalloped potatoes, will work fantastically well.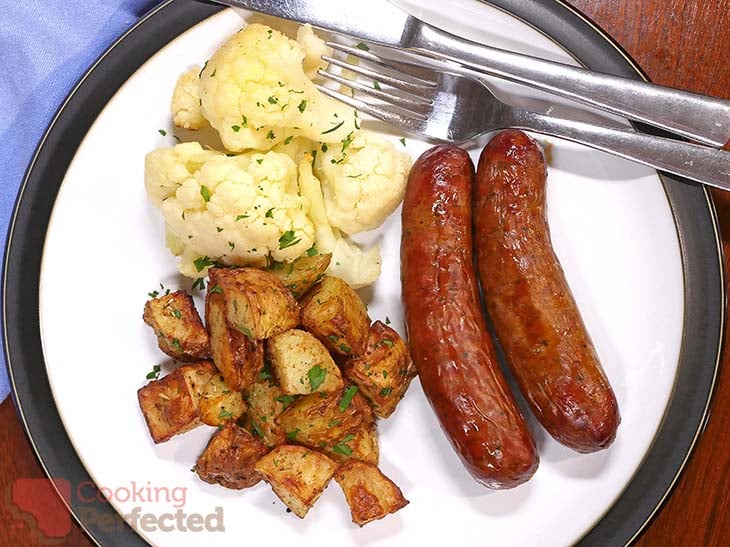 Other side dishes such as creamy spinach or cauliflower cheese are the perfect match for these sausages. You can also try healthier options such as garlic mushrooms, blanched greens, or a simple salad. There are loads of different side dishes to try.
If you somehow have leftover sausages or want a larger meal, you can always make a sausage casserole or curried sausages. Both meals are pretty easy to make and will easily feed a crowd.
The recipe below will take you through the few easy steps to cooking beef sausages in the air fryer. If you decide to try our recipe, please let us know how you go by leaving a comment at the bottom of the page.
Air Fryer Beef Sausages Recipe
Ingredients
6 beef sausages
2 tsp cooking oil
Instructions
Preheat the air fryer to 180°C (350°F). It will take roughly five minutes to heat.
Lightly spray the air fryer basket with the cooking oil.
Place the beef sausages into the air fryer basket. Make sure they are a single layer.
Cook for 10 minutes or until browned and fully cooked. Flip the sausages halfway through cooking.
Serve & Enjoy.
Recipe Tips
You can slightly prick the skin of the sausages to help prevent them from exploding. A downside to pricking the skin is the inside of the sausage can dry out.
To ensure that your meat is cooked correctly, use a meat thermometer. The internal temperature should be roughly 75°C (170°F).
Cook in batches rather than overload the air fryer. A single layer of sausages will get the best and most consistent cook.
I used regular sausages in this recipe, so you may need to adjust the cooking time if you have thick or thin sausages.
The oil is optional, but it does help achieve a better cook and helps stop the sausages from sticking to the air fryer basket.
Most sausages should be gluten-free, keto, and paleo-friendly, but it is best to check with the butcher or packaging.
If your air fryer starts to smoke, add a little bit of water to the bottom of the basket. The smoke is likely caused by sausage grease burning as it hits the bottom of the air fryer.
Nutrition Information
Serving Size: 102g (3.6 oz)
Servings Per Recipe: 6
Calories Per Serving: 359
Saturated Fat: 11.5g
Trans Fat: 0g
Dietary Fiber: 0g
Sugars: 0g
Cholesterol: 76mg
Sodium: 731mg
Protein: 14g
The information above is an estimate generated by an online nutrition calculator.
More Air Fryer Recipes
There are loads more foods that you can cook in the air fryer with very minimal effort. Below are a couple of my favorite easy air fryer recipes.
The air fryer is amazingly good at cooking loaded potatoes. The result is crispy skin tender potatoes loaded with cheese and bacon. However, you can change the topping to whatever you like the most. For example, lots of people love topping their potatoes with chili.
You will be amazed at how well lamb shanks cook in the air fryer, so I highly recommend giving it a try. In addition, the lamb shanks go great with a huge variety of side dishes, so I recommend cooking some if you decide to give the lamb a try.
I love how well the air fryer cooks beef sausages, and I hope that you do too. If you have some feedback, please do not hesitate to leave a comment below.