I love cooking some loaded potatoes in the air fryer as they cook to be deliciously crisp and full of flavor.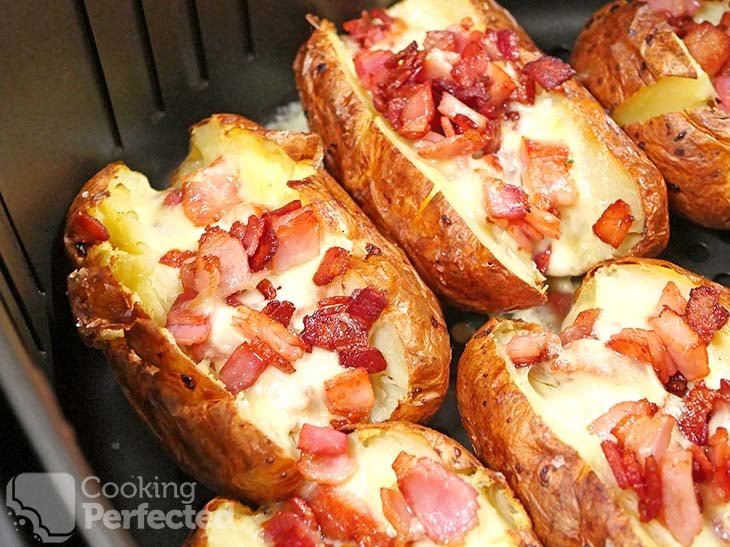 These loaded potatoes are absolutely full of flavor, and that is thanks to the delicious topping. The topping consists of crispy bacon, mozzarella, and a sprinkling of parsley. It is a simple combination but will have you going back for more. You can use our delicious topping combination, or you can come up with your own.
You will get roughly four to six serves out of this recipe. I usually find one potato is enough for one person, but you may need to adjust the recipe if you have larger or smaller potatoes. I typically do not serve any extra side dishes, but a light salad will work if you want something to go with the potatoes.
You can also cook plain baked potatoes in the air fryer without much effort. The baked potatoes are great for a simple side dish. However, I prefer to add a few more ingredients, so they are more flavorsome.
Different Topping Combinations
One of my favorite toppings is a combination of homemade chili and cheddar cheese. To finish it off, I usually use a dollop of either sour cream or guacamole. Of course, you can always use some store-bought chili if you do not have time to make some at home.
A simple combination of steamed broccoli and cheese makes for an excellent topping. You can use any cheese, but I like a combination of cheddar cheese and mozzarella. I recommend chopping the broccoli so it fits onto the potato easily.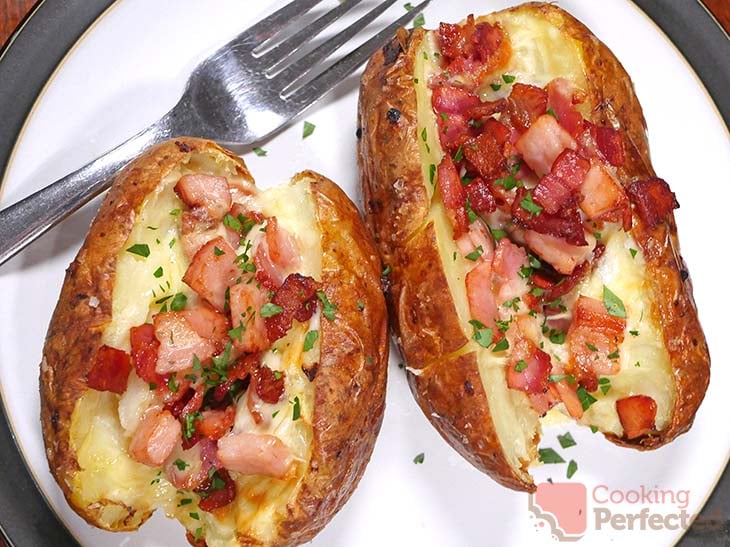 Any shredded meat will work great as a topping. For example, shredded beef, pulled pork, or shredded chicken will match nicely with the potato. I recommend adding some extra ingredients such as cheese and onion.
My last topping idea is to make homemade salsa. You can top the salsa with a combination of parmesan and cheddar cheese for even more flavor. It is a simple topping but is incredibly delicious.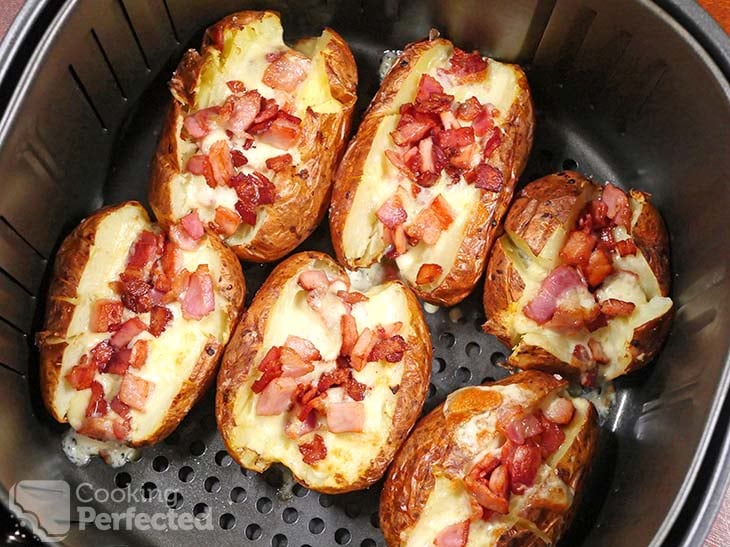 Be sure to share with us any of your favorite topping combinations in the comments section at the bottom of this page. We will love to hear your ideas.
The recipe below will take you through all the steps to preparing and cooking these loaded potatoes in the air fryer. If you try the recipe, be sure to let us know what you think.
Air Fryer Loaded Potatoes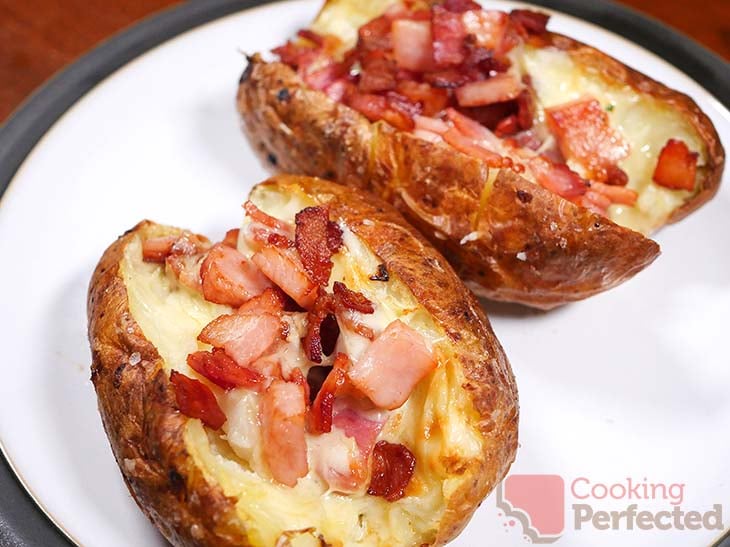 Ingredients
6 large potatoes
1 tsp cooking oil
1/2 tsp salt
Topping
200 g (7.1 oz) crispy bacon, diced
250 g (8.8 oz) mozzarella cheese
1 Tbsp parsley, chopped
Instructions
Baked Potatoes
Preheat the air fryer to 180°C (350°F). It will take roughly five minutes to heat up.
Using a skewer or fork, prick the potatoes all over.
Rub the potatoes with oil and salt.
Place the potatoes into the preheated air fryer and cook for 1 hour.
Use a skewer to check if the potatoes are ready. The skewer should pierce easily into the potato.
Loaded Potatoes
Cut the baked potatoes open and layer the mozzarella cheese and bacon in the middle of the potato.
Bake in the air fryer for 5-10 minutes.
Once the cheese is melted, finish with a sprinkle of parsley.
Serve & Enjoy.
Recipe Tips
The cooking oil and salt will help the potato skin go crispy and become flavorsome.
You can skip the baked potatoes steps if you already have some cooked and ready to go.
For this recipe to work, I recommend not peeling the potatoes. You may need to scrub and wash the potatoes so they do not have any dirt on them.
I recommend tweaking the topping so that it is more to your liking. I find a simple combination of flavors works the best.
You may need to reduce the number of potatoes you are cooking if you have a small air fryer.
Nutrition Information
Serving Size: 445g (15.7 oz)
Servings Per Recipe: 6
Calories Per Serving: 709
Amount Per Serving
Saturated Fat: 16.2g
Trans Fat: 0g
Dietary Fiber: 8g
Sugars: 3g
Cholesterol: 65mg
Sodium: 293mg
Protein: 17g
The information above is an estimate generated by an online nutrition calculator.
More Air Fryer Recipes
There are so many more recipes that work great in the air fryer. Below are just a couple of my personal favorites.
The air fryer is great for cooking some Tater Tots quickly. It is perfect if you need to cook a side dish fast or simply want something easy to eat.
Our homemade garlic bread cooks perfectly in the air fryer. The bread cooks to be crispy and loaded with flavor thanks to our delicious garlic butter. It is a delightful side dish that is certainly worth a try.
I love these air-fried loaded potatoes and will be making them many more times in the future. If you have some feedback that you want to share, please be sure to leave us a comment below.