The air fryer is a great way to cook some lovely homemade garlic bread.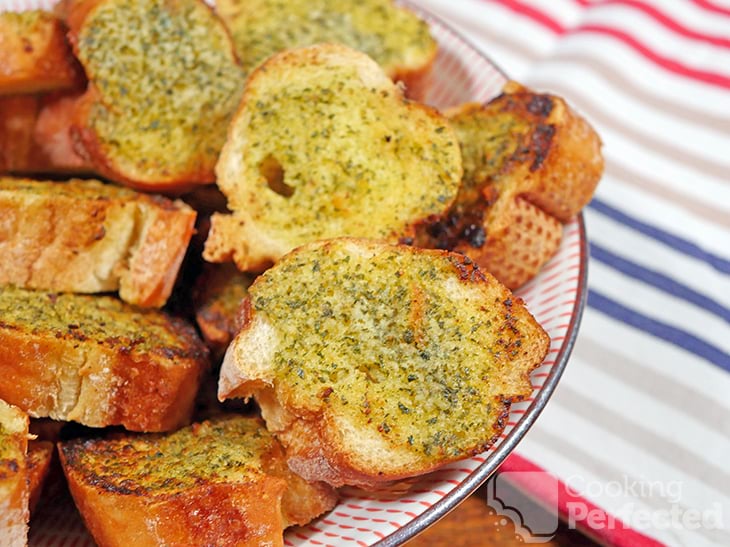 The garlic bread cooks to have a delicious crunch and a ton of flavor. Our homemade garlic butter is the star as it balances the perfect level of garlic, herb, and buttery goodness.
A single batch of this garlic bread should be enough to feed roughly two to four people. It will heavily depend on whether you serve the bread as a side dish or have it as a meal. I highly recommend you keep it as a side dish.
While the air fryer is perfect for cooking garlic bread, you can also cook this in a regular oven. Both are excellent options, but I prefer to use the air fryer as it cooks it much quicker.
What to Serve with Garlic Bread
Garlic bread is a match made in heaven with a bowl of pasta. There are so many different pasta dishes that you can make. Personally, I think something like a creamy carbonara is the perfect treat.
A good homemade pizza will go down a treat alongside the garlic bread. However, you will need to use a regular oven or pizza oven for cooking your pizza. Alternatively, frozen pizza cooks well in the air fryer.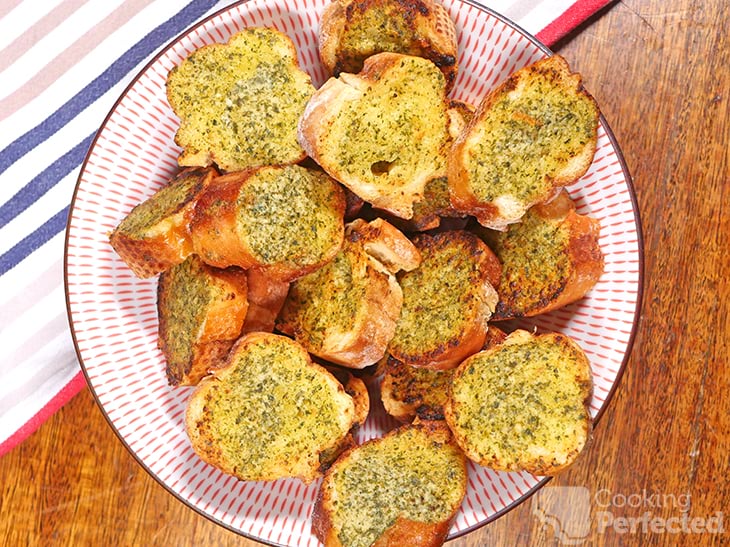 For something a bit different, you can give Spanish rice with ground beef a try. It has a beautiful range of flavors and is extremely easy to make. I highly recommend giving it a try if you want a hearty dish to go with your garlic bread.
My last recommendation is to cook a roast or make a casserole. Both are excellent options and will help guarantee a delicious meal. The air fryer pork roast is undoubtedly a meal that you need to try as the crackling turns out perfect, and the meat is super succulent.
Adjusting the Recipe
The parsley is optional and can either be replaced or left out entirely. I recommend keeping it as the parsley adds a fair bit of flavor without overpowering the other flavors. Other herbs such as oregano, basil, or chives will work great in the garlic butter.
Cheesy garlic bread can be achieved by simply adding some shredded cheese into the butter mixture. A little bit of parmesan will work the best, but other cheese such as mozzarella, cheddar, or even gouda will work great.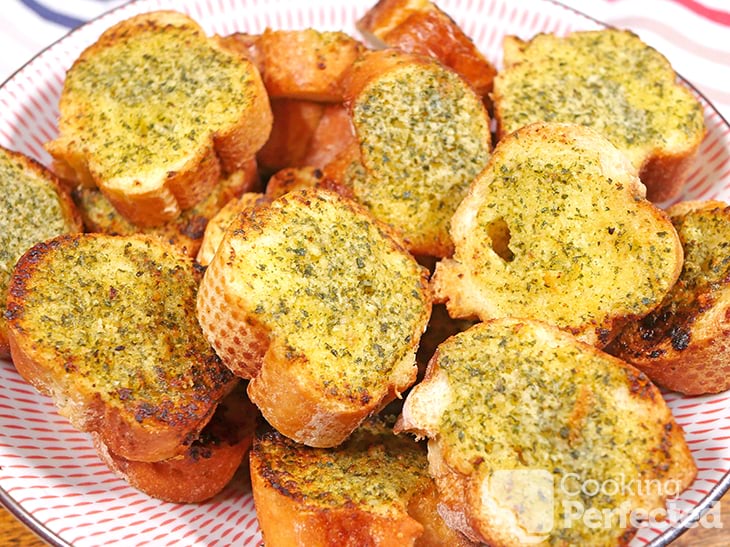 Regular sliced bread can be used instead of the ciabatta or French stick. Of course, the result will not be nearly as good but will still turn out very nicely.
The full recipe for cooking garlic bread in the air fryer is right below. Please leave us some feedback at the bottom of this page if you do try this recipe.
Air Fryer Garlic Bread Recipe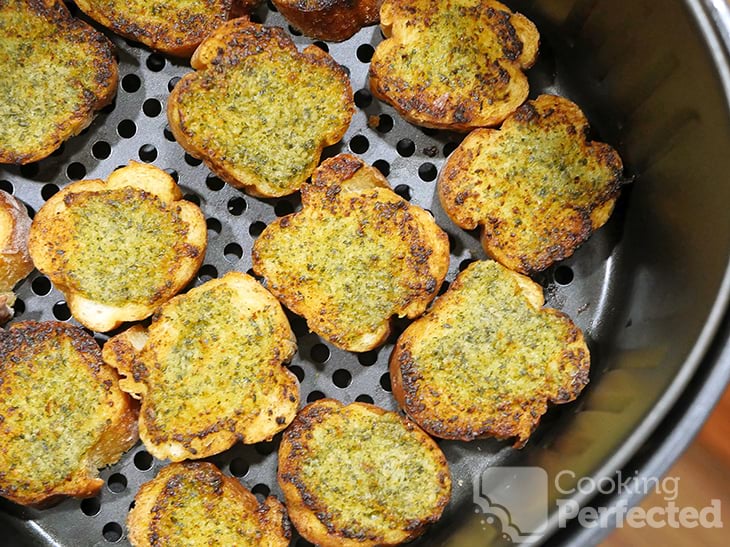 Ingredients
1 Ciabatta or French Stick
100 g (3.5 oz) butter, softened
1 Tbsp garlic, crushed
2 tsp parsley, chopped
Instructions
Preheat the air fryer to 180°C (360°F). It will take roughly five minutes.
In a bowl, combine the butter, garlic, and parsley.
Cut the bread into ~2 cm (1 in) slices.
Spread the garlic butter onto one side of the bread. Add more if you want it to be extra garlicky and buttery.
Place the bread into the air fryer with the garlic butter side facing up.
Cook for 6-8 minutes.
Serve & Enjoy.
Recipe Tips
You can use either dried or fresh parsley in this recipe and get great results either way. You can also leave them out entirely if you want to keep it simple.
The type of bread you use is entirely up to you. I prefer something like ciabatta or French stick, but regular slices of bread will also suffice.
You can wrap the bread in foil if you do not want it to get crispy. You may need to increase the cooking time by a few minutes.
Do not stack the garlic bread for the best result. Stacking may cause the slices of garlic bread to go slightly soggy in some bits and super crispy in other bits.
Nutrition Information
Serving Size: 207g (7.3 oz)
Servings Per Recipe: 2
Calories Per Serving: 772
Saturated Fat: 22.7g
Trans Fat: 0g
Total Carbohydrate: 91.3g
Dietary Fiber: 3.9g
Sugars: 4.2g
Cholesterol: 92mg
Sodium: 1046mg
Protein: 19.4g
The information above is an estimate generated by an online nutrition calculator.
More Recipes Worth Trying
Below are a couple of recipes that I reckon you will love.
Our mac n cheese recipe is one of the most delicious side dishes you can make. It features freshly cooked pasta in an incredibly cheesy sauce. The best part is that you do not need to spend a huge amount of time in the kitchen.
The air-fried chicken thighs are a must-try. They cook to be incredibly tender and very tasty. The homemade seasonings help take the chicken to the next level in terms of flavor. They are an absolute must-try.
I hope that you enjoy the air-fried garlic bread as much as I do. Personally, I love the crunch, taste, and how easy it is to make. If you have some feedback, please do not hesitate to leave a comment below.