Using the air fryer is a great way to cook mushrooms. They cook incredibly fast and turn out to be very tasty.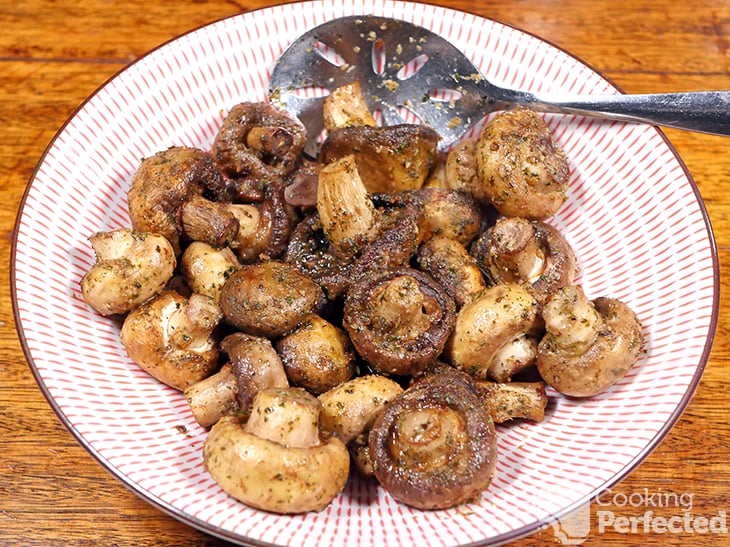 These mushrooms are loaded with flavors thanks to the delicious coating of ingredients. Our coating consists of butter, garlic, Worcestershire sauce, and some herbs. It is an absolutely delicious combination that will have you going back for seconds.
A single batch of these mushrooms will feed two to four people. I recommend serving it as a side dish to another meal. However, with that said, you can easily eat these garlic mushrooms as a full meal.
Any leftover mushrooms will keep for a few days in the refrigerator. They go great in a huge variety of different meals. For example, mushrooms can be used in risotto, pasta sauce, and so much more.
If you want to take things a bit slower, you can actually slow cook these garlic mushrooms. You will need to use either a slow cooker, Crock-Pot, or Instant Pot to get the best result. They turn out incredibly delicious and are the perfect way to cook mushrooms in bulk.
Serving Ideas for Fried Mushrooms
Garlic mushrooms are the perfect side dish to a good roast. If you have a spare air fryer, you could cook the roast in one. For example, our air-fried pork roast always cooks great and has one of the most delicious cracklings.
Our air-fried chicken thighs will need some side dishes to go with them, and these mushrooms are the perfect match. However, if you want even more food, then the Hasselback potatoes are a rather good choice.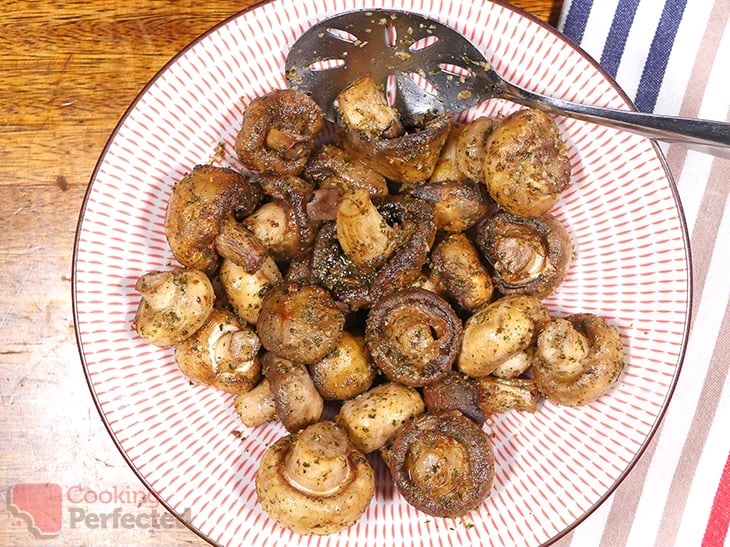 As I mentioned earlier, these mushrooms work fantastic in another dish. For example, you can mix these fried mushrooms into a risotto, pasta sauce, or even have them on top of pizza. These mushrooms will add a fair bit of flavor to your meal, so keep this in mind.
These mushrooms are great to eat without anything extra. However, you might need to double or triple the recipe to make enough to feed a few people. Personally, I could almost eat an entire bowl of these delicious mushrooms.
Best Mushrooms to Use
There are plenty of mushrooms that you can use for this recipe. However, there are a few that will work the best.
I made use of button mushrooms as they are cheap and easy to find at the supermarket. I did not bother cutting these into smaller pieces and found they cooked almost perfectly.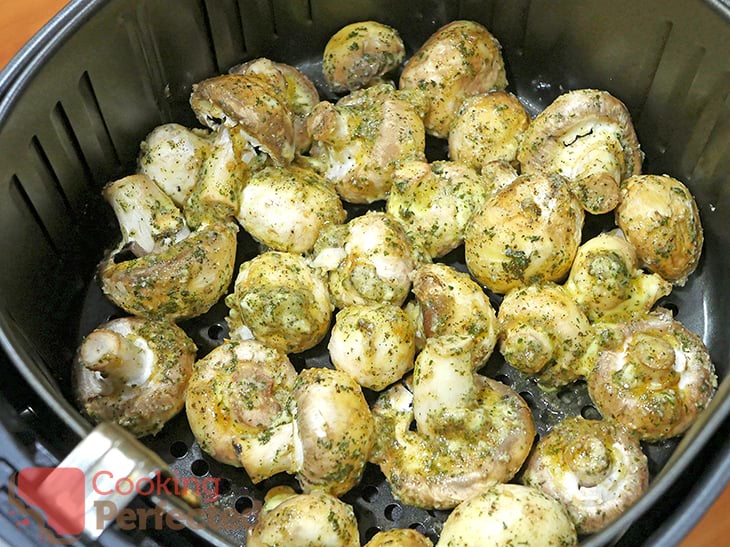 Portobello mushrooms work great and can be cooked whole. It will be harder to fit these larger mushrooms into the air fryer without overlap, but they are worth it. You can cut the mushrooms into smaller pieces if required.
Sometimes I like to do a range of different mushrooms such as enoki, button, and portobello. It results in a huge range of flavors and a dish that will have you coming back for seconds. I highly recommend giving it a try if you want a delicious tasting meal.
Altering the Recipe
Changing the herbs that I use in this recipe is a great way to quickly change some flavors. There are plenty of herbs that will work great in this recipe. For example, basil, marjoram, thyme, or even rosemary.
If you want to spend a fair bit of time in the kitchen, you can try crumbing the mushrooms. You will want to coat the mushrooms in some eggs before rolling them in some breadcrumbs. Our butter mixture should still work nicely with the crumb but may cause it to go slightly soggy.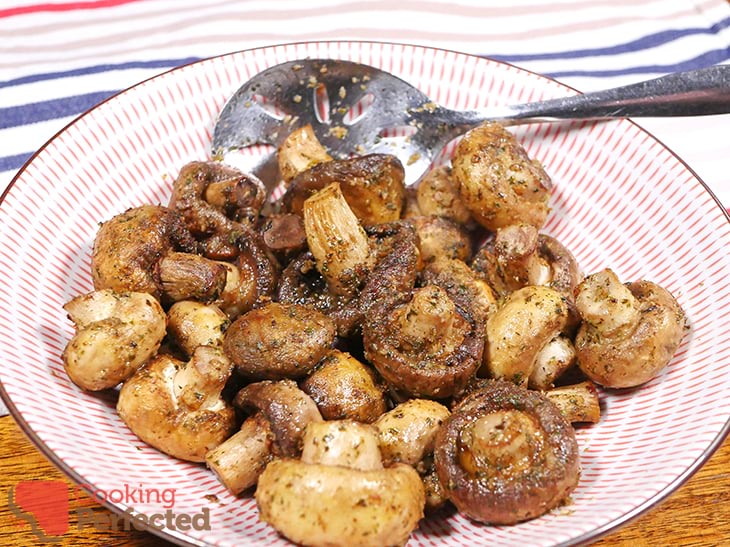 You can replace the butter with a different type of oil or fat. For example, something like coconut oil, lard, or just regular cooking oil will work.
I use minced garlic from out of the jar as it is easy and almost as good as the fresh stuff. However, if you have some fresh garlic, then I highly recommend using it.
The recipe below will take you through all the steps to getting these mushrooms cooked perfectly using the air fryer.
Air Fryer Mushrooms Recipe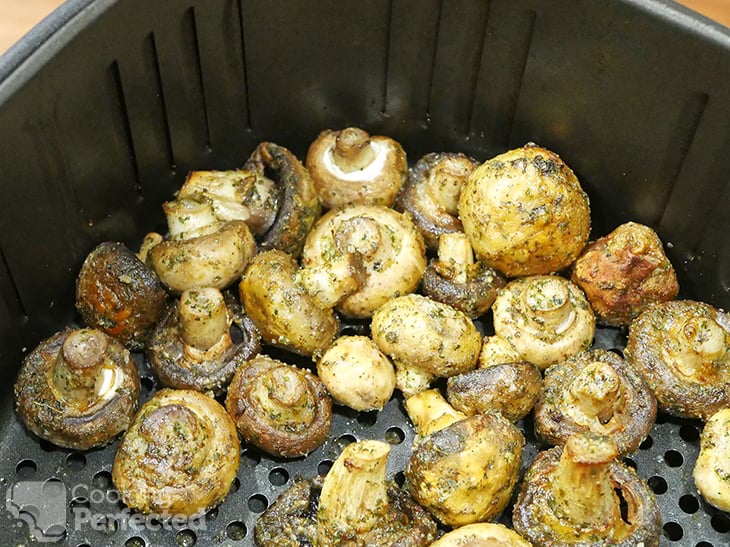 Ingredients
500 g (1.1 lb) button mushrooms
125 g (4.4 oz) unsalted butter, melted
1 Tbsp garlic, minced
1 tsp Worcestershire sauce
1 tsp oregano
1 tsp parsley
Instructions
Preheat the air fryer to 180°C (350°F). It will take roughly five minutes to heat up.
In a bowl, mix the mushrooms with the melted butter, garlic, Worcestershire sauce, oregano, and parsley.
Cook for 10 minutes. Shake the air fryer basket halfway through cooking.
Lightly season with salt and pepper.
Serve & Enjoy.
Recipe Tips
Evenly cut the mushrooms for the best result. Uneven mushroom pieces will cook at different rates that may leave you with pieces being undercooked and others overcooked.
Overloading the air fryer basket may lead to uneven cooking. If the basket is looking too full, you may want to cook in batches.
Other oils and fats such as coconut oil, lard, and bacon fat are great substitutes for butter. They are also a great way of introducing new flavors into the recipe.
Nutrition Information
Serving Size: 160g (5.6 oz)
Servings Per Recipe: 4
Calories Per Serving: 189
Saturated Fat: 10.8g
Trans Fat: 0g
Dietary Fiber: 1g
Sugars: 3g
Cholesterol: 33mg
Sodium: 32mg
Protein: 5g
The information above is an estimate generated by an online nutrition calculator.
More Delicious Recipes
Below are a few other side dish recipes that work great in the air fryer. I love both of the recipes, so pick the dish that takes your fancy.
Our air-fried sweet potato fries cook to be tender and loaded with tons of flavor. Certainly, a must-try if you are a massive fan of sweet potato.
A vegetable dish that is worth giving a try is our creamed spinach. It features a deliciously creamy spinach mix topped with a crunchy crumble. It is a combination that will have you going back for seconds or thirds.
I love these air-fried garlic mushrooms, and I hope that you do too. If you have some feedback, please do not hesitate to leave a comment below.