The air fryer is one of the best ways to cook some homemade sweet potato fries.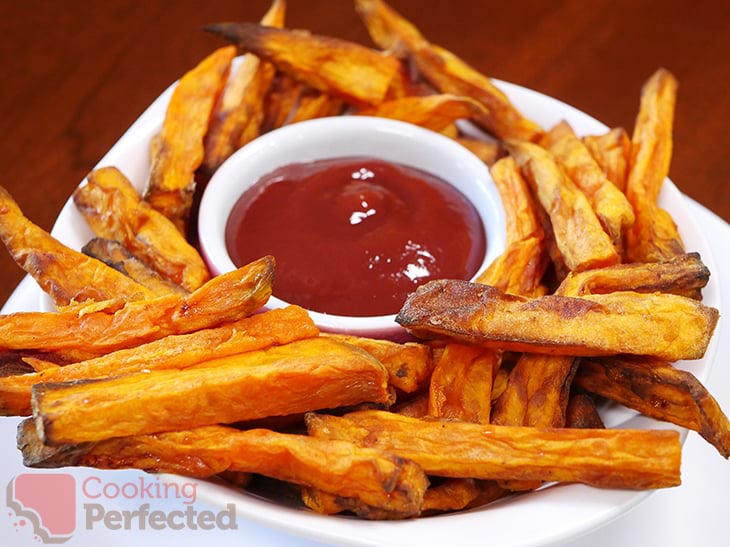 These sweet potato fries cook to be absolutely delicious and perfect as a replacement for traditional fries. The fries do not cook to be super crispy but are still very delicious. They can be made crispier with a few additional steps that I mention in the cooking tips section.
You can also easily cook sweet potato fries in the oven. The air fryer is much easier, but if you wanted to cook something else in the air fryer, then the oven is the perfect solution.
A single batch of these delicious fries will feed roughly two to four people. It depends heavily on whether you are making them as a side dish or as a main meal. You can easily double the recipe if you need more fries.
Serving Ideas for Sweet Potato Fries
There are loads of condiments that will match perfectly with air fryer sweet potato fries. My personal favorite is homemade mayonnaise. Other condiments that are worth giving a try include ketchup, ranch dressing, BBQ sauce, or even guacamole.
Sweet potato fries are the perfect side dish for so many different meals. My favorite combination is a delicious pork roast alongside some fries and cauliflower cheese. Another recommendation is to give the air-fried hamburgers a try. They will work great with sweet potato fries as a side dish.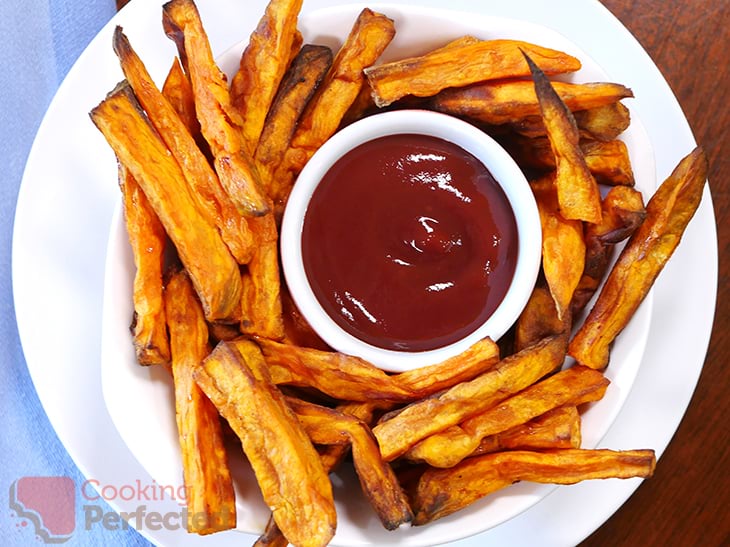 You can also use these sweet potato fries as part of another meal. For example, you can swap out regular fries for sweet potato fries in chili cheese fries. It is a truly delicious combination that is worth giving a try.
Adjusting the Recipe
Cornstarch is a popular ingredient for helping sweet potato fries cook to be deliciously crispy. Roughly one tablespoon of cornstarch should be more than enough and should be mixed in with the salt and pepper.
For more flavor, you can add a range of herbs in with the salt and pepper. My favorite is usually a combination of rosemary and thyme. However, plenty of other herbs and spices will match nicely with the sweet potato flavor.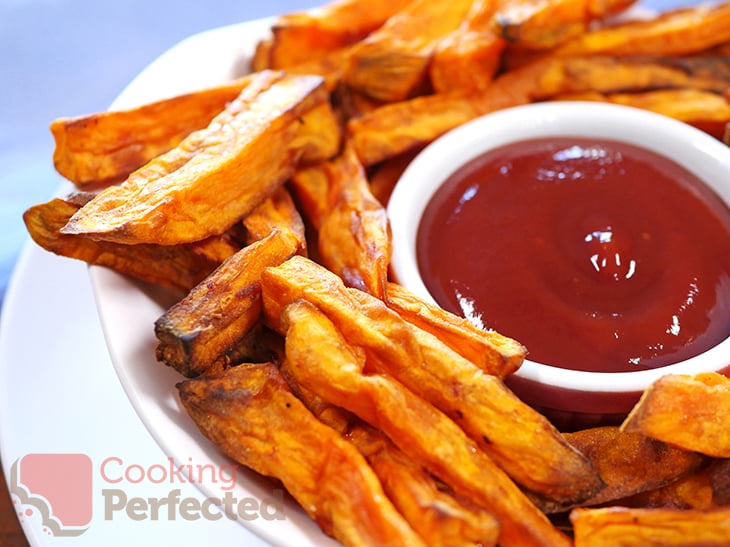 A super easy method of adding more flavor is to simply use a seasoning mixture. There are loads of seasonings that you can try. For example, taco seasoning, Cajun seasoning, or even fajita seasoning will work nicely.
There is a vast range of different oils you can coat the fries in. For more flavor, you can try using lard, coconut oil, or bacon fat. On the flip side, for something with less flavor, you can use regular cooking oil.
The full recipe for cooking sweet potato fries in the air fryer is below. If you have some feedback, please do not hesitate to leave a comment at the bottom of this page.
Air Fryer Sweet Potato Fries Recipe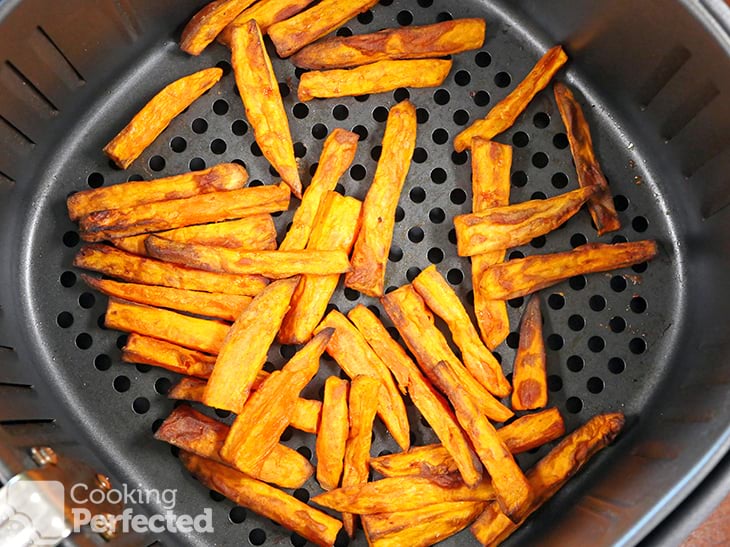 Ingredients
500 g (1.1 lb) sweet potatoes, peeled
1 tsp salt
1/4 tsp black pepper
2 tsp olive oil
Instructions
Cut the sweet potato into large chips, roughly 1cm (0.4 in) thick.
Soak the fries in cold water for roughly thirty minutes to an hour. Pat the sweet potatoes dry.
Preheat the air fryer to 180°C (360°F). It should take roughly 5 minutes.
Coat the sweet potato fries in salt, pepper, and olive oil.
Cook for 20 minutes. Shake the air fryer basket every 5 minutes for an even cook.
Serve & Enjoy.
Recipe Tips
To get the sweet potato fries as crispy as possible, you will need to coat them in some cornstarch. Roughly one tablespoon should be more than enough.
Make sure you do not overcrowd the air fryer too much, as it will result in soggy fries. If you are cooking for a crowd, you may need to do multiple batches.
The olive oil is optional and can be swapped for something with more flavor. For example, bacon fat will work really well.
Soaking the sweet potatoes is optional, but it does help increase the chances the sweet potato will crisp. If you do not mind soggy fries, simply skip this step.
Nutrition Information
Serving Size: 129g (4.6 oz)
Servings Per Recipe: 4
Calories Per Serving: 117
Saturated Fat: 0.3g
Trans Fat: 0g
Dietary Fiber: 3g
Sugars: 1g
Cholesterol: 0mg
Sodium: 589mg
Protein: 3g
The information above is an estimate generated by an online nutrition calculator.
More Air Fryer Recipes
There are so many different types of foods that you can cook in the air fryer. Below are a few of our recipes that I reckon you will love.
One of the easiest meals you can cook in the air fryer is some frozen French fries. They cook to be delicious and are very easy to get right. I highly recommend giving them a try if you want fries quickly.
The air-fried seasoned chicken breasts are one of the tastiest meals you can cook in the air fryer. They match perfectly with these fries, but you will need multiple air fryers to cook both at the same time. I do recommend trying the chicken if you love tasty food.
I love air-fried sweet potato fries, and I hope that you do too. If you have suggestions or additions, please do not hesitate to leave a comment at the bottom of this page.