The air fryer is great for cooking a pork roast and results in some of the most amazing crackling ever.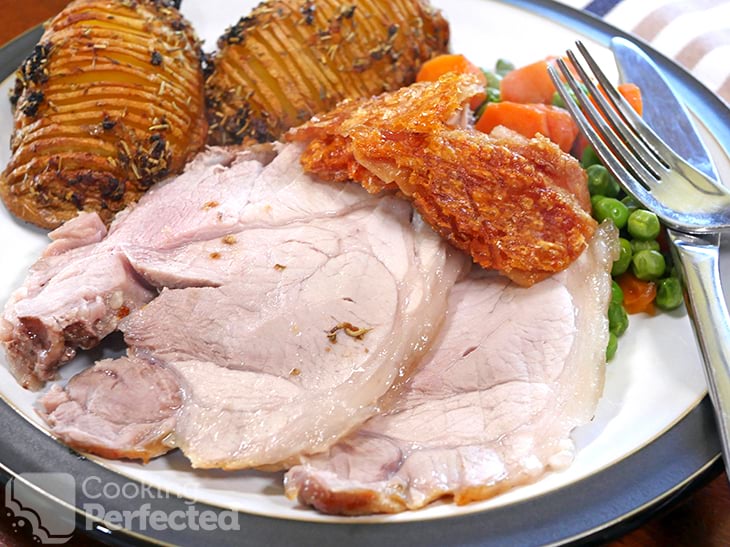 Whenever I cook a pork roast in the air fryer, it is deliciously juicy and topped with the best crackling. I find it much easier to get the roast perfect in the air fryer than the traditional oven.
This recipe should feed roughly four to six people. You can try cooking a larger piece of pork, but you may need a bigger air fryer. I recommend cooking some additional side dishes to go with pork. I have awesome suggestions further down the page.
If you somehow have leftover pork, there are plenty of ways you can use it. For example, I love to shred the pork and use it on a homemade puff pastry pizza. The pork will last in the refrigerator for roughly three days or three months in the freezer.
Pork Roast Side Dish Ideas
One of my favorite side dishes to serve with a roast is some roast potatoes. For something a little different, I recommend making some Hasselback potatoes. They are truly delicious. Sweet potato fries are also an excellent choice if you want a healthier side dish.
If you have a bit of spare time, then I highly recommend making the creamed spinach. It features deliciously creamy spinach topped with a homemade crumb. It is always a huge hit whenever I make it.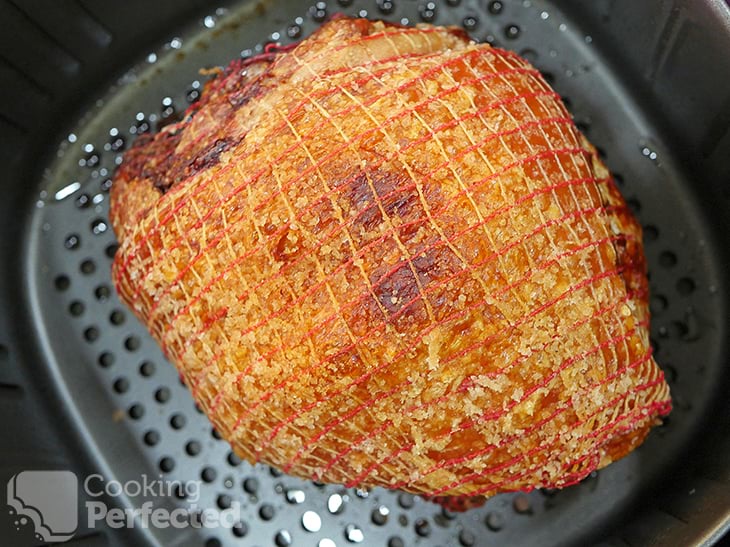 Mac n cheese is a cheesy side dish that is always a huge hit. I love to make it whenever I am feeding a crowd, as it is easy to make. It is worth a try if you are in the mood for some delicious comfort food.
The last dish I recommend making is the cauliflower cheese. The cauliflower is steamed until tender and then coated in a deliciously cheesy sauce. It is a combination that will have you going back for seconds. Totally worth the time and effort.
Perfecting the Roast
To get the best crackling, you will want to make sure the skin as dry as possible. I recommend leaving it uncovered in the fridge overnight as this will dry the skin out. Using a paper towel is a great way to dry the skin fast.
Some pork roasts will come scored from the butcher. Otherwise, you can either do it yourself or ask the butcher to do it for you. I prefer to get the butcher to do it for me as they are much better at getting the perfect cut.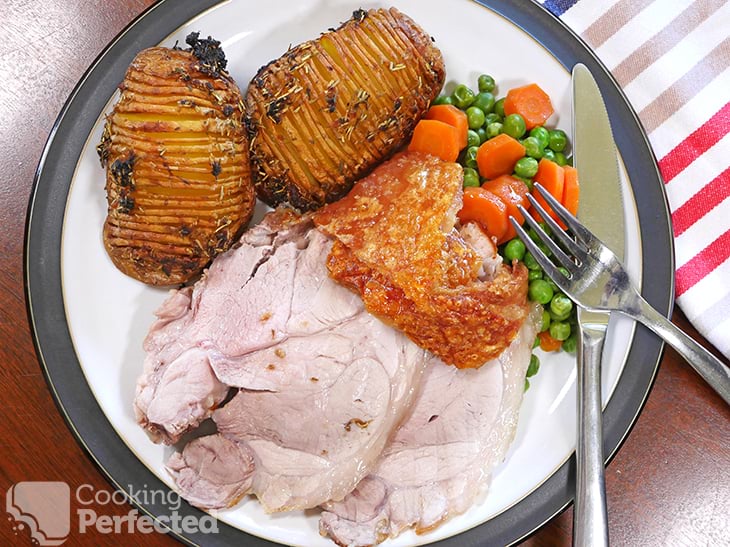 I highly recommend using a meat thermometer to check and ensure that the pork is cooked correctly. You can get meat thermometers at any good supermarket or online at places such as eBay or Amazon.
For a better and more even cook, try to use smaller-sized roasts in the air fryer. If they are too big, you might have trouble fitting the roast into the air fryer or having the outside cook too fast.
The recipe below will take you through all the steps to cooking a delicious pork roast in the air fryer. If you have any feedback regarding the recipe, please leave a comment at the bottom of the page.
Air Fryer Pork Roast Recipe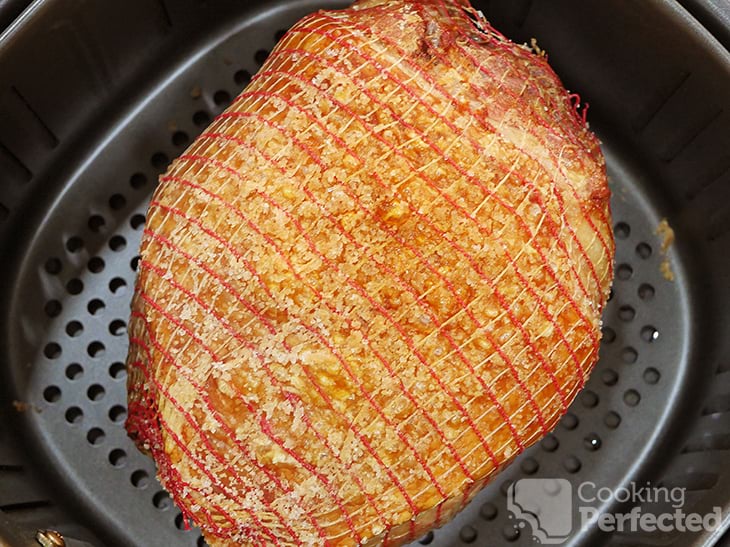 Ingredients
1 kg (2.2 lb) pork roast
1 Tbsp olive oil
1 Tbsp sea salt
Instructions
Remove the pork from any packaging and dry with some paper towels.
Score the skin with a sharp knife. Most butchers will do this for you.
Rub the skin with olive oil and salt.
Preheat the air fryer to 200°C (390°F).
Place the pork into the air fryer skin side up.
Cook for 30 minutes.
Turn the air fryer down to 180°C (350°F) and cook for 40 minutes.
Depending on the weight of the pork, you may need to cook it for longer. Add roughly 30 minutes for every extra 500g (1.1 lb). The internal temperature of the pork should be at least 65°C (150°F).
Allow to rest for ten minutes.
Serve & Enjoy.
Recipe Tips
Using a meat thermometer is the best way to check whether the pork is ready.
Allow the pork to dry overnight in the refrigerator to achieve the best possible crackling.
If your pork roast is frozen, I recommend that you defrost it before cooking it  in the air fryer. Alternatively, you can cover the frozen pork in foil after the first thirty minutes to ensure that the outside does not overcook, as you will need to cook it for longer.
Typically I use either pork shoulder or pork loin as a roast. However, you can use any pork cut that you like. The timings should be roughly the same, but it might be best to keep an eye on it past the initial hour of cooking.
Nutrition Information
Serving Size: 172g (6.1 oz)
Servings Per Recipe: 6
Calories Per Serving: 297
Amount Per Serving
Saturated Fat: 3g
Trans Fat: 0.1g
Dietary Fiber: 0g
Sugars: 0g
Cholesterol: 107mg
Sodium: 1241mg
Protein: 36g
The information above is an estimate generated by an online nutrition calculator.
More Air Fryer Recipes
I have a few more air fryer recipes that I want to recommend giving a try.
If you love pork, then you will absolutely love our air-fried pork chops recipe. The pork is coated in a delicious seasoning and cooked in the air fryer for several minutes. It is one of my all-time favorite recipes.
Another recipe that is well worth making is the pork belly. The pork cooks to be so tender that it will just melt in your mouth. I highly recommend making the soy glaze along with the pork, as it is a truly amazing combination.
I hope that you love this air fryer pork roast as much as I do. If you have any feedback or any extra tips, please do not hesitate to leave a comment below.