This creamed spinach recipe features sautéed spinach in a creamy sauce topped with a simple cheesy topping. It is a super simple but delicious dish.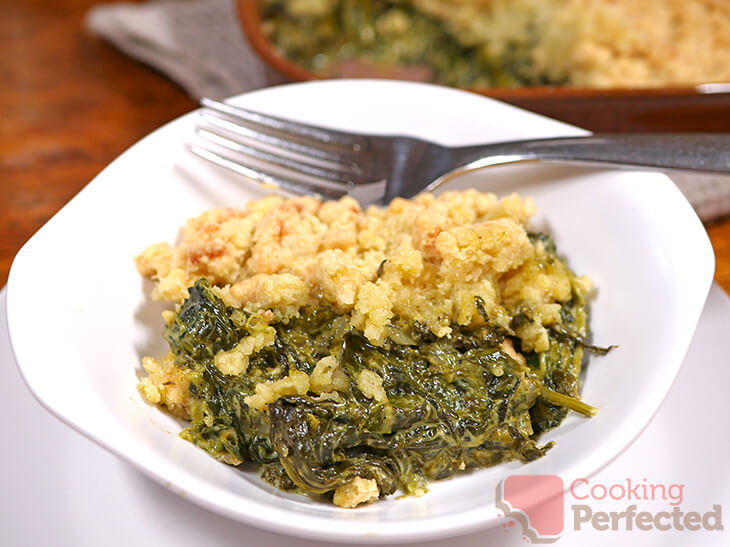 When you take a bite of this dish, you are greeted with some deliciously creamy spinach with subtle flavors from oregano, nutmeg, mustard, and cheese. The cheesy topping completes the dish by adding a delicious cheesy crunch. I highly recommend giving this dish a try.
I find a single batch of this delicious spinach dish will feed roughly four people. If you want to serve it as a main meal, then I recommend doubling the recipe. Alternatively, the spinach works great as a side dish.
I love eating any leftovers for lunch the next day as they reheat great in the microwave. You should keep the leftovers in either a refrigerator or freezer. The leftovers should last for roughly three days in the fridge.
Ideas for Serving Creamed Spinach
The creamed spinach is best served as a side dish to another meal. Below is a couple of ideas on what you can serve with this delicious dish.
I love to make this recipe to go alongside a roast. It will go great with roast pork, beef, chicken, or even lamb. You could also make some delicious oven-baked sweet potato fries to go with the roast and spinach.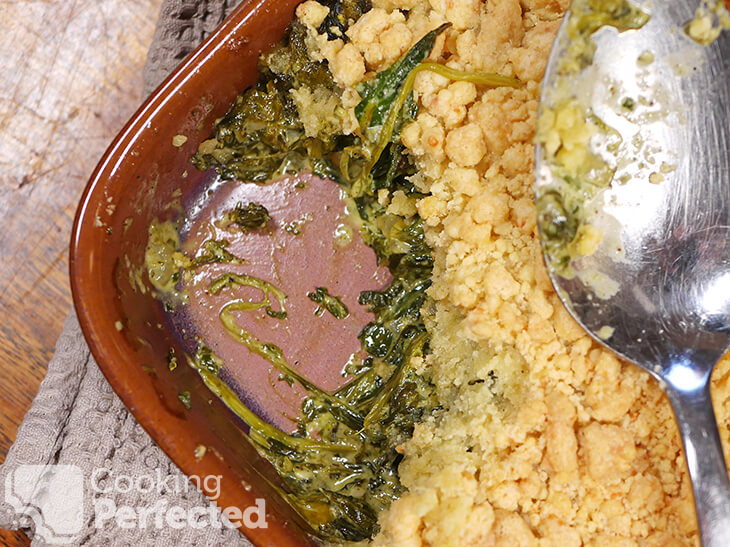 Surprisingly, the spinach is also great alongside some crumbed chicken, such as the cornflake chicken. As the spinach is quite a heavy dish, you might also want to consider making a refreshing salad to go with the chicken.
You can easily double this recipe and simply have the spinach as a main meal. I find it satisfying enough that I do not need any extra dishes to go with it. If you do double the recipe, make sure you use a bigger baking dish.
Tweaking the Creamy Spinach Recipe
The sour cream can be replaced with either some heavy cream or crème Fraiche. The result will be roughly the same, so pick the ingredient that you like the most. Personally, I love the flavor of sour cream.
Either fresh or frozen spinach will work in this recipe. I like to use frozen spinach. It is much easier to get your hands on and is regularly available all year round. If you are using fresh spinach, make sure you remove the stems and give the leaves a good wash.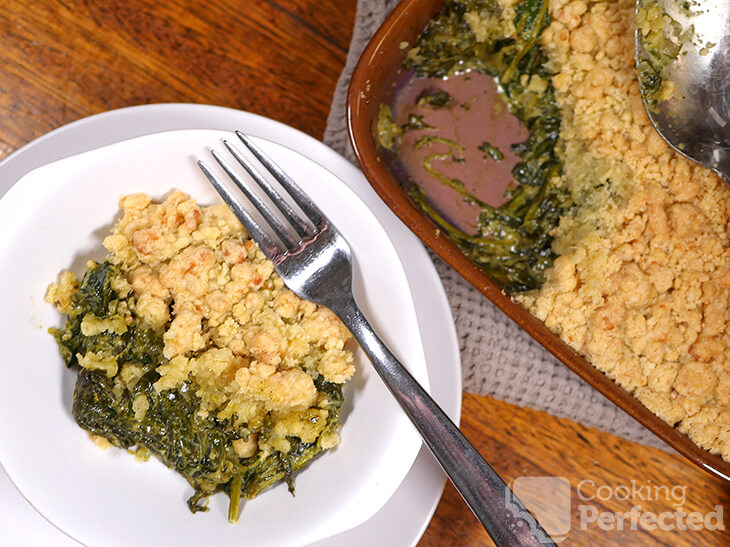 Changing the cheeses is a great way to add more flavor to this dish. For example, gruyere, cream cheese, gouda, or even brie will work great. Pick the cheese that you like the most.
If you are cooking for people who are gluten sensitive, then the plain flour can easily be replaced with some gluten-free plain flour. If you feel like experimenting, you can try using almond flour or something similar.
Below is the recipe that will take you through all the steps to making this delicious, creamed spinach.
Creamed Spinach Recipe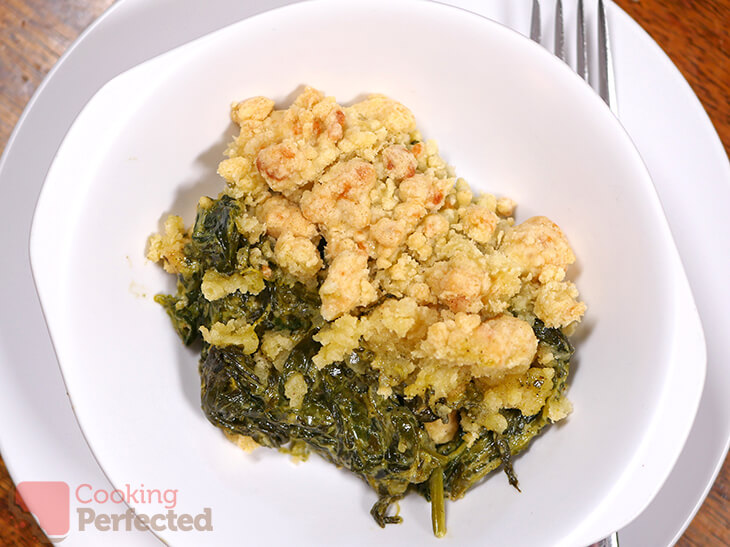 Ingredients
1 Tbsp oil
1 onion
1 tsp garlic, crushed
1 tsp oregano
1 tsp nutmeg
500 g (1.1 lb) spinach
50 g (1.8 oz) cheddar cheese
1 tsp Dijon mustard
125 ml (4.2 fl oz) sour cream
Topping
75 g (2.6 oz) unsalted butter
100 g (3.5 oz) plain flour
75 g (2.6 oz) cheddar cheese
25 g (0.9 oz) parmesan
1/4 tsp salt
1/4 tsp pepper
Instructions
Preheat an oven to 180°C (350°F).
In a frypan over medium heat, add the oil. Next, add the onion, garlic, oregano, and nutmeg. Cook until the onion is translucent.
Add the spinach and cook until the liquid has evaporated.
Now, add the cheese, mustard, and sour cream and cook until the cheese has melted.
In a bowl, combine the butter, plain flour, cheese, salt, and pepper until it is like thick breadcrumbs.
Place the spinach mixture into a greased small baking dish (20 x 10cm/8 x4 in) and top with the topping mixture.
Bake for 45 minutes or until the topping is golden brown.
Serve & Enjoy.
Recipe Tips
To make this recipe gluten-free, simply change the plain flour to gluten-free plain flour.
You can use fresh or frozen spinach. If you use fresh spinach, make sure you wash the spinach and remove the stems.
The mustard is optional and can be left out of the recipe. You will lose a slight bit of flavor, but the dish will still be fine.
Nutrition Information
Serving Size: 270g (9.5 oz)
Servings Per Recipe: 4
Calories Per Serving: 451
Amount Per Serving
Saturated Fat: 16.1g
Trans Fat: 0.8g
Dietary Fiber: 4g
Sugars: 3g
Cholesterol: 72mg
Sodium: 632mg
Protein: 16g
The information above is an estimate generated by an online nutrition calculator.
More Side Dish Recipes
We have plenty more delicious side dishes that are well worth giving a try. Below is a couple of my favorites that I highly recommend.
If you love cheesy dishes, then you have got to give our cauliflower cheese recipe a try. It features tender steamed cauliflower coated in a beautiful cheese sauce. I highly recommend it.
Another side dish that I highly recommend serving with this spinach is Hasselback potatoes. The potatoes are baked in the oven and cook to be crispy on the outside and deliciously fluffy on the inside. It is one of my favorite ways to cook potatoes.
I hope you give this creamed spinach recipe a try, as it is one of my favorite spinach dishes. If you want to leave some feedback, then please do not hesitate to leave a comment below.