This delicious sloppy joes recipe is perfect if you're looking for a quick and easy dinner. All you need is eight simple ingredients and a little bit of time.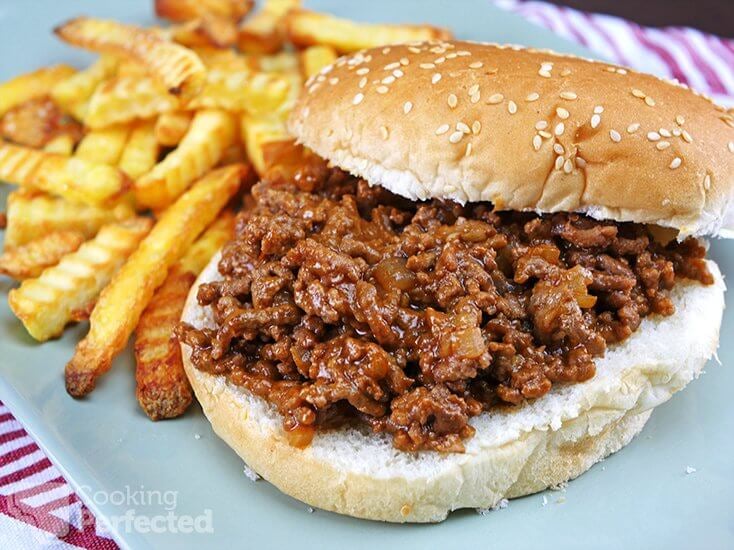 Sloppy joes is a dish that originated out of the United States of America in the early 20th century. Traditionally it is served as a sandwich, but it can now be found served with foods such as mashed potatoes.
One of the best things about this dish is how cheap it is to make. If you're on a budget and need something that will fill you up, then this is the dish you need to try.
You will never want to return to the canned varieties after trying this sloppy joes recipe as it's delicious and very easy to make quickly.
What to Serve with Sloppy Joes
There is a lot of different side dishes that will match perfectly with some Sloppy Joes.
I believe this meal is best enjoyed served in a fresh bread roll and a side of crunchy chips. You could even make some mac n cheese to go on the side if you have the time.
If burger buns and chips don't take your fancy, then you can try making some tacos with the ground beef mixture. You can add a whole range of extras to the tacos such as lettuce, cheese, tomatoes, and so much more.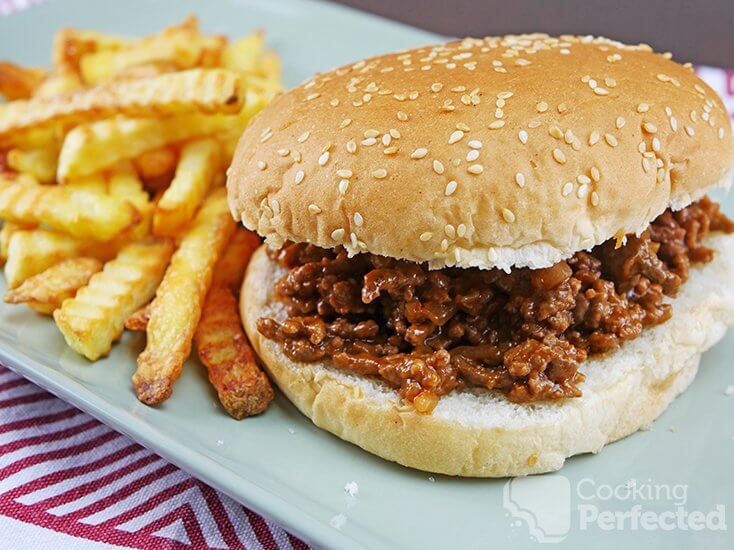 Assuming you want to try and be healthy, then you should try making some cauliflower mash to pour the sloppy joes over. Also, some sweet potatoes fries will go very nicely on the side.
There are dozens, if not hundreds, more side dishes that will work nicely with this recipe. Please don't hesitate to share any of your recommended side dish recipes to have alongside some sloppy joes.
Adjusting the Recipe
There are a ton of slight variations that you can make to this dish.
You might prefer your sloppy joes to be more on the savory side than sweet, and if this is the case, then be sure to reduce the sugar. I recommend using just two tablespoons of sugar, but you will likely need to tweak this quantity to get the desired taste.
There are different types of vegetables that you can add, such as diced bell pepper, carrot, celery, and much more. These are a great way not only to bulk out the dish but also to add some more flavor.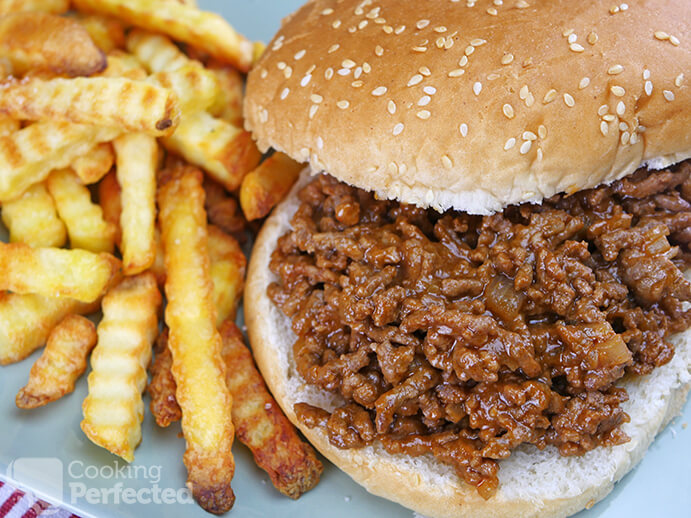 Double the sauce ingredients if you like your sloppy joes to be extra saucy. The sauce ingredients are Worcestershire sauce, Dijon mustard, brown sugar, ketchup, and water.
If you're not a fan of ketchup, you can replace it with tomato paste. You might want to increase the amount of sugar and water to help get the flavors right.
Keep the Leftovers
The leftovers are well worth keeping as they heat very nicely and make for a fabulous quick and easy lunch.
You can store the leftovers in the fridge for up to about three days. Alternatively, you can freeze the leftovers, and they should last for up to three months.
If you love seeing how to do things visually, then the video below will take you through all the steps on how to make sloppy joes from scratch. If you prefer a written recipe, then there is one right below the video.
Easy Sloppy Joes Recipe
Ingredients
500 g (1.1 lb) ground beef
1 onion, diced
1 tsp garlic, crushed
2 tsp Worcestershire sauce
2 tsp Dijon mustard
1 Tbsp brown sugar
3/4 cups ketchup
1/4 cup water
Instructions
In a frypan over medium heat, brown the ground beef, garlic, and onion.
Once browned, drain off any excess fluid.
Add the ketchup, Worcestershire sauce, Dijon mustard, water, and brown sugar.
Bring to a simmer and cook for 15 minutes.
Season to taste with salt & pepper.
Serve & Enjoy.
Recipe Tips
If you prefer your food to be more savory than sweet, then make sure you reduce the brown sugar.
You can get some sloppy joes cooking in the slow cooker instead. This method is perfect if you want to get your dinner cooking earlier on in the day.
If you're looking to add a few more vegetables to this dish, then some diced celery and bell pepper work great. Add these at the same time you fry the onion.
Nutrition Information
Serving Size: 206g (7.3 oz)
Servings Per Recipe: 4
Calories Per Serving: 310
Amount Per Serving
Saturated Fat: 3g
Trans Fat: 0g
Dietary Fiber: 0.8g
Sugars: 14.1g
Cholesterol: 112mg
Sodium: 641mg
Protein: 39.2g
The information above is an estimate generated by an online nutrition calculator.
More Tasty Recipes
We have lots more recipes that you're going to love, so be sure to stay and check some out.
If you don't have any hamburger buns, then this still goes great with some nice crispy tortilla chips. If you really want to go one step further, then you can top the tortilla chips with some shredded cheese.
Another recipe that you should try is a lazy lasagna. It has delicious layers of cheese, beef, tomato, pasta, and it is very easy to make quickly. Ideal if you don't have the time to make a traditional lasagna.
I hope that you enjoy this easy sloppy joes recipe. If you have any variations, tips, or anything else that you would like to add, then be sure to leave a comment below.