This mac and cheese in a mug recipe will take just five simple steps to make, and it is so much better than the packet varieties you can buy at the supermarket.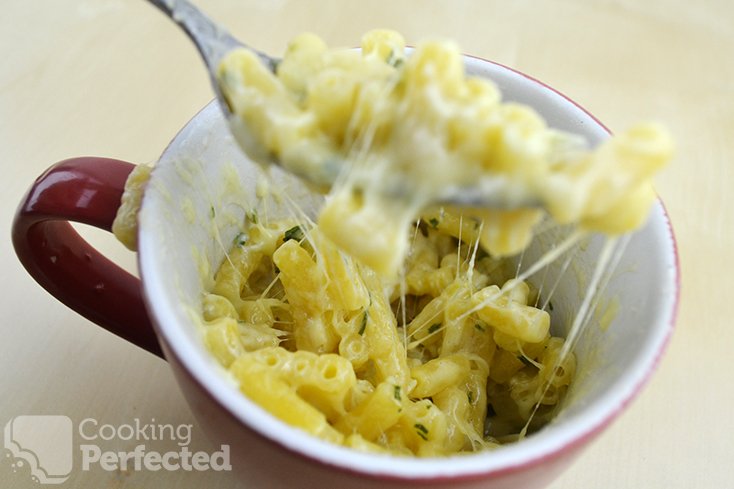 Mac and cheese is an absolute classic and very popular in the USA, UK, and Canada. Traditionally it is made over the stove from scratch. You can also get it in packet form, and they're super easy to make quickly.
This deliciously cheesy mac and cheese will convince you never to return to the fluoro orange supermarket packets. It's so easy and takes just a few minutes to make.
One of the best things about this recipe is that you need just three ingredients to make it. The minimal ingredients make it perfect if you're short on cash and want something extremely simple to make. It's one of my favorite easy pasta recipes you're able to cook in a mug.
I love mac and cheese, but what's even better is that I can cook and eat it straight out of a mug. This easy to follow recipe takes you through everything you need to know on how to make mac and cheese in a mug.
Personalize this Mac and Cheese Recipe
There are many changes that you can make to this recipe to make it more to your liking.
The most significant and easiest change that you can make is the type of cheeses you use. Using a different type of cheese will radically change the flavor of this recipe. You can replace the cheddar cheese with something like mozzarella, fontina, cream cheese, and so much more. You could even do a combination.
Seasonings are a great way of introducing some different flavors into the recipe. You could add one or a combination of the following; cayenne pepper, jalapenos, chili powder, paprika, mustard, or even some Italian herbs.
Another easy way to add additional flavor is to mix the mac and cheese with another dish, such as a beef chili or some chili con queso.
These are a ton of changes that you can do to this recipe. Let us know if you have an amazing combination by leaving a comment at the bottom of this page.
What to Lookout For
There are a few things that you will need to keep an eye out for when cooking anything in the microwave.
The milk can become superheated in the microwave and explode when you disturb it. I recommend cooking in small intervals to help prevent that from happening.
It's best to place a plate underneath the mug, so if any liquid overflows, it will not dirty your microwave. It makes cleaning so much easier.
The mug might become very hot, so be careful when removing it from the microwave. I recommend using a dry towel or oven mitt to remove it.
I go through a few more tips just below the recipe, so be sure to check them out.
The video below will take you through all the steps on making some easy homemade mac and cheese in a mug. Alternatively, you can find the full written recipe immediately beneath the video.
Mac and Cheese in a Mug Recipe
Ingredients
½ cup macaroni pasta
½ cup milk
½ cup cheddar cheese, shredded
Instructions
Add the pasta and milk into a large mug.
Microwave the pasta in 1-minute intervals. Check the pasta every minute for consistency. It should take about 4 minutes before the pasta is soft, pour off the excess milk.
Add the cheese and stir in.
Place back in the microwave for about 30 seconds to a minute.
Serve and Enjoy!
Recipe Tips
Adding herbs can change this recipe completely, and with many different flavors to choose from, don't be afraid to experiment. I recommend using some chopped chives or parsley.
You can use different cheeses, in this recipe I made use of basic cheddar cheese, but don't be afraid to experiment trying all sorts of nice cheeses. Half mozzarella and half cheddar is a fantastic combination.
If you feel like having a bit of meat in your mac and cheese, try adding ham, smoked salmon, and other deli meats that don't require a considerable amount of cooking.
Be extra careful when you microwave liquids as they can become superheated and explode when you go to remove it. Keeping a distance would be the best way to avoid any physical harm to yourself.
Place a plate underneath the mug as there is a good chance it will overflow.
Nutrition Information
Serving Size: 231g (8.1 oz)
Servings Per Recipe: 1
Calories Per Serving: 311
Amount Per Serving
Saturated Fat: 3g
Trans Fat: 0g
Total Carbohydrate: 47.5g
Dietary Fiber: 2g
Sugars: 7.5g
Cholesterol: 18mg
Sodium: 143mg
Protein: 15g
The information above is an estimate generated by an online nutrition calculator.
More Tasty Mug Recipes
There are so many different types of mug recipes that are just fantastic if you're feeling a little lazy or only need to cook for one. They're also great if you're running low on money as most of the recipes tend only to require low-cost ingredients, making them super affordable.
If you're after another delicious recipe, then I highly recommend trying the banana mug cake. It's perfect as a meal or just as a really easy dessert.
Another delicious savory mug meal that you can make is the scrambled eggs. They're very good and takes just minutes to make. I highly recommend giving the recipe a go.
I hope that you both make and enjoy this delicious mac and cheese in a mug recipe. If you know of any additions to this recipe that could improve it tenfold, then drop us a comment below.