This paleo chili con carne is a great way to warm yourself up on a cold winter's day. If you just love spicy dishes, then there is no reason why you can't make this in summer as well.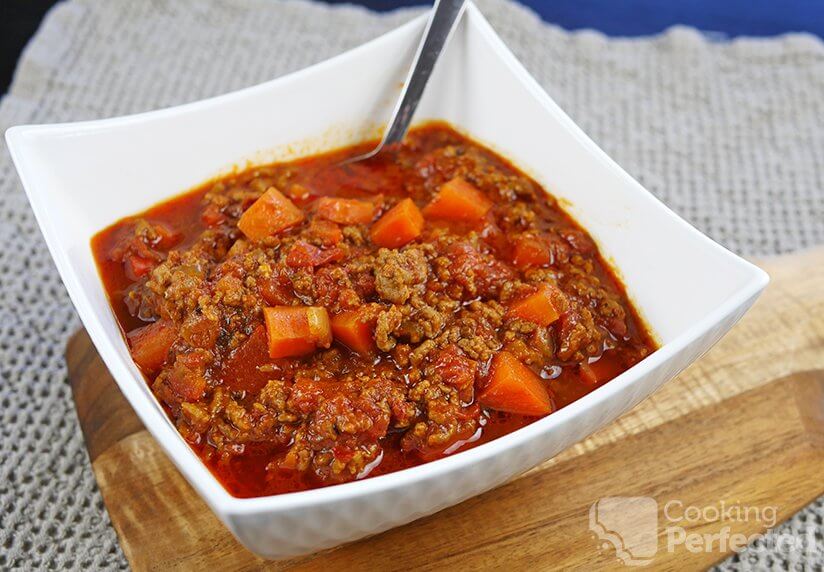 By the time this chili is ready, it will have a lovely aroma that will make your belly grumble.
The flavors of the beef, vegetables, and the slight hint of spice are the first things you notice with this chili. It's a delicious combination of flavors that will have you coming back for seconds.
Without making any adjustments, this recipe should feed roughly four people. If you need to feed more, then you might need to double or triple the recipe. Any extra side dishes should help feed more people.
What to Serve with Chili
This chili goes amazing with fresh guacamole. Add roughly a dollop to every serve for the perfect blend of flavors. It's the perfect way of adding even more flavor to this dish without making any huge changes.
Another great side dish to go with this meal is some simple cauliflower rice. You can quickly make it using a grater and a frypan. It's my favorite alternative to regular rice.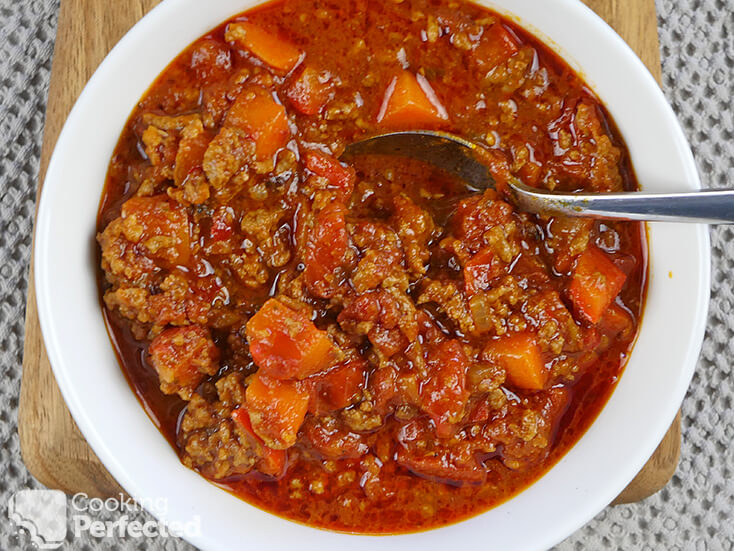 Mashed cauliflower is the perfect low carb alternative to mashed potatoes. It is a delicious accompaniment to have with this chili. I highly recommend giving it a try if you crave mashed potatoes but trying to stay paleo-friendly.
You can do a combination of the recipes mentioned above if you have the extra ingredients and time. Personally, I just prefer the chili without any extras.
Adjusting the Chili Recipe
In this recipe, I use ground beef. Still, you can replace it with basically any type of ground meat such as chicken or pork. It just comes down to personal preference.
If you're not a fan of spice, then I recommend reducing the quantity of red chilies to just half a tablespoon. I do find that one tablespoon has a little bit of a bite but is still mild. If you love spicy food, then you can try upping the number of chilies to two tablespoons or more.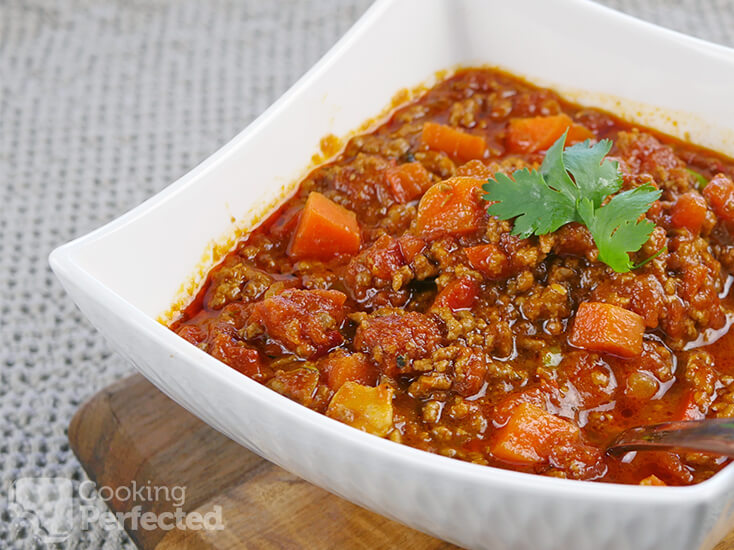 You can add more vegetables such as diced sweet potato or butternut pumpkin. This addition is a great way to bulk out the chili so you can feed more people.
This recipe reheats well, so if you end up with leftovers, then you can either freeze them or place them in the fridge. So, whenever you're low on time, you can simply reheat some chili.
If you want to see how to make this paleo-friendly chili, then be sure to watch the video below. Alternatively, you can find the full recipe right below the video.
Paleo Chili Con Carne Recipe
Ingredients
1 Tbsp coconut oil
1 onion, diced
2 carrots, large dice
1 Tbsp red chilies, diced
1 red bell pepper, diced
2 garlic cloves, crushed
500 g (1.1 lb) ground beef
2 Tbsp tomato paste
800 g (1.8 lb) diced tomatoes
2 tsp cumin
1 tsp paprika
2 tsp marjoram
Instructions
In a pot over medium heat, add the coconut oil.
Once the oil is hot, add the onion, carrot, red chilies, red bell pepper, and the crushed garlic.
Cook until the onion is translucent, roughly 3-5 minutes.
Add the ground beef and cook until browned.
Add the tomato paste, diced tomatoes, cumin, paprika, marjoram, and stir to combine.
Bring to a simmer and cook for 30-45 minutes.
Season with salt and pepper.
Serve & Enjoy.
Recipe Tips
It's important to remember that beans such as kidney beans are legumes and are considered not paleo-friendly. To replace the beans, I used large diced carrots, but you can use anything you like or simply not replace them at all.
The longer the cooking time, the better the flavors will be. I sometimes make chili in a slow cooker as the flavors are so much better.
You can drain some of the excess oils and fluids after step four. It will help make the chili con carne a little healthier and less greasy.
Nutrition Information
Serving Size: 423g (14.9 oz)
Servings Per Recipe: 4
Calories Per Serving: 347
Amount Per Serving
Saturated Fat: 6g
Trans Fat: 0g
Total Carbohydrate: 19.9g
Dietary Fiber: 5g
Sugars: 10.7g
Cholesterol: 112mg
Sodium: 1303mg
Protein: 41.3g
The information above is an estimate generated by an online nutrition calculator.
More Paleo Recipes
If you end up with some leftover chili, you should certainly consider making some delicious paleo nachos with it. The recipe takes you through how to make some delicious sweet potato crisps, once you're done doing that, simply top with your freshly made chili.
Another ground beef recipe that I highly recommend is paleo-friendly shepherd's pie. It has a delicious rich pie filling that's topped with some mashed cauliflower. It's an excellent combination that always has me going back for seconds.
I hope this paleo chili con carne comes out as great as it did for me. If you have any feedback or a variation that you would love to share, then please don't hesitate to leave a comment below.