Chili cheese fries brings three foods together for an absolutely delicious meal that will easily please a family.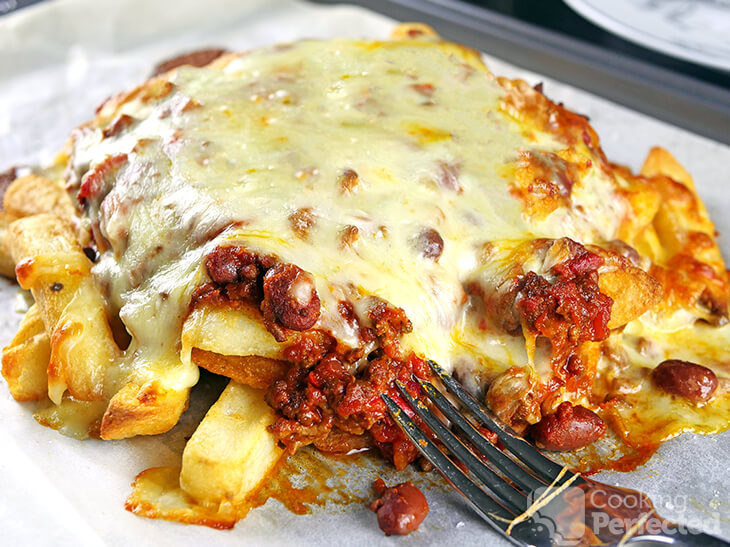 This recipe features perfectly cooked fries that have a delicious crunch to them. It has a chili, which is delicious by itself, but even better on fries. Lastly, there is a combination of cheese that brings this entire dish together. It is a delicious combination that I reckon you will love.
A single batch of this recipe should make enough food to feed four to six people. A few extra side dishes will help the food go as far as possible. You can also easily double or triple the recipe if required.
If you end up with a little bit of extra chili, then there are tons of other dishes that you can use it in. One of my personal favorites is using it to make some homemade nachos.
Adjusting the Recipe
There are loads of ways to change this recipe so that it is more to your liking.
I use shredded cheese in this recipe, but it can easily be swapped for a smooth cheese sauce. It will require a bit more work, but it is certainly worth it if you have the time. This cheese sauce recipe is rather good.
It is incredibly important to make sure your chili does not end up too wet. If it is too wet, then it can make the fries go soggy, making the dish not as enjoyable. Cooking the chili with the lid off will allow for liquid to evaporate.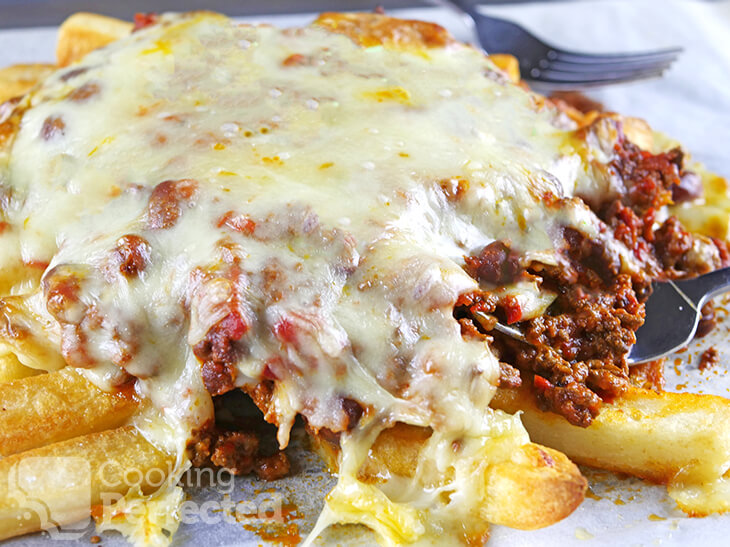 Deep frying is a great alternative to oven baking the fries. It will be a lot faster and even tastier. However, it will be a little unhealthier. You will still need to use the oven to melt the cheese over the top of the chili and fries.
You can easily use leftover homemade chili or store-bought chili instead of making it from scratch. Using pre-prepared chili will significantly reduce the time it takes to make this dish. However, I highly suggest a homemade chili for the best results.
What to Serve with Chili Cheese Fries
These chili cheese fries are perfect on their own and do not really need anything extra to go with them. However, below are a couple of ideas of sides and condiments that will work.
If I were to pick two condiments to go with chili cheese fries, it would be sour cream and guacamole. Both compliment the flavors of the dish nicely without overpowering everything. I highly recommend giving these a try.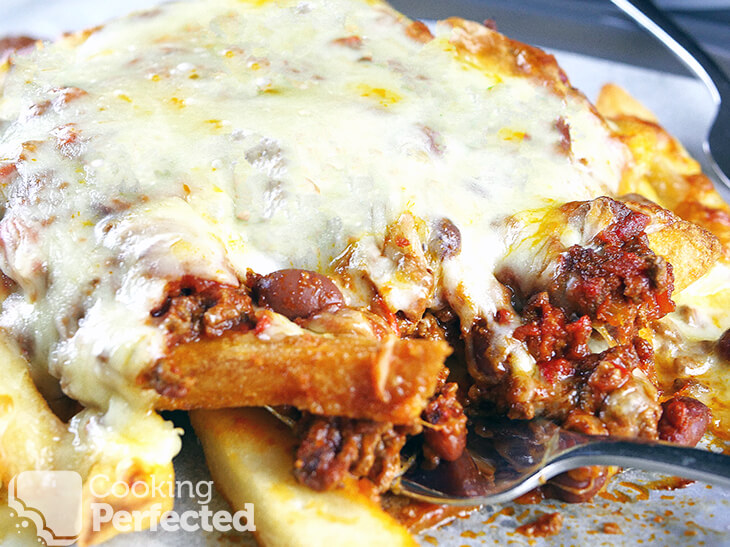 Homemade garlic bread is the perfect side dish and is extremely easy to make. For something a little healthier, a good salad will also work nicely on the side. I always love to do a basic combination of lettuce, tomato, red onion, and cucumber.
The full written recipe is immediately below and will take you through all the steps to making these delicious chili cheese fries.
Chili Cheese Fries Recipe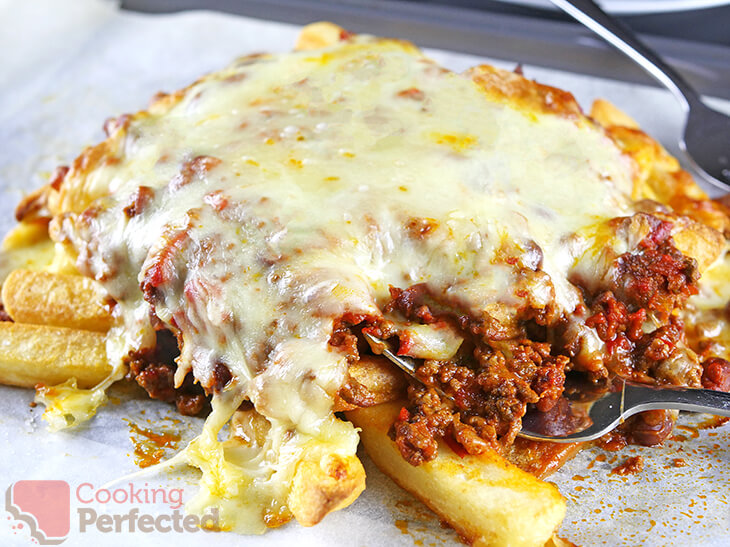 Ingredients
Fries
750 g (1.7 lb) frozen fries
Chili
1 Tbsp cooking oil
1 onion, diced
2 tsp garlic, crushed
500 g (1.1 lb) ground beef
800 g (1.8 lb) diced tomatoes
400 g (14.1 oz) can red kidney beans, drained
2 Tbsp tomato paste
1 Tbsp sugar
1 tsp paprika
1 tsp cumin, ground
2 tsp chili flakes
Cheese
250 g (8.8 oz) mozzarella cheese
250 g (8.8 oz) cheddar cheese
Instructions
Chili
Preheat an oven to 220°C (430°F).
Heat 1 Tbsp of oil in a deep frying pan over medium heat.
Add the onion and garlic and cook until the onion is translucent.
Next, add the ground beef and cook until browned. It will take roughly 5 minutes.
Add the diced tomatoes, red kidney beans, tomato paste, sugar, paprika, cumin, and chili flakes. Bring to a simmer and cook for at least 30 minutes.
Season to taste with salt and pepper.
Fries
While the chili is cooking, line a tray with baking paper and scatter the frozen fries over the paper.
Bake in the oven until golden brown, 30-40 minutes.
Season the fries with salt and pepper.
Putting it altogether
Move the fries to form a pile in the middle of the tray.
Add the hot chili over the fries and then top it off with the cheese.
Place in the oven and cook until the cheese melted. Roughly 10 minutes.
Serve & Enjoy.
Recipe Tips
You can make your own homemade fries, but it will add a lot more preparation time to this dish.
Make sure you line the baking tray as it will save you a ton of time cleaning.
The cheese mixture can be tweaked for a little bit more flavor. For example, a little bit of parmesan can be added to the cheese mixture.
I recommend using thick-cut fries for the best results. Fries may also be called chips, depending on the country you reside in.
Nutrition Information
Serving Size: 454g (1 lb)
Servings Per Recipe: 6
Calories Per Serving: 506
Amount Per Serving
Saturated Fat: 6.2g
Trans Fat: 0.4g
Dietary Fiber: 8g
Sugars: 8g
Cholesterol: 97mg
Sodium: 1057mg
Protein: 50g
The information above is an estimate generated by an online nutrition calculator.
More Ground Beef Recipes
There are plenty more recipes that feature ground beef that you should check out. Below are a couple of my personal favorites.
The tater tot casserole is the perfect comfort food for any day of the week. It features a delicious ground beef gravy topped with Tater Tots and lots of cheese. It is the perfect combination that I highly recommend giving a try.
Another meal that you will love if you are a fan of this dish is the Dorito casserole. It does not have potatoes, but it does have delicious corn chips. The ground beef mixture is a combination of salsa, sour cream, taco seasoning, and more.
I hope that you love this chili cheese fries as much as I do. If you have any feedback, variations, or anything else that you would love to share, please do not hesitate to leave a comment below.