The air fryer is the perfect healthier way for cooking some frozen French fries fast.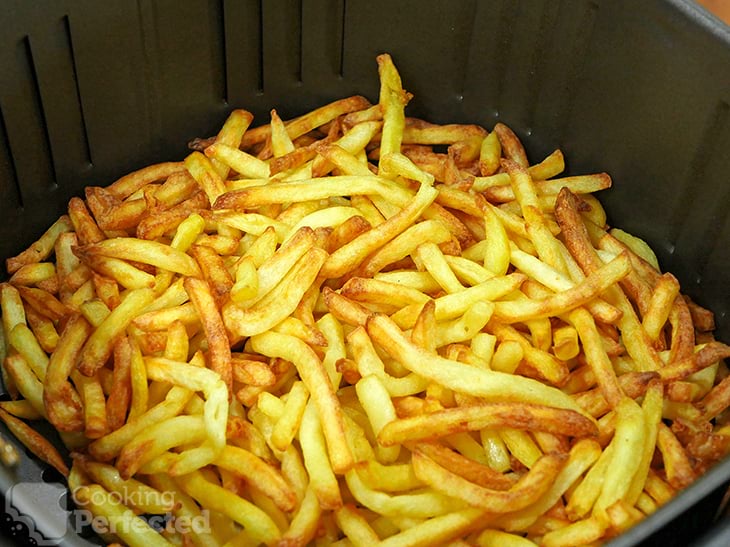 French fries are cut potatoes that are typically deep-fried. However, for this recipe, we will cook them in the air fryer. The air fryer is a much healthier option as you can use a lot less oil.
Within twenty minutes, you will have some beautifully cooked French fries. They cook to be deliciously crunchy and go great with some delicious sauces.
You should be able to feed roughly four to six people with a single batch of fries. You can easily adjust the recipe if you need to feed fewer people. Be careful not to overload the air fryer as it may impact the quality of the cook.
Serving Ideas for French Fries
Fries always go great with some delicious condiments. For example, fries match nicely with ketchup, mayonnaise, tomato sauce, vinegar, or even BBQ sauce.
These fries go perfectly with our air-fried chicken thighs or chicken breasts. Both of our chicken recipes are coated in a wonderful seasoning that helps lock in moisture and adds a ton of flavor.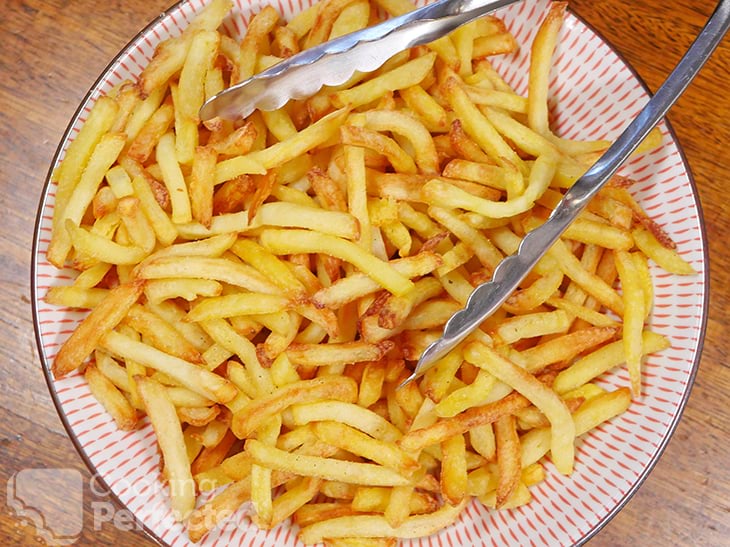 Our air-fried pork chops will go perfectly with these French Fries. The pork is coated in a delicious seasoning and cooks beautifully in the air fryer. If you have a bit of spare time, then a homemade salad is also an excellent addition.
French fries are the perfect match for a delicious homemade burger. You can cook the patties in the air fryer, but I recommend doing it separately from the fries. My favorite burger is a delicious beef patty, lettuce, tomato, red onion, cheese, and bacon.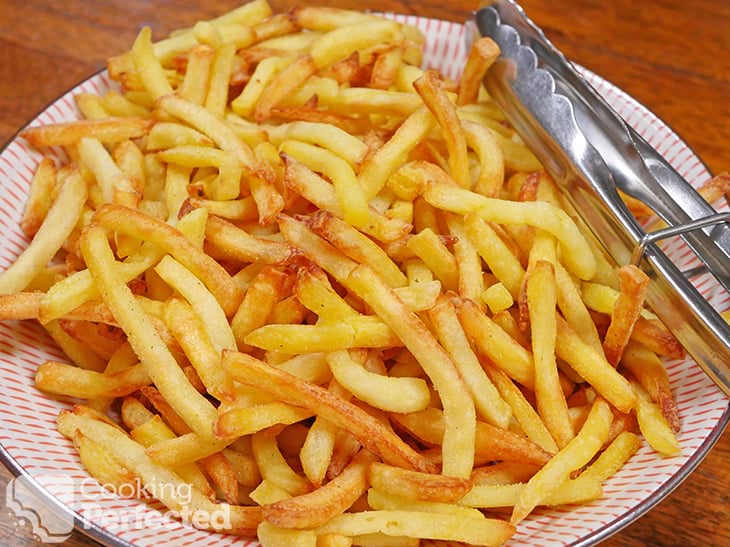 If you live in Australia, you can cook plenty of comfort food in the air fryer. Chiko rolls, dim sims, or even spring rolls are the perfect match for these delicious fries.
My last suggestion is to make some chili cheese fries with these French Fries. Chili cheese fries are extremely easy to make and usually consist of good chili, fries, and cheese. It is comfort food, so I would not make it every day, but it is unbelievably delicious.
Below is the full recipe for cooking frozen French fries in the air fryer. If you have anything you would like to say, please do not hesitate to leave a comment at the bottom of this page.
Air Fryer Frozen French Fries Recipe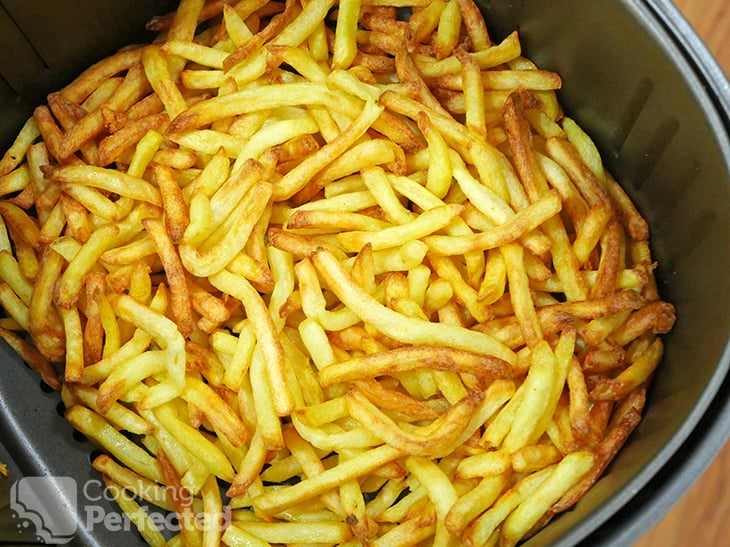 Ingredients
1 kg (2.2 lb) Frozen French Fries
1 tsp cooking oil
Instructions
Preheat the air fryer to 200°C (390°F). It will take roughly five minutes.
Place the French fries into the air fryer.
Cook for 20 minutes or until golden brown. Shake every 5 minutes to ensure an even cook.
Lightly season with salt or your favorite seasoning.
Serve & Enjoy.
Recipe Tips
I highly recommend shaking the air fryer basket regularly to get an even cook on the fries.
Spraying the French fries with a bit of oil will help ensure they get a lovely crisp.
Preheating the air fryer is important for getting the best cook possible. However, you can skip preheating if you are low on time.
If you require this recipe to be gluten-free, ensure that the frozen fries do not have any extra gluten-based seasoning on them.

The nutritional information below is an estimate. For accurate information, please refer to the product box.
Nutrition Information
Serving Size: 167g (5.9 oz)
Servings Per Recipe: 6
Calories Per Serving: 440
Amount Per Serving
Saturated Fat: 7.7g
Trans Fat: 0g
Dietary Fiber: 8g
Sugars: 0g
Cholesterol: 0mg
Sodium: 817mg
Protein: 5g
The information above is an estimate generated by an online nutrition calculator.
More Delicious Air Fryer Recipes
There are loads of recipes that cook beautifully in the air fryer. Below are a few of my favorite recipes that I reckon you will love.
The air fryer is also great for cooking frozen mozzarella sticks. You can typically pick up some mozzarella sticks at any good supermarket. Most brands will work fine, so pick the one that you like the most.
Air-fried Tater Tots are the perfect alternative to French fries and are super easy to get right. The Tater Tots cook to be beautifully crisp in the air fryer and taste amazing. I highly recommend giving it a try.
I hope that you love these air-fried frozen French fries as much as I do. If you have some feedback, then please do not hesitate to leave a comment below.