Using the air fryer is the perfect healthier way for cooking Tater tots perfectly.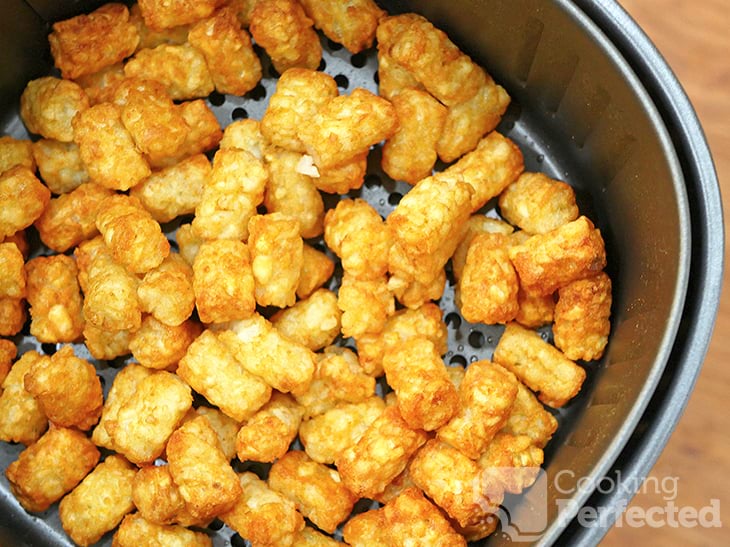 These Tater tots cook to be deliciously crispy and perfect every time. They go perfectly with some delicious dipping sauces such as ketchup, mayonnaise, sour cream, guacamole, or even BBQ sauce.
The quantities in this recipe should be enough to feed roughly four to six people. I do highly recommend that you serve these delicious potatoes with a meal or other snack food.
We have plenty of side dish recipes that go perfectly with these Tater tots. For example, the creamed spinach is an absolute delight and will easily please a crowd.
What are Tater Tots?
Tater tots are cylindrical in shape and made of potato. They are typically deep-fried and can be found in the frozen food section at the supermarket. You can try making them at home, but they are tricky and time-consuming to get right.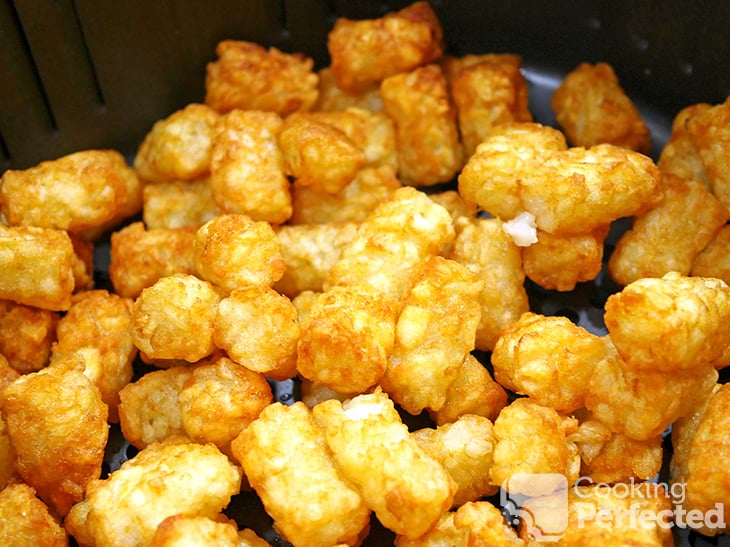 Tater tot is trademarked, so there are plenty of similar products available but go by different names. For example, In Australia and the UK, they are sometimes called potato gems, potato pom-poms, or potato royals. In some countries, they might also be called potato croquettes.
Tater Tot Serving Ideas
Tater tots are the perfect side dish, so there are plenty of ways that you can serve these delicious bites of potato.
If you have multiple air fryers, I highly recommend that you give our delicious pork chops a try. They will go perfectly with these potato gems as a side dish. Alternatively, our chicken tenders are undoubtedly worth making.
These Tater tots are the perfect match for a delicious homemade slow-cooked pie. My favorite is the steak pie, as it is loaded with tender pieces of meat and flavor-packed gravy.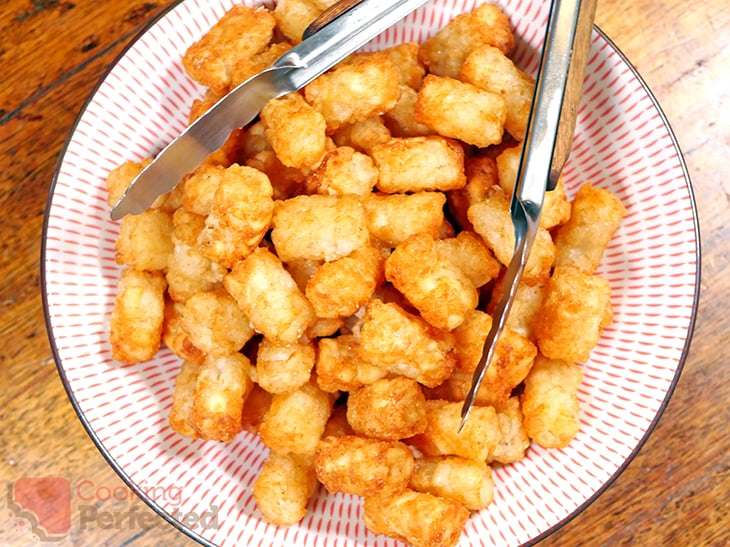 For feeding a crowd, I recommend making some delicious puff pastry pizzas and garlic bread to go with these delicious Tater tots. You can easily have the pizza and garlic bread cooking in the oven while the potatoes cook in the Air Fryer.
Below is our full recipe for cooking frozen Tater tots in the air fryer. If you have any feedback, please leave a comment at the bottom of this page.
Air Fryer Tater Tots Recipe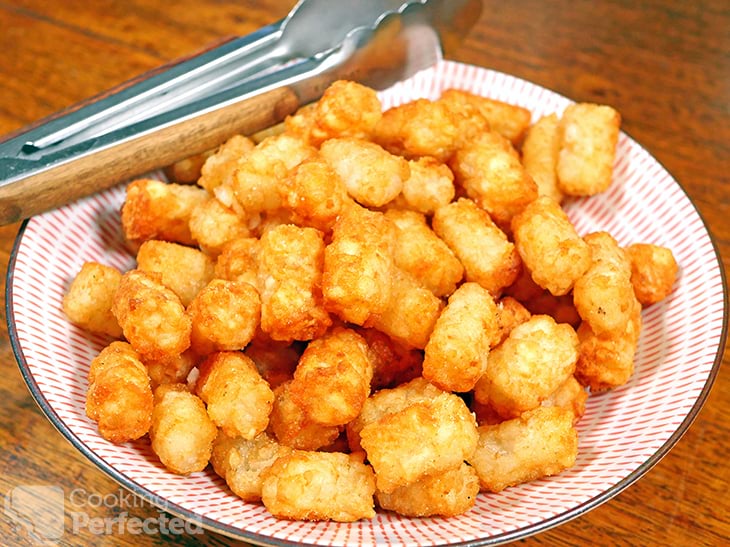 Ingredients
1 tsp oil
1 kg (2.2 lb) Tater tots
Instructions
Preheat the air fryer to 200°C (350°F). It will take roughly five minutes.
Place the Tater tots into the air fryer and lightly spray with oil.
Cook for roughly 20 minutes or until the Tater tots are golden brown.
Shake the air fryer basket every 5 minutes to ensure the Tater tots cook evenly. You may need to use a fork to help separate stuck Tater tots.
Season with salt.
Serve & Enjoy.
Recipe Tips
If your air fryer is smaller than 4.7L (5 qt), I recommend halving the amount of Tater tots you cook at once.
Tater tots are also known as potato gems, potato pom-poms, potato royals, or potato croquettes.
The time it takes to cook the Tater tots in your air fryer may vary slightly. You may need to plus or minus five minutes from the cooking time.
Having a good amount of spare room in the air fryer is ideal for getting the perfect Tater tots. I recommend only filling the air fryer to a maximum of one-third for the best result.
The oil is optional, but it does help ensure the Tater tots will be crispy.
Preheating the air fryer will help guarantee the best results.
Nutrition Information
Serving Size: 167g (5.9 oz)
Servings Per Recipe: 6
Calories Per Serving: 372
Amount Per Serving
Saturated Fat: 1.7g
Trans Fat: 0.1g
Dietary Fiber: 5g
Sugars: 0g
Cholesterol: 0mg
Sodium: 25mg
Protein: 4g
The information above is an estimate generated by an online nutrition calculator.
More Delicious Potato Recipes
There are so many different meals that you can make using potatoes as the main ingredient. Below are a couple of my favorite recipes that I reckon you will love
An oven-baked Tater tot casserole is a must-try. The casserole features delicious ground beef gravy, loads of cheese, and crunchy Tater tots. I highly recommend giving it a try if you love comfort food.
I absolutely love Hasselback potatoes and highly recommend that you give them a try. They are typically cooked in the oven, but there is no reason as to why you cannot do them in the air fryer.
I hope that you love these air fryer Tater tots, and they turn out perfect. If you want to leave some feedback regarding this recipe, please leave a comment below.